Market Wrap For March 10: Markets Slightly Lower On Chinese Growth Concerns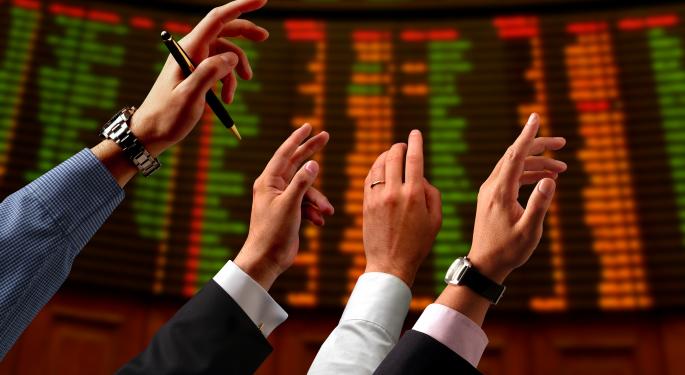 U.S. stocks closed the day slightly lower as investors digested news that China's exports dropped significantly.
Philadelphia Fed Chief Charles Plosser said in a speech today that February's harsh winter likely curbed jobs growth in the month. Plosser's remarks echo similar sentiments by other central bankers that view the recent softness in the labor market as temporary and weather related.
The Dow lost 0.21 percent, closing at 16,418.68. The S&P 500 lost 0.05 percent, closing at 1,877.17. The Nasdaq lost 0.04 percent, closing at 4,334.45. Gold gained 0.17 percent, trading at $1,341.10 an ounce. Oil lost 1.47 percent, trading at $101.07 a barrel. Silver lost 0.37 percent, trading at $20.85 an ounce.
Recommended: Another Long-Term Sell Signal Worth Noting
News of Note
Chinese exports fell 18.1 percent year over year in February compared to growth of 10.6 percent in January. Additionally, the world's second-largest economy sunk to a deficit of $22.98 billion in February from a $31.86 billion surplus in January.
Japan made downward revisions to its fourth quarter GDP growth projections to 0.2 percent from an initial 0.3 percent due to a weaker than estimated consumer spending.
Analyst Upgrades and Downgrades of Note
Analysts at BMO Capital upgraded Alcatel Lucent (NYSE: ALU) to Outperform from Market Perform with a price target raised to $5.50 from a previous $5. Shares gained 0.49 percent, closing at $4.14.
Analysts at FBR Capital upgraded Big Lots (NYSE: BIG) to Outperform from Market Perform with a price target raised to $45 from a previous $35. Shares gained 3.22 percent, closing at $37.13.
Analysts at Miller Tabak downgraded Buffalo Wild Wings (NASDAQ: BWLD) to Hold from Buy but raised their price target to $155 from a previous $148. Shares lost 2.05 percent, closing at $148.80.
Analysts at Jefferies upgraded Charter Communications (NASDAQ: CHTR) to Buy from Hold with a price target raised to $150 from a previous $125. Shares gained 1.21 percent, closing at $128.54.
Analysts at UBS maintained a Buy rating on Facebook (NASDAQ: FB) with a price target raised to $90 from a previous $72. Shares hit new 52-week highs of $72.15 before closing the day at $72.03, up 3.19 percent.
Analysts at Barclays maintained an Equal-weight rating on Footlocker (NYSE: FL) with a price target raised to $50 from a previous $39. Shares lost 1.12 percent, closing at $45.97.
Recommended: 5 Technologies From 'Back To The Future' We Don't Have (And Who Should Make Them)
Analysts at Bank of America downgraded KB Home (NYSE: KBH) to Underperform from Buy with a $21 price target. Shares lost 4.19 percent, closing at $17.84.
Analysts at Philip Securities initiated coverage of SodaStream (NASDAQ: SODA) with an Accumulate and price target of $46. Shares gained 5.35 percent, closing at $42.71.
Analysts at BB&T Capital downgraded Staples (NASDAQ: SPLS) to Hold from Buy with a $17 price target. Shares gained 1.31 percent, closing at $11.63.
Analysts at Nomura upgraded U.S. Steel (NYSE: X) to Neutral from Buy with a price target raised to $32 from a previous $27. Shares lost 1.33 percent, closing at $24.51.
Equities-Specific News of Note IBM's (NYSE: IBM) CEO Ginni Rometty, in a letter to investors wrote that the company "did not meet our expectations" and "while we continue to remix to higher value, we must also address those parts of the business that are holding us back." Shares lost 0.68 percent, closing at $186.41.
GlaxoSmithKline (NYSE: GSK) increased its holdings in its Indian unit, GlaxoSmithKline Pharmaceuticals, to 75 percent from a previous 50.7 percent for approximately $1.05 billion. Shares gained 0.54 percent, closing at $55.83.
Google (NASDAQ: GOOG) is planning to release a software developer kit for developers to create applications for wearable devices. Shares lost 0.27 percent, closing at $1,211.57.
General Motors (NYSE: GM) appointed Anton Valuskas to head an international investigation relating to its ignition switch issues. Valuskas is best known for his appointment by the Department of Justice to examine the Lehman Brothers collapse. Shares of General Motors lost 1.59 percent, closing at $37.09.
Related: General Motors, NHTSA Under Scrutiny Amidst Recall
Callon Petroleum (NYSE: CPE) announced it will expand the size of its board of directors to eight from six per the wishes of activist hedge fund Lone Star Value Management. The two new appointees are candidates suggested by Lone Star. Shares hit new 52-week highs of $7.95 before reversing gains and closing at $7.34, down 5.05 percent.
According to Reuters, Bill Ackman spent $264,000 in fees paid to lobbyists last year to further his case against Herbalife (NYSE: HLF). On the other hand, Herbailfe spent over $2 million on lobbying to support its business stance.
Petrobras (NYSE: PBR) plans to raise at least $3 billion from bond sales to finance the development of offshore oil fields. The company plans to spend $221 billion over the next five years. Shares lost 2.02 percent, closing at $10.68.
According to The Telegraph, Amazon.com (NASDAQ: AMZN) is "on a hiring spree to recruit industry heavyweights in Seattle and Silicon Valley" to develop a sub $300 Android gaming console. Shares lost 0.41 percent, closing at $370.53.
McDonald's (NYSE: MCD) reported global comparable store sales fell 0.3 percent in February while comp sales fell 1.4 percent in the U.S. Shares lost 0.31 percent, closing at $95.20.
Delta Air Lines' (NYSE: DAL) said that the company took a $55 million revenue hit in January and February due to winter storms. The company still expects to post a profit in the first quarter. Shares lost 0.54 percent, closing at $35.17.
eBay's (NASDAQ: EBAY) management announced it will reject a slat of board of director candidates nominated by Carl Icahn. Separately, Leon Cooperman said that he backs Icahn for a PayPal spinoff. Cooperman's Omega Advisors owned 855,000 shares of eBay at the end of the fourth quarter. Shares lost 1.42 percent, closing at $58.22.
Related: Carl Icahn Isn't Happy About eBay's Board Member Rejection
Manchester United (NYSE: MANU) and Nike (NYSE: NKE) agreed to a 10-year licensing deal where United will collect £60 million a year (approximately $99.8 million). The deal will kick in when their current deal expires at the end of the 2014/2015 season. Shares of Manchester United gained 6.24 percent, closing at $15.84 while shares of Nike lost 0.60 percent, closing at $78.98.
Winners of Note
On no fresh news, Plug Power (NASDAQ: PLUG) and Ballard Power (NASDAQ: BLDP) continue to surge as the industry is full of momentum. Plug Power hit new 52-week highs of $11.41 before closing at $10.31, up 24.67 percent. Ballard Power also hit new 52-week highs of $7.38 before closing at $6.88, up 30.30 percent.
Chiquita Brands (NYSE: CQB) has agreed to acquire Irish based Fyffes for $526 million in an all-stock deal. The merger will result in the creation of the world's largest banana supplier with a combined annual revenue of $4.6 billion. The combined firm will be domiciled in Ireland and create tax savings for Chiquita. Shares of Chiquita surged 10.70 percent, closing at $12.00.
FMC Corporation (NYSE: FMC) plans to separate in to two separate companies to better focus its strategic directions in 2015. New FMC will consist of the company's Agricultural Solutions and Health and Nutrition segments, while FMC Minerals will consist solely of the Minerals segment. Shares hit new 52-week highs of $83.94 before closing the day at $83.10, up 6.72 percent.
Alexion Pharmaceuticals (NASDAQ: ALXN) issued upside guidance and forecasts its 2014 earnings per share to be $4.37 to $4.47 from a previous guidance of $3.70 to $3.80. Revenue guidance is also raised, the company is projecting revenue to be $2.15 billion to $2.17 billion from a previous guidance of $2 billion to $2.02 billion. Shares gained 7.11 percent, closing at $180.00.
Recommended: Is The Market Getting Tired?
Decliners of Note
An article on Barron's titled "Beware 3-D Printing!" made the argument that industry valuations are too high and 3D Systems (NYSE: DDD) could drop 80 percent. Shares lost 5.07 percent, closing at $63.90.
Walter Energy (NYSE: WLT) revealed that it is negotiating an amendment to its credit agreement to refinance debt. The company is seeking lender permission to repay its $407 million loan and refinance the debt with looser restrictions. Bloomberg data indicates that the company may run out of cash next year if operations don't improve. Shares fell to new 52 week lows of $9.32 before closing at $9.43, down 9.76 percent.
Earnings of Note
After the market closed, Fuel Tech (NASDAQ: FTEK) reported its fourth quarter results. The company announced an EPS of $0.02, missing the consensus estimate of $0.06. Revenue of $24.20 million missed the consensus estimate of $29 million. Shares were trading lower by 14.26 percent at $5.89 following the earnings report.
Quote of the Day
"At a policy meeting in June 2011, Federal Reserve officials agreed on a long-term plan to eventually exit sometime in the future from their unconventional monetary policies and return to its interest-rate-setting ways of the past. That plan is looking increasingly obsolete. The contours of a new plan are being debated within the Fed and slowly coming into shape." – Wall Street Journal's Jon Hilsenrath in an article published today.
View Comments and Join the Discussion!
Posted-In: 3D printers 3D Systems Alcatel Lucent Alexion PharmaceuticalsNews After-Hours Center Markets Analyst Ratings Best of Benzinga