LugLess Could Make Checked Luggage A Thing Of The Past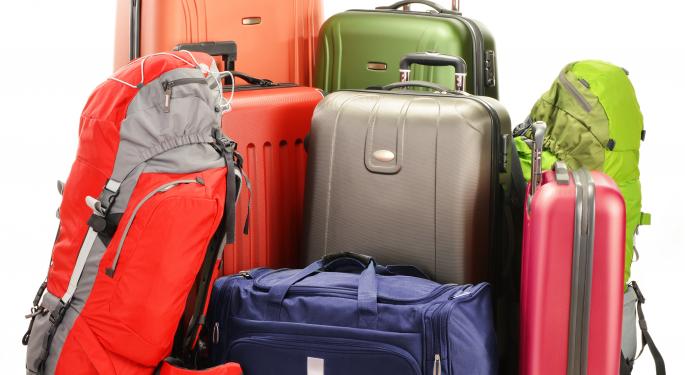 Travelers may not have to worry about lugging and checking their second, third or fourth bag ever again.
LugLess, a luggage shipping service from MadTravelers, offers an alternative to traditional airport services.
Starting at $69 for a traditional carry on-sized bag, LugLess provides door-to-door service for users who are shipping golf clubs ($89), skis and snowboards ($99) and bicycles ($139).
Brian Altomare, co-founder and managing partner of MadTravelers, told Benzinga that this service wasn't designed for everyone. But for those who have a special item or multiple bags, LugLess might be cheaper. At the very least, the company insists that it is more convenient.
"If they want express service, that price obviously increases," said Altomare. "But for that we are always less than any express domestic or international [shipping company] -- UPS, FedEx or DHL. That's where the value comes in for those that want to ship express or international. We actually win on price and convenience, but for the standard service, we've made it more of a product and we simplify it. So sometimes we are less than UPS and FedEx, sometimes we may be a little bit more, but we do always provide convenience."
Related: High-Flying, High-Debt Airlines Will Be Forced Back Down to Earth, Again
Deep Discounts
How is LugLess able to offer lower prices than the shipment companies it uses to transport users' items?
"We are just treated like a business account, and they provide us with deep discounts," Altomare explained. "We have really deep discounts internationally with DHL and also UPS since we've given them some of our international orders."
Altomare said that LugLess has also received discounts for ground shipping.
Lost And Delayed Packages
No shipping service is foolproof, but LugLess offers a $500 service guarantee to replace/rent items that are lost or delayed.
"If it's not weather-related and it's on UPS and now it's on us, we will cover up to $500 for that delayed luggage until it arrives," said Altomare. "If you need to rent skis, we will allow you to do that up to $500 for items that are directly related to the luggage that is not there. We also refund your money immediately. I don't think there's any better service guarantee. It's something else we do to convert someone that is on the fence about using LugLess."
If the problem is weather-related, Altomare said that LugLess isn't responsible for the delayed luggage. Even so, the company is still likely to refund the traveler's order.
"We have more of an emotional side of this because we are smaller," said Altomare. "We are more personable, and we want to be part of travelers' lives and be more intimate with them than UPS or FedEx. That's something we do that's kind of on a case-by-case basis when it's not our fault."
Disclosure: At the time of this writing, Louis Bedigian had no position in the equities mentioned in this report.
For a continuation of this interview with Brian Altomare, see BoxMyDorm Wants To Be The Netflix Of College Storage
Posted-In: Brian Altomare LugLess MadTravelersNews Success Stories Startups Tech Interview Best of Benzinga
View Comments and Join the Discussion!