Nissan Aims To Boost U.S. Production And Sales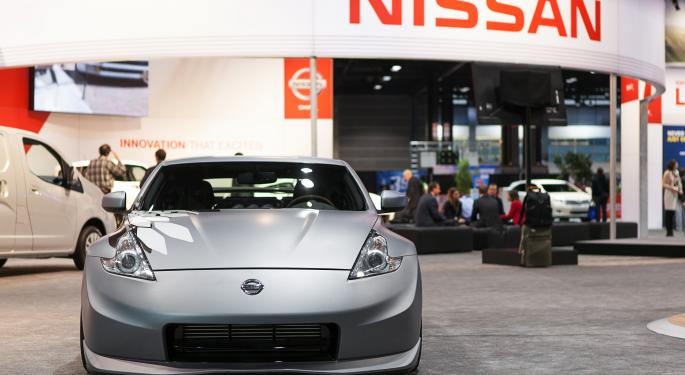 Nissan (OTC: NSANY) plans to increase vehicle manufacturing in the United States.
The Japanese-based company aims to have 85 percent of all Nissan and Infiniti products that are sold in the U.S. produced in North America by 2015, spokesman Justin Saia told Benzinga.
"Nissan continues to see sales growth across its lineup," Saia said in an email. "We expect that momentum will continue, so we've set an aggressive goal of increasing our market share in the U.S. to 10 percent by 2016."
Saia said the automaker has already made significant strides to achieve this objective. Nissan increased production at manufacturing plants in Tennessee and Mississippi by more than 22 percent last year, in addition to growing exports from the U.S. by 37 percent. The company has added more than 6,5000 manufacturing jobs in the U.S. since mid-2011 to accommodate production increases, Saia said.
Related: Honda to Discontinue Insight Hybrid Production This Month
Nissan's U.S. sales boss Fred Diaz told members of the Automotive Press Association on Thursday that Nissan began shifting more of its production toward North America during the recession, according to The Detroit News.
"While a lot of people retrenched, instead we leaned into it and we continued investing and in fact made over $5 billion in investments, bringing a lot of production from Japan to the United States and to Mexico," Diaz told reporters. "[We've] also increased our exports to other countries outside the United States by 100,000 units."
Localization
Nissan is in the process of concentrating the production of its core models (Rogue, LEAF, Sentra, Murano) to the U.S.
"The closer to the market that manufacturing is, the more responsive we can be -- a key to remaining competitive," Saia said.
Other benefits of localization include cost advantages, leveraging local supplier networks and avoiding disruptions in the supply chain.
"Auto manufacturers around the world over are rediscovering the United States and all of North America is a great place to build and sell vehicles," senior Kelley Blue Book analyst Jack Nerad said. "While other of the world's big markets have their issues, the North American market has maintained steady momentum since the bottom of the Great Recession, and that has spurred many companies -- like Nissan -- to up their production capacity."
Karl Brauer, another KBB senior analyst, said a number of foreign automakers have been increasing investment in North American vehicle production with several new implants being built in Mexico and the U.S.
"Nissan is one of several automakers looking to insulate itself from future currency swings by increasing its global production and supply footprint. And, given Carlos Ghosn's plan to capture 10 percent of U.S. market share with the Nissan and Infiniti brands, an investment in U.S. production capacity makes sense," Brauer said.
Nissan reported sales of 90,470 units for the month of January, an 11.8 percent increase from last year.
The company had its best annual sales year in 2013. It sold 1,248,420 vehicles, an increase of 9.4 compared with 2012.
Posted-In: detroit news Justin Saia Kelley Blue Book NissanNews Global Media Interview Best of Benzinga
View Comments and Join the Discussion!