7 Stocks With High Dividend Yields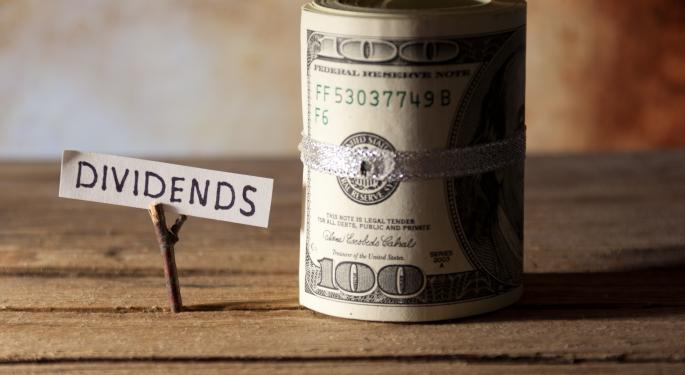 Companies that pay out dividends have traditionally been seen as stable and established.
But the global economic downturn has turned a lot of that old-school thought on its head, while volatile markets can seemingly create success stories or train wrecks overnight.
The firms with the highest dividend yields these days can also be very risky investments.That being said, here's a handful of companies that have been recording some high dividend yields.
Whiting USA Trust II (NYSE: WHZ)
Formed in late 2011 by Whiting Petroleum, the trust owns interest in "long-lived, predominately producing" oil and natural gas properties in America's Rocky Mountain, Permian Basin, Gulf Coast and mid-continent regions. Named a Top 10 dividend paying energy stock last year by Forbes, it announced a dividend of 64 cents per share, paid out on February 19. That represented an annualized dividend of $2.61 and a dividend yield of 19.52 percent.
Atlantic Power Corp (NYSE: AT)
Based in Boston, Atlantic Power owns and operates power generation assets in the U.S. and Canada; selling electricity to utilities and large commercial customers. On Feburary 14 it announced a dividend of three cents per common share, to be paid out next month. The annualized dividend is $0.36, with a dividend yield of 12.96 percent.
Ellington Financial (NASDAQ: EFC)
The company, headquartered in Connecticut, acquires and manages mortgage-related assets. It recently announced a dividend of 77 cents per share – its fourth quarterly dividend at that figure. That reportedly represents an annualized dividend of $3.08, and a dividend yield of 12.69 percent.
KCAP Financial (NASDAQ: KCAP)
A middle market business investment company. In 2012 Forbes named KCAP a top 10 dividend-paying financial stock, This past December, the company announced a quarterly cash dividend of $0.25 per share of common stock, That's an annual payout of $1.00 per share, or a dividend yield of 12.32 percent.
Sotheby's (NYSE: BID)
The famed auction house was founded in 1744, and has been at the forefront of the art world's financial transactions for decades, if not centuries. In January, under pressure from billionaire hedge fund manager Daniel Loeb and others, the company said it would pay a $300 million special dividend to its shareholders. That comes to about $4.34 per share, or an annual yield of 8.9 percent.
Ituran Location and Control Ltd. (NASDAQ: ITRN)
Started in 1995, the company is a leading producer of wireless vehicle tracking devices – mostly for use in cases of theft, emergency, business management and technical support. Earlier this month, the company announced a cash dividend of 38 cents per share, to be paid out on April 10. That represents an annualized dividend of $1.52, and a dividend yield of 6.9 percent.
Vodafone Group Plc. (NASDAQ: VOD)
The telecommunications giant is also one of Britain's biggest companies. It recently sold off its 45 percent stake in Verizon Wireless. That transaction reportedly moved Vodafone down in the ranks, to the world's fourth largest phone company – but it also helps Vodafone pay off some debt while leaving it funds for investments. Back in September, tax and accounting expert Robert Willens told Barron's the dividend amount should come to about $17 per Vodafone share – declaring "it's safe to say that [the total payout] will be the largest dividend ever paid."
Posted-In: Dividend dividend yield Highest Dividend YieldNews Dividends Topics Economics General Best of Benzinga
View Comments and Join the Discussion!