Tesla, In Talks With Panasonic, Makes Pricing Appeal To Chinese Consumers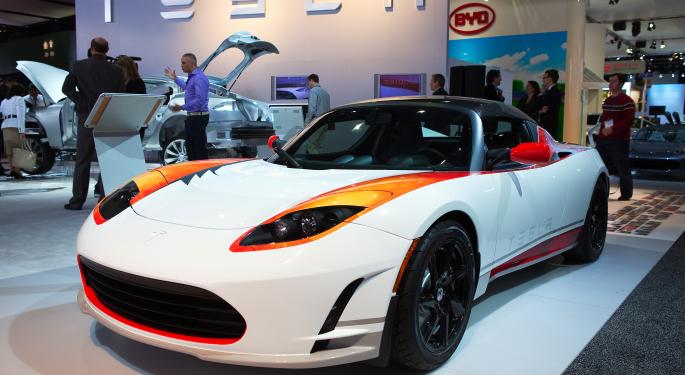 Tesla Motors (NASDAQ: TSLA) is building on its recent successes in the U.S. by looking overseas to Asia – for both new markets and new investments.
According to the Nikkei Asian Review, Tesla and Panasonic are working on an agreement to build a lithium-ion auto battery factory in the U.S. – a move that would significantly lower Tesla's production costs.
The newspaper says Osaka-based Panasonic is reaching out for nearly $1 billion in investment towards the facility, which is expected to be on-line by 2017.
Along with batteries for Tesla vehicles, the factory might also serve Toyota and other car-makers.
Related: Tesla Share Prices Are Zooming, But The Road Ahead Could Still Have Obstacles
Tesla's critically-acclaimed Model S sedan is currently selling for around $70,000 at home. But the company is making fans in China by offering the Model S there for just over $121,000. In a blog entry last month on the company's web site, titled "A Fair Price," Tesla said it was trying to keep its costs relatively low for Chinese consumers.
"If we were to follow standard industry practice, we could get away with charging twice as much for the Model S in China as we do in the US," the blog says. "But we're doing things differently, even if it means that some people might look at the price and mistakenly think it must somehow mean the Model S has less value than its competitors."
Tesla says the price for a Model S in China starts at the same price as a Model S in the U.S. – but is boosted up by "unavoidable taxes, customs duties and transportation costs. We're not even factoring in the cost of the free-to-use Supercharger network that Tesla will build across China."
Analysts, meanwhile, say Chinese car-buyers appear to appreciate Tesla's openness when it comes to the comparative costs.
"It's not just about the pricing strategy, but more to show how to communicate with Chinese consumers in the context of a more transparent pricing world," Shawn Wu, Shanghai-based project manager at consultancy SmithStreetSolutions, said in an interview with Reuters.
View Comments and Join the Discussion!
Posted-In: News Emerging Markets Commodities Travel Global Markets Tech Media Best of Benzinga