Groupon Earnings Preview: What The Analysts Are Saying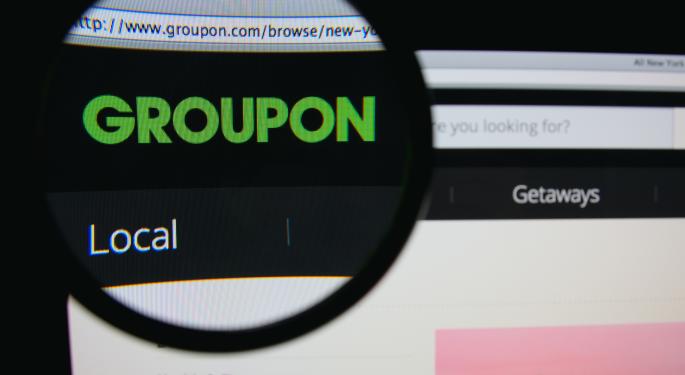 Groupon (NASDAQ: GRPN) is scheduled to report its fourth quarter results after the closing bell on Thursday. The company is expected to report an EPS of $0.02 on revenue of $718.04 million.
Morgan Stanley: Longer term believer, short term headwinds
Scott Devitt, analyst at Morgan Stanley believes in the company's 12 to 18 month plan to become a leader in the unique local/mobile marketplace space but warns investors over a poor fourth quarter results.
"We are lowering our gross billing, revenue and CSOI estimates as read throughs from eCommerce peers point to a weaker Q4 than we previously modeled in North America," said Devitt in a note to clients on February 14. "Our revenue and CSOI estimates fall towards the lower-end of Groupon's guidance range. Although investors largely expect a weak quarter, the event carries some risk from the Q1 guide. We lower Q4 total gross billings growth in North America to 15% from 21%. We still expect an acceleration in local deals growth (17% YoY vs. 13% in Q3) from increased deal supply and the transition to mobile."
Devitt is projecting Groupon to report revenue of $705 million and an EPS of $0.01, both figures below the consensus estimate, due to the "shortened holiday and weak retail hurting goods growth."
Shares are Overweight rated with a price target of $15.
Deutsche Bank: Potential red flag…but not
On February 10, Groupon announced that its product chief Jeffrey Holden is leaving the company. The next morning, Ross Sandler, research analyst at Deutsche Bank wrote a note to clients saying that Holden's departure is "a potential red flag" going in to the quarter results. The analyst later revised his position and concluded that Holden's departure is a "natural evolution for the company."
For the quarter, Sandler is expecting Groupon reporting an "in-line" quarter "with the usual noise around billings growth, take-rate and CSOI. The latter two have easier Y/Y comps, but billings growth appears to be decelerating. One thing to note is that if third-party industry data are correct, Groupon may have shifted some 3-P Goods billings in international to 1-P which is not currently factored into consensus estimates, and would mean a haircut to billings growth trajectory.
Sandler is projecting Groupon to report revenue of $719.4 and an EPS of $0.01.
Shares are Buy rated with a price target of $16.
Bank of America: Expect in line quarter
Paul Bieber, research analyst at Bank of America is expecting Groupon to report an in-line quarter despite a challenging quarter for the entire industry.
"4Q was a challenging quarter for eCommerce highlighted by industry deceleration and the shorter calendar, and we think the challenges that impacted Groupon in 3Q (Gmaill changes and less transaction urgency with pull) likely persisted in 4Q," said Bieber in a note to clients on February 18. "We think it's likely that Groupon invested in marketing to drive activity and was promotional with Goods (similar to 4Q12) to drive billings growth. As a result, we expect Groupon to report in-line 4Q billings and rev. with CSOI likely at the low end of the guidance range ($40-60mn)."
Groupon "remains a company in transition" as it moves from a daily deal company to a destination marketplace with very high mobile exposure. Bieber noted that Groupon's transition story "may be choppy and could take longer than expected by the Street or discounted in the stock."
Bieber is projecting Groupon to report revenue of $737.6 million and an EPS of $0.02.
Shares are Neutral rated with a $13 price target.
Posted-In: Groupon Earnings Jeffrey Holden Morgan Stanley Paul Bieber Ross Sandler Scott DevittNews
View Comments and Join the Discussion!