Burger King Says "Size Matters" – Unveils Bigger Big Mac Alternative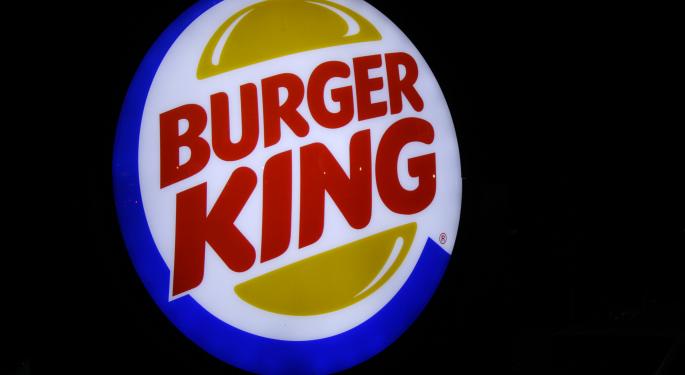 For Burger King (NYSE: BKW), imitation (with ever so slight variation) is flattery.
McDonald's (NYSE: MCD) signature Big Mac is the target.
Burger King's answer is, effectively, a bigger Big Mac.
It's not called that, of course. It's called a bigger Big King. The exact size of the patties in the new Big King was not revealed when Burger King told Bloomberg Businessweek in an email that was proprietary information.
As Burger King's tactic of waging war by strategic duplication continued, it's worth remembering that the company said back in October it would adjust its menu to reflect "fewer and more impactful" launches."
Burger King competitors, McDonald's and Wendy's (NASDAQ: WEN), by contrast, have continued to roll out a variety of limited time offers, backed by substantial marketing efforts. Those chains have also fine-tuned their value menu offerings.
Related: Has McDonald's Become Irrelevant?
Burger King North American President, Alex Macedo, said Thursday that Burger King would focus on breakfast and chicken items. Whether that announcement would result in a Burger King egg white breakfast sandwich or a variation on McDonald's recent wings roll out remained to be seen, Bloomberg said.
Burger King's sparse lineup of original products does include the new low-calorie Satisfries, which helped bring the company a 37 percent bump in Q4 profits. Reuters also credited the company's bacon-topped sundaes for a piece of that profit.
Looking at Burger King's most recent numbers, whatever it is doing seemed to be an improvement over McDonald's. For McDonald's, quarterly sales were weaker-than-expected.
Burger King, however, reported comparable sales up 1.7 percent while analysts, on average, had expected a 1.3 percent increase according to Consensus Metrix.
Analysts had also anticipated a 0.4 percent decline in sales at established restaurants. Instead, Burger King posted an impressive 0.2 percent increase.
Meanwhile analysts at UBS AG raised their Burger King price target to $30.00 Friday and put a Buy rating on the stock. In addition, Goldman Sachs analysts upgraded shares of Burger King Worldwide to Conviction-Buy from Buy Tuesday, January 21.
Despite earnings of 24 cents per share, Burger King's total revenue dropped 34.4 percent year over year. That was due, in part, to the impact of refranchising, lower company store sales and overall muted growth in comparable sales.
At the time of this writing, Jim Probasco had no position in any mentioned securities.
View Comments and Join the Discussion!
Posted-In: Alex Macedo Big King Bigger Mac Burger King Consensus MetrixNews Events Media Best of Benzinga