Did Joseph A. Bank Just Choose Eddie Bauer Over Men's Wearhouse?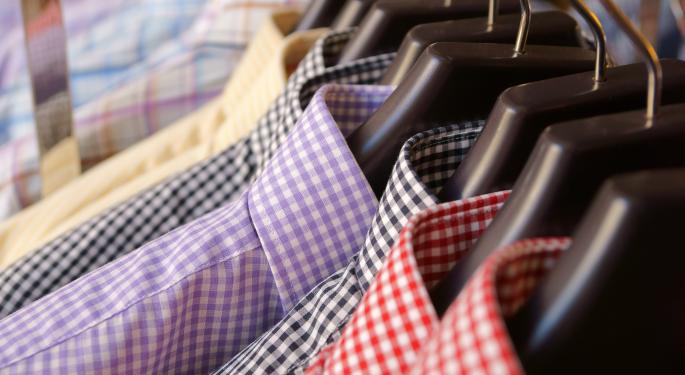 Joseph. A. Bank's (NASDAQ: JOSB) seemingly never ending saga with Men's Wearhouse (NYSE: MW) took an interesting turn on Friday.
Jos. A. Bank has agreed to acquire Everest Holdings, the parent company of Eddie Bauer, in a cash and stock deal valued at $825 million.
Under the terms of the deal, Jos. A. Bank holds the right to withdraw its acquisition offer to acquire Eddie Bauer -- in the event that Jos. A. Bank receives an unsolicited offer to acquire the company which the Board deems would create greater value for shareholders.
"We have long admired the Eddie Bauer brand and its widespread appeal among those with active lifestyles and excitement about the outdoors, a large and growing customer base that overlaps significantly with ours," said Robert N. Wildrick, Chairman of jos. A. Bank in a press statement. "I look forward to working with the two exceptional CEOs who lead these companies, Neal Black at Jos. A. Bank and Mike Egeck at Eddie Bauer, to capitalize on the combined strengths of the businesses and the substantial synergies between them in order to drive significant near and long-term growth and value creation."
Related: Angie's List Fourth Quarter Results: Buying Opportunity Or Further Downside Ahead?
According to Neal Black, Jos. A. Bank's Chief Executive officer, the company has been eyeing an acquisition of Eddie Bauer "for a number of years."
Bottom line, according to Wildrick: the move to acquire Eddie Bauer is the company's best course of action.
"The Jos. A. Bank Board of Directors reviewed very carefully a number of strategic alternatives in addition to the Eddie Bauer transaction, including a possible acquisition of Men's Wearhouse and the sale of the Company to Men's Wearhouse. We are convinced that our transaction with Eddie Bauer and the issuer tender offer provide the greatest value creation opportunity for Jos. A. Bank shareholders," said Wildrick. " At the same time, the Company's Board has preserved the ability to enter into an alternative transaction that creates greater value for our shareholders should such a transaction be proposed."
Is Men's Wearhouse left out in the dark?
Men's Wearhouse has been put in a position where it must raise its $57.50 per share bid offer for Jos. A. Bank, according to Stifel Nicolaus analyst Richard Jaffe.
Men's Wearhouse should consider offering $65 per share which implies EV/EBITDA multiple of 7.1x. If such an offer is ever placed on the table, Jos. A. Bank shareholders will be caught between a rock and a hard place -- and must make a difficult choice between "highly synergistic" buyer with an all-cash offer, or Jos. A. Bank buying an "unrelated business in turnaround mode."
But Betty Chen of Mizuho Securitie  doesn't share those sentiments. In a telephone interview, Chen told Benzinga Men's Wearhouse is unlikely to offer $65 a share, and sees Jos. A. Bank completing its transaction to acquire the Eddie Bauer brand--  given the fact that Everest Holdings has already agreed to the terms. Additionally, Everest Holdings is a private company making the regulatory hurdle to complete an acquisition a lot easier.
Men's Wearhouse doesn't have to go shopping for acquisitions and play "catch up" with Jos. A. Bank, she said.The company has plenty of avenues of growth with a diversified product offering, including black tie formalwear and a "big and tall" division. The company can create growth opportunities on a stand-alone basis.
Chen also said she is not surprised over the deal -- as Jos. A. Bank has alluded in the past its intentions to pursue other mergers and acquisitions.
Men's Wearhouse investors could have been working under the assumption that Jos. A. Bank's comments on pursuing other mergers and acquisition activities were a ploy, with the intention of forcing Men's Wearhouse to raise its takeout offer.
Chen has a Neutral rating on Men's Wearhouse with a $48 price target.
View Comments and Join the Discussion!
Posted-In: apparel industry Apparel Store Betty ChenM&A News Rumors Retail Sales Press Releases Best of Benzinga