Top Trending Tickers On StockTwits For February 14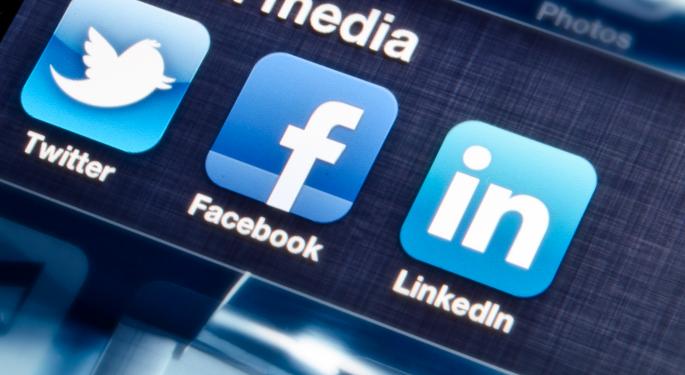 Here's a look at the top tickers trending on StockTwits.com
Tesla: Robust sales in California
According to Bloomberg, Tesla Motors' (NASDAQ: TSLA) Model S sedan ranks third place among luxury cars in California in 2013.
According to a market report from the California New Car Dealers Association, Tesla delivered 8,347 Model S sedans, trailing only the Mercedes E-Class and BMW 5-Series sedans in the luxury segment.
Toyota Motor's (NYSE: TM) Prius hybrid was the best-selling vehicle in California for the second year in a row in 2013.
Tesla is scheduled to release its fourth-quarter results on February 19.
Shares were trading lower by one percent in the pre-market session.
Gold retakes $1,300, investors flock to ETFs
After gaining value in seven straight days, investors are banking on the fact that gold will finish the week on a positive note.
After Thursday's weak retail sales data, gold futures climbed above $1,300, trading at its highest level since early November. The surge in gold is rejuvenating interest in the SPDR Gold Trust (NYSE: GLD)
According to Commerzbank's commodity strategist as quoted in Barron's: "Among other things, it was poor retail sales figures in the US which contributed to yesterday's price surge – they fell sharply in January, which also indicates that the US economy is losing momentum somewhat in the first quarter of 2014. The weaker US dollar likewise lent support to the gold price. The gold ETFs tracked by Bloomberg recorded inflows of 7.4 tons yesterday, the second considerable daily inflow this year. This is solely attributable to the SPDR Gold Trust, the world's largest gold ETF, and brings its holdings to above the 800 ton mark again for the first time since the end of December."
Shares of the SPDR Gold ETF were trading higher by 1.20 percent in the pre-market session.
V.F.: Revenue and EPS miss
This morning, V.F. Corporation (NYSE: VFC) reported its fourth quarter results. The company announced an EPs of $0.82, missing the consensus estimate of $0.84. Revenue of $3.29 billion missed the consensus estimate of $3.34 billion. Net income grew seven percent to $368 million in the quarter, compared with $344 million in the same quarter last year.
V.F. Corporation reported that its North Face brand surpassed $2 billion in global revenues for the first time during the fiscal year. Revenue from the Vans brand surpassed $1.7 billion. Direct to consumer and international business also showed signs of strength.
"2013 was a terrific year for VF with record gross margin and earnings per share," said Eric Wiseman, VF Chairman and Chief Executive Officer. "The combined power of our brands and platforms remains our greatest competitive advantage enabling us to push the envelope on product innovation to connect even more intensely with consumers and providing stellar returns to our shareholders."
Investors were focusing on the EPS and revenue miss despite the company saying that 2013 was a "terrific year."
Shares were trading lower by 5.91 percent in the pre-market session.
Arena: Momentum continues
On Monday, Arena Pharmaceuticals (NASDAQ: ARNA) reported that its weight loss drug will be available to more people due to an agreement with CVS Caremark.
On Thursday Arena announced that it has filed for marketing authorization of BELVIQ in Brazil as a treatment for chronic weight management.
StockTwit members continue to debate if Arena is a prime acquisition target from a large cap pharmaceutical company. Users continue to speculate if firms like GlaxoSmithKline or Roche would make a move and acquire Arena at a premium price.
Shares were trading higher by 2.64 percent in the pre-market session.
Chelsea Therapeutics: FDA to decide today
On Wednesday, The Street's biotech expert Adam Feuerstein predicted that Chelsea Therapeutics (NASDAQ: CHTP) has a 70 percent chance of seeing its Northera treatment of neurogenic orthostatic hypotension approved by the FDA. The FDA will make its final decision today.
Feuerstein noted that "there's a small chance FDA delays the Northera decision given the short amount of time between Friday's approval decision date and last month's positive advisory panel. A short delay for administrative reasons -- meaning no requirements for additional clinical data -- won't matter much and may actually benefit Chelsea since the orphan indication clock doesn't start ticking until approval."
On January 15, the FDA voted 16-1 to recommend the approval of Northera.
Shares were trading higher by 2.43 percent in the pre-market session.
Posted-In: Adam Feuerstein Arena Pharmaceutical Belviq chelsea therapeutics Commerzbank cvs caremark Eric WisemanNews Best of Benzinga
View Comments and Join the Discussion!