Jos. A. Bank To Purchase Eddie Bauer: The Drama Continues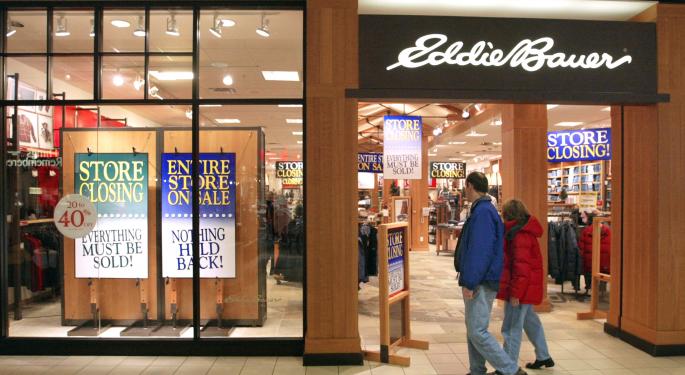 Jos. A. Bank (NASDAQ: JOSB) announced Friday morning that it will purchase clothing retailer Eddie Bauer for $825 million in a cash and stock deal.
Private equity firm Golden Gate Capital, which owns Eddie Bauer, will become a significant Jos. A. Bank shareholder and the acquisition will immediately become accretive to Jos. A. Bank's EPS, according to the press release.
This acquisition might not catch the eye of the general investing community, but in the context of the ongoing battle between Jos. A. Bank and Men's Wearhouse (NYSE: MW), it becomes far more interesting.
Already, some watchers already believe that the move to acquire Eddie Bower was more about the ongoing battle between it and Men's Wearhouse.
Since late 2013, the two companies have tried to acquire eachother. Men's Wearhouse's most recent offer of $57.50 per share or $1.61 billion was its way of "sweetening" the deal—up from $55 per share in December.
Earlier this month, Jos. A. Bank again said no. "After carefully reviewing your offer with our financial and legal advisers, we continue to believe that your offer to acquire Jos. A. Bank substantially undervalues our company and that your proposal is not in the best interests of our stockholders," said Jos A. Bank's letter to Douglas Ewert, president of Men's Wearhouse. "Accordingly, we see no benefit in commencing negotiations with Men's Wearhouse."
Related: Jos. A Bank to Men's Wearhouse: Our Answer Remains NO
Prior to Men's Wearhoue bidding for Jos. A Bank, the tables were turned. In October of 2013 Jos. A. Bank offered to acquire Men's Wearhouse for $2.49 billion.
But despite the drama, shareholders would like to see a deal between the two companies move forward. The largest shareholders of Jos. A. Bank have placed their support behind a merger.
Eminence Capital, a 9.87 percent shareholder in Men's Wearhouse supported Jos. A. Bank's offer but has since came out in support of the Men's Wearhouse offer. As early as this morning it was touting the benefits of such a merger causing some to speculate that Eminence Capital is more interested in an acquisition of any kind.
But looking at the Eddie Bauer acquisition, it's clear that despite all of the back and fourth drama between Jos. A. Bank and Men's Wearhouse, the two still see hope for the deal. According to this morning's press release, Jos. A. Bank could back out of the deal.
"Under the terms of the Agreement, Jos. A. Bank will have the right to terminate its agreement to acquire Eddie Bauer in the event an unsolicited offer is made to acquire Jos. A. Bank that the Company's Board determines would reasonably be expected to create greater value for Jos. A. Bank's shareholders than the Eddie Bauer transaction and issuer tender offer."
Disclosure: At the time of this writing, Tim Parker had no position in the companies mentioned.
View Comments and Join the Discussion!
Posted-In: Eddie Bauer Jos. A. Bank Men's WearhouseM&A News Best of Benzinga