Tiffany's Vs. Louis Vuitton: Which Would You Rather?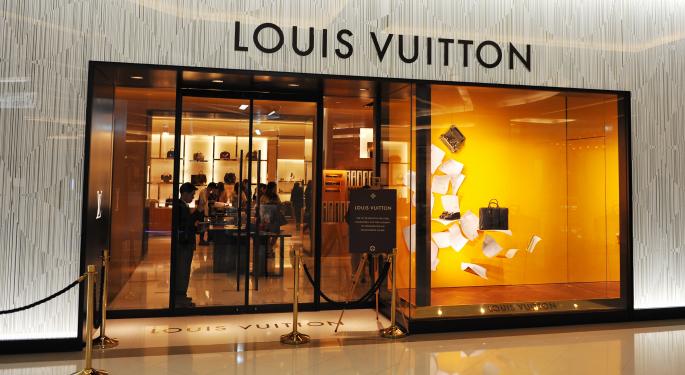 It seems 2014 is shaping up to be the year of income equality.
The president is talking about it, Congress is talking about it and the news media is talking about it. Though there seems to be no certain proposal which will cause an equalization of the gap between the richest Americans and the rest of the population, it appears lawmakers are preparing to try something.
The call for lawmakers to tackle income inequality comes following several studies -- which show the rich have been the major beneficiaries of the stabilization of the U.S. economy, while the poor and middle class have gotten far less.
Related: Disney Vs. 21st Century Fox: Which Stock Entertains You More In 2014?
It would stand to reason, then, that companies which cater to lavish lifestyles would benefit from the current economic situation -- companies such as Tiffany (NYSE: TIF) and Louis Vuitton (OTC: LVMUY).
In retrospect, Jan. 2, 2013 was a great day to purchase Tiffany stock. The luxury jewelry retailer was trading at $59.00, in a year which would see Tiffany stock move decidedly higher. If fact, Tiffany moved higher without significant pull back until May, and topped $80 per share in the process. After its early summer fall, the company equivocated until late fall, when it began to make a move higher.
Between Nov. 25th and 27th the stock jumped over $6 dollars per share, or 10 percent versus the price at the beginning of the year. After this move Tiffany was unstoppable, finishing the year at $92.78 for a 57 percent gain on the year.
LVMH is a company which is home to various luxury brands such as Louis Vuitton, Moet, and Hennessy. The company began 2013 trading at $37.45. But 2013 was truly a bumpy year for the European luxury brands stock, which saw the company go down, back up, and back down. Some highlights include an April low of $30.94, a May high of $36.56, a June low of $31.01, and a September (and yearly) high of $40.51.
Investors who held on to the stock for the entire year more or less finished where they had started – with the stock valued at $36.60 on December 31st at closing time.
Judging from the 2013 fate of Tiffany's you would think the wealthy must have made a mint, then all decided to go out and celebrate by purchasing expensive items. But the 2013 performance of LVMH shows that picture is not so cut and dry. 2013 was a banner year for the stock markets on a whole, but that did not immediately translate into superior stock performances among all luxury stocks.
Posted-In: jewelry luxury apparel Luxury goods luxury itemsNews Psychology Markets General Best of Benzinga
View Comments and Join the Discussion!