Google And VMware Just Ganged Up On Microsoft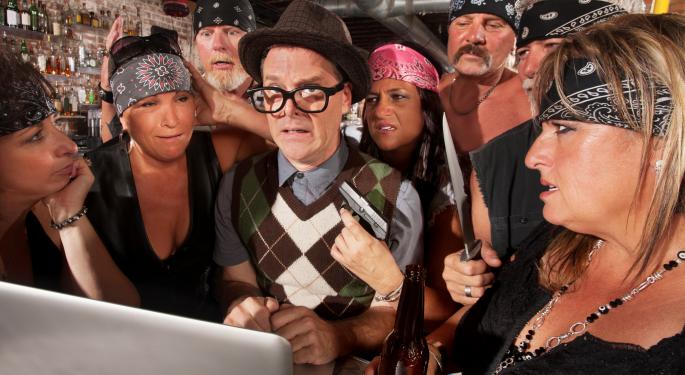 Businesses are all about saving money. Now Google (NASDAQ: GOOG) and VMware (NYSE: VMW) have come up with a way enterprises can save lots of money via Google's inexpensive Chromebook.
Chromebook users, thanks to VMware, will be able to access Microsoft's (NASDAQ: MSFT) Windows applications via VMware's Horizon "desktop as a service" (DaaS) on the Web.
Google Enterprise President Amit Singh, in a press release, put it this way:
"Google Chromebooks can save businesses about $5,000 per computer when compared to traditional PCs. Chromebooks are designed for the way people use computers today and are a secure, easy, and cost-effective solution to help organizations embrace a new way of doing business. Through our partnership with VMware, businesses can now capitalize on these advantages with access to legacy applications, data, and desktops they need to keep employees productive."
Related: Google Partnering With comScore To Attract Major Advertisers
Gartner predicted a 15 percent decline in PC shipments in 2014, compared with 2012. At the same time, Gartner said, shipments of ultramobile devices (tablets, hybrids, and clamshells) would grow more than 400 percent over the same period.
Because of the deal between Google and VMware, enterprises that jump on the PC to ultramobile bandwagon would be able to lower costs while maintaining their current software operations.
While other ways to access Windows machines via the Chome OS exist, many do not offer optimal security features, according to TechCrunch. Google and VMware said this new offering is different and comes enterprise-ready.
According to the joint press release, the new service would begin as an "on premise" only service initially. Ultimately, however, the companies said, "a joint solution is also expected to be delivered as a fully managed, subscription Desktop as a Service (DaaS) offering by VMware and other vCloud Service Provider Partners, in the cloud or within hybrid deployments."
As Forbes opined, this announced deal between Google and VMware is big. Not only will it help Google with Chromebook adoption, but it will also provide enterprise with a new, secure way to remain (or become) agile.
Google's intention has always been to disrupt the monopoly Windows had in both enterprise and personal computing. This latest launch has to make Microsoft nervous.
Although, as The Verge noted, Google's solution is far from a perfect one, and many in the enterprise community will prefer native apps on a Windows machine, the timing is nothing short of exquisite given the fact Microsoft plans to eliminate Windows XP support in April.
With Google's attack plan clear and the company's emphasis on cloud computing as a battleground, small wonder, then, that Microsoft's new CEO wants his company to be "cloud first."
At the time of this writing, Jim Probasco had no position in any mentioned securities.
View Comments and Join the Discussion!
Posted-In: Amit Singh Chome OS Chromebook clamshellsNews Events Tech Media Best of Benzinga