#PreMarket Primer: Monday, February 10: New Fed Chief Takes The Reins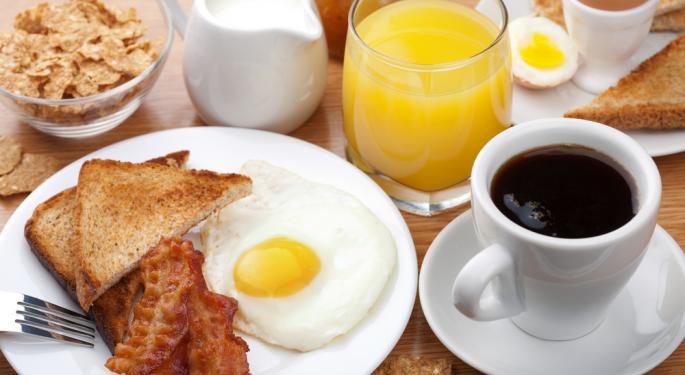 The markets finished the week on an optimistic note Friday with a triple digit gain putting major indices in positive territory for the week.
Friday, the Dow was up 165.55 points or about one percent to finish the day at 15,794.08. The S&P was up 1.3 percent to 1,797.02 and the NASDAQ was up about 1.7 percent to close at 4,125.86.
This morning, U.S. markets are indicated lower. The Dow is indicated down about 40 points while the S&P is down about four points. The NASDAQ is trending about four points lower.
Tuesday will be the first time new Fed Chief Janet Yellen testifies before Congress. Yellen will speak to the House of Representatives then and the Senate on Thursday.
ISS recommends 'no' vote on Icahn's Buyback plan for Apple (NASDAQ: AAPL)
Sprint (NYSE: S) is rethinking its acquisition of T-Mobile (NYSE: TMUS) after U.S. regulators indicate concern over the deal.
Asian Markets
Asian markets were mostly higher in response to a positive U.S. market close on Friday. The Nikkei finished 1.7 percent higher Monday to close at 14,718.34 while the Hang Seng was fractionally lower at 21,579.26.
The Shanghai Composite closed two percent higher at 2,086.07 and the Kospi was flat on the day at 1,923.30.
European Markets
Europe is responding to the favorable Asian market close today as it trends higher. The FTSE is about 0.2 percent higher at 6,582.10 and the DAX is nearly 0.5 percent higher at 9,336.75. Finally, the CAC is 0.5 percent higher at 4,247.58.
Energy is lower and metals are mostly higher. WTI is down about 0.3 percent at $99.54 while Brent is down at $109.45. Natural gas is down 1.2 percent at $4.71.
Gold is up about 0.8 percent at $1,273.50 and silver is up about 1.2 percent at $20.18. Copper is flat at $3.23
The euro is flat against the dollar at 1.3535 and the dollar is about 0.2 percent weaker against the yen at 102.15.
The pound is 0.1 percent higher against the dollar at 1.639 and the Aussie dollar is at 0.896 against the dollar—up about 0.3 percent.
Verizon Communications (NYSE: VZ)is 2.5 percent higher on the back of Sprint/T-Mobile news.
Newmont Mining (NYSE: NEM) is up 1.5 percent in heavy premarket trading.
The following companies will report earnings today:
There are no economic data releases today.
For a recap of Friday's market action, click here.
Tune into Benzinga's #PreMarket Prep show at 8:00 am EST here.
View Comments and Join the Discussion!
Posted-In: News Eurozone Futures Commodities Forex Global Economics Federal Reserve Best of Benzinga