Market Wrap For February 7: Jobs Report Not Great, But Not Too Bad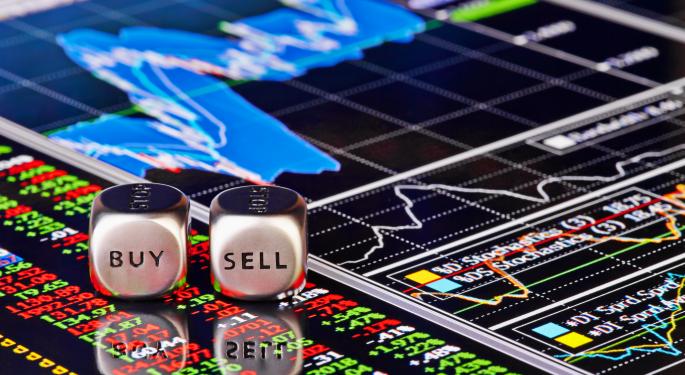 U.S. stocks rallied for the second straight day, ending a tumultuous week on a positive note as investors found more positives than negatives in today's job reports.
"It was bad, but not that bad," an investment officer at Wells Fargo told CNBC. "We've made some progress here, we still think we'll get back to a better trend."
The S&P 500 gained 1.06 percent, closing at 15,794.08.
The S&P 500 gained 1.33 percent, closing at 1,797.02.
The Nasdaq gained 1.69 percent, closing at 4,125.86.
Gold gained 0.77 percent, trading at $1,266.90 an ounce.
Oil gained 2.15 percent, trading at $99.94 a barrel.
Silver gained 0.39 percent, trading at $20.00 an ounce.
News of Note
January Nonfarm Payrolls rose 113,000, below the consensus of 181,000. Unemployment rate of 6.6 percent came in lower than the 6.7 percent consensus.
Related: Alan Greenspan Sees Skills Gap, Not Low Demand In Jobs Market
The suspension of the U.S. debt limit officially expires today. Treasury has a few weeks before it begins to feel the pressure of a default and run out of cash. Treasury Secretary Lew said that the Treasury will likely run out of funds on February 27.
Canada added 29,400 jobs in January, surpassing expectations for an additional 20,000. Unemployed dropped in the month to 7 percent from December's 7.2 percent.
India projected that its GDP will grow 4.9 percent in 2014, well below the 7.4 percent that many economists had called for.
Equities-Specific News of Note
Apple (NASDAQ: AAPL) announced that it had bought back $14 billion worth of shares since it released its first quarter results two weeks ago. Apple has now bought back over $40 billion in stock during the past year and has an additional $20 billion remaining as part of a pledge to buy back $60 billion worth of stock. Analysts at Wells Fargo crunched up the numbers and said that Apple's latest purchases will boost second quarter EPS by $0.23, fiscal 2014 EPS by $0.63 and fiscal 2015 EPS by $1.02. The analysts also believe that Apple will hike its dividend in the next few months. Meanwhile, Egan-Jones, a shareholder advisory firm urged investors to vote against Carl Icahn's proposal to hike Apple's share buyback program an additional $50 billion. Shares gained 1.40 percent, closing at $519.68.
Analysts at Wells Fargo upgraded Starbucks (NASDAQ: SBUX) to Outperform from Market Perform with a price target raised to $88 from a previous $75. The analysts noted ""We hosted investor meetings with SBUX's management team in San Francisco yesterday (2/6) and came away incrementally more positive on SBUX's near- and long-term growth prospects. In attendance was Troy Alstead, COO, Scott Maw, CFO, JoAnn DeGrande, VP Investor Relations, and Greg Smith, Senior Manager, Investor Relations. Overall, we have more conviction that SBUX's increased focus and discipline will propel the company into a new era of faster growth and innovation." The analysts added "Further, we continue to be impressed with: (1) SBUX's strong execution of multiple initiatives in the U.S., (2) its tremendous potential to become an international powerhouse, (3) its impressive loyalty programs and digital offerings, and (4) its long runway for growth in CPG both in the U.S. and internationally where we believe it's just getting started." Shares gained 2.32 percent, closing at $74.04.
Analysts at Argus believe that investors are over-reacting toExxon Mobil's (NYSE: XOM) disappointing earnings and declining production. The analysts noted "We think that investors have become too pessimistic about the company's production profile (47% gas in 4Q) and that this negative sentiment is reflected in the stock's current valuation. In our view, ExxonMobil will remain the global energy leader, and a superior allocator of capital, as demonstrated by its leading returns on invested capital. We also believe that the company's exceptionally strong financial position, as indicated by its AAA credit ratings, will enable it to return excess cash to shareholders." Shares gained 0.89 percent, closing at $90.60.
Analysts at Argus Research said that the recent weakness in Boeing (NYSE: BA) is a buying opportunity. The analysts noted "Boeing shares have pulled back 10% in 2014 and 16% from their all-time high of $144.57 on January 22, which we believe presents a substantial buying opportunity. Even under our most conservative forecasts, we calculate a fair value for [Boeing] shares well above the current market price given our expectations for significant growth in free cash flow over the next several years. As the company's growth prospects do not yet appear fully priced in, we are reiterating our $150 target price." Shares gained 3.52 percent, closing at $126.99.
Analysts at RBC Capital Markets upgraded Lululemon Athletica (NASDAQ: LULU) to Outperform from Sector Perform with an un-changed price target of $56. The analysts noted that the bulk of the bad news has passed and that a new management team could help propel it forward. Shares gained 4.27 percent, closing at $47.39.
Analysts at Roth Capital said that SodaStream (NASDAQ: SODA) should not fear Green Mountain Coffee Roasters' recent agreement with Coca-Cola to jointly cooperate on the upcoming Keurig cold platform. The analysts noted "competition in this market will create a greater degree of consumer awareness and increase household penetration, to the benefit of both players" and that "we view a SODA tie-in with PepsiCo as a long shot, and not necessary for the company to maintain rapid sales and earnings growth." Roth Capital maintained a Buy rating and $55 price target. Shares lost 2.09 percent, closing at $37.55.
Related: Herb Greenberg Thinks Green Mountain Isn't Much Without Coke
Analysts at Bank of America added Citigroup (NYSE: C) to its U.S. 1 Focus List with a $65 price target. The analysts noted ""We believe bank stocks deserve to trade below tangible book if: 1) balance sheet risk threatens TBV; or 2) it can't earn its cost of capital. We think Citigroup will disprove these worries over the next 12 months" and that ""We believe the pullback in the stock has created an especially compelling entry point for investors." Shares gained 2.24 percent, closing at $49.33.
Analysts at Goldman Sachs downgraded Lowe's (NYSE: LOW) to Neutral from Buy with a price target lowered to $51 from a previous $54. The analysts noted ""We are lowering our rating on LOW to Neutral from Buy, based primarily on fading growth in housing turnover, our key leading indicator for home improvement sales." The analysts added "we see good visibility for 4Q/1Q, the impact of weather notwithstanding. If past trends are predictive, then fading housing turns would begin to impact demand with a lag, in 2Q/3Q. We believe that current forecasts are achievable, but that upside becomes more elusive in the absence of the housing strength that propelled sales and valuation over the past two years." Shares lost 1.14 percent, closing at $46.05.
Analysts at Jefferies upgraded Sony (NYSE: SNE) to Buy from Hold with a price target raised to $20.80 from a previous $17.70. The analysts noted "Looking forward, Sony's sale of the PC biz and spin-off of TV are moves in the right direction and can build a perception of real-restructuring" and that "the bad news (FY3/14 OP forecast cuts) is out. And it seems to have been "priced-in", as Sony returned -16% relative to Nikkei in last 3 months." Shares gained 1.82 percent, closing at $16.82.
Related: Sony's PCs Are Dead – Up Next, TVs
Analysts at JPMorgan downgraded iRobot (NASDAQ: IRBT) to Underweight from Neutral with a price target unchanged at $32. The analysts noted "though IRBT deserves to trade at a premium, it's current premium is to high and unjustified." The analyst noted "with the stock trading at a 12% premium to our YE14 price target, we believe risk-reward is tilting unfavorable." Shares lost 2.46 percent, closing at $37.65.
Analysts at Credit Suisse initiated coverage of Rackspace Hosting (NYSE: RAX) with an Outperform rating and $49 price target. The analysts noted "After two years of decelerating growth, we believe that revenue is poised to reaccelerate in 2014 in a predictable manner, driven by improvements in products and sales execution. Furthermore, Rackspace is well positioned to benefit from secular growth trends in cloud computing, as we expect the next phase of cloud market growth to be led by enterprise adoption." Shares gained 4.80 percent, closing at $39.51.
Analysts at Bank of America downgraded AOL (NYSE: AOL) to Neutral from Buy with a price target lowered to $56 from a previous $50. The analyst noted "While AOL had turned around the advertising business with revenue and profit growth and had a record 4Q, we think our thesis had played out and based on its 2014 outlook, we no longer see upside to our estimates." Additionally, the analysts lowered 2014 revenue estimate from $2.55 billion to $2.48 million and EPS from $2.41 to $2.02. The analyst noted that these revised estimates are based on higher opex as AOL will "likely continue to invest" and that the analysts lowered their 2015EPS from $2.62 to $2.12, assuming lower revenue. Shares gained 0.26 percent, closing at $47.27.
The Gap (NYSE: GPS) reported yesterday that its comparable-store sales rose one percent in January. The company said that it is projecting its fourth quarter EPS to be $0.65 to $0.66, ahead of the $0.60 consensus estimate. Shares gained 5.77 percent, closing at $42.00.
Merck (NYSE: MRK) has agreed to pay $100 million in fees to settle more than 1,700 lawsuits alleging its NuvaRing contraceptive device has caused potentially fatal blood clots. Shares gained 1.84 percent, closing at $54.76.
IBM (NYSE: IBM) is considering a sale of its semiconductor manufacturing operations which produces chips for high-end servers and external customers. Shares gained 1.47 percent, closing at $177.23.
Related: IBM Looking To Sell Chip Manufacturing Business
Vintage Capital has offered to buy Aaron's (NYSE: AAN) in a deal valued at $30.50 which values the company at $2.3 billion. Vintage Capital has made previous attempts to acquire the retailer in the past. Shares gained 4.70 percent, closing at $28.32.
John Thaler's JAT Capital has taken a 5.5 percent stake in Angie's List (NASDAQ: ANGI) according to a 13G filing. Shares gained 4.17 percent, closing at $17.47.
ABB (NYSE: ABB) is exploring selling a number of non-core assets in deals that could fetch over $1 billion. One of the units that is said to be on the selling block is the Thomas & Betts' heating and air conditioning unit, which it purchased last year for around $1 billion. Shares gained 1.00 percent, closing at $25.35.
Charter (NASDAQ: CHTR) is set to nominate a full slate of candidates for Time Warner Cable's (NYSE: TWC) 13-member board in an effort to "spur merger talks between the companies," according to the Wall Street Journal. Shares of Charter gained 0.73 percent, closing at $137.50 while Time Warner lost 0.22 percent, closing at $135.35.
Dunkin' Brands (NASDAQ: DNKN) CEO hinted that an acquisition could very well be part of the company's future as it is considering buying another franchised restaurant chain. Shares gained 0.20 percent, closing at $48.99.
Recommended: Twitter vs. Facebook - What's Your Social Network For 2014?
Myriad Genetics (NASDAQ: MYGN) settled a patent suit against Gene by Gene. As part of the settlement, Gene by Gene will halt selling diagnostic tests in North America but will continue selling its whole genome/exome products in North America. Shares gained 5.43 percent, closing at $32.23.
Contrary to previous reports, Google (NASDAQ: GOOG) has not acquired a 5.94 percent stake in Lenovo (OTC: LNGVY) for $750 million, according to Re/code. Shares of Google gained 1.51 percent, closing at $1,178.12.
Winners of Note
Nokia (NYSE: NOK) has settled its patent dispute with HTC who will "make payments" to Nokia and that Nokia's "licensing offer" for OEMs will be strengthened by the inclusion of HTC's 4G LTE patent portfolio. Shares of Nokia gained 9.27 percent, closing at $7.66.
Analysts at Deutsche Bank transferred coverage/upgraded YY (NASDAQ: YY) to Buy from Hold with a price target raised to $81 from a previous $55. The analysts noted "With its leading proprietary, real-time, mass online communication technology platform, we believe YY's potential as a true platform play to capture China's "Average Joe" audience has been significantly underestimated. Based on an in depth analysis of the behavioral traits and consumption patterns of YY's target customers and company strategy, we believe YY is steadily gaining market share and improving penetration in online live broadcasting market segments such as entertainment and education." Shares gained 8.62 percent, closing at $65.03.
AeroVironment (NASDAQ: AVAV) signed a deal with Lockheed Martin to "jointly pursue opportunities" for AeroVironment's Global Observer high-altitude/long endurance un-manned aerial vehicle. AeroVironment stated that the agreement gives it the chance to "develop innovative, end-to-end atmospheric satellite systems built around Global Observer that deliver breakthrough capabilities." Shares of AeroVironment gained 6.45 percent, closing at $29.72.
The European Patent Office has upheld claims brought by a German drug giant against Puma Biotechnology. (NASDAQ: PBYI) the patent in question is part of a patent portfolio licensed from Pfizer in 2011 and includes claims related to "a pharmaceutical composition for use in treating cancer in a subject with a cancer having a mutation in EGFR with a T790M mutation." Shares gained 18.22 percent, closing at $122.59.
Recommended: Sozzi's Retail Roundup: Radio Shack Abuzz After Super Bowl, But Still Struggling
Decliners of Note
Following yesterday's results, a grand total of 13 research firms slashed their price targets for LinkedIn. (NASDAQ: LNKD) Of note, analysts at Morgan Stanley said "we see significant positive catalysts ahead of LinkedIn in 2014E from its Marketing Solutions turnaround (Sponsored Updates are ramping quickly) and an aggressive push in Sales Solutions (expected to become a "core component" of the business this year). Analysts at Topeka said "EBITDA guidance 16% below consensus, implying zero margin expansion, and a growth rate deceleration of near 40 percentage points. LinkedIn has effectively reset Street expectations, perhaps providing room for future beat and raise quarters." Shares lost 6.29 percent, closing at $209.40 but traded as low as $201.98. Of note, shares of Facebook (NASDAQ: FB) appear to be completely unfazed and hit new 52 week highs of $64.57 before closing the day at $64.32, up 3.47 percent.
This morning, CIGNA (NYSE: CI) reported its fourth quarter results. The company announced an EPS of $1.39, missing the consensus estimate of $1.49. Revenue of $8.15 billion beat the consensus estimate of $7.3 billion. The global health-care segment, its largest and most important division posted six percent higher premiums and fees as adjusted margin in the division fell percent to 6.7 percent. The company issued downside guidance for full year 2014 and expects its EPS to be $6.80 to $7.20, below the $7.32 consensus estimate. Shares lost 9.25 percent, closing at $77.47.
Earnings of Note
After the market closed yesterday, athenahealth (NASDAQ: ATHN) reported its fourth quarter results. The company announced an EPS of $0.57, beating the consensus estimate of $0.44. Revenue of $171.6 million beat the consensus estimate of $168.39 million. The revenue beat was driven by a better performance within the Epocrates business and the company benefited from a lower tax rate and higher gross margins which improved 280 bps to 66.2 percent a year ago. Shares hit new 52 week highs of $177.79 before closing the day at $173.93, up 25.06 percent.
Quote of the Day
After February 27, the U.S. Treasury would be left "with only the cash on hand and any incoming revenue to meet our country's commitments." - Secretary of Treasury John Lew in a letter to House Speaker John Boehner.
View Comments and Join the Discussion!
Posted-In: aaron's abb AeroViornment AOL Apple Apple buybackNews After-Hours Center Best of Benzinga