Is Ford Ready To Rebound?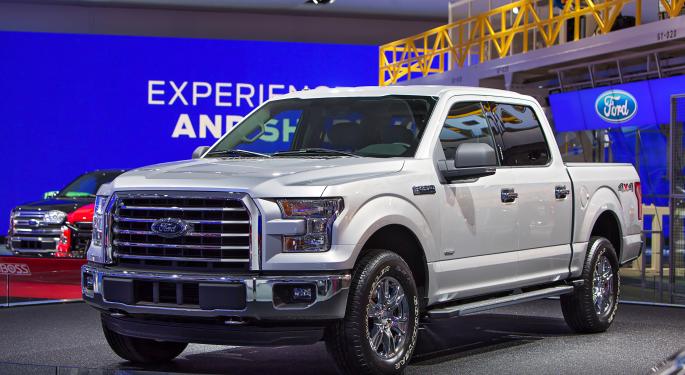 Ford (NYSE: F) shares are off four percent in 2014, trading at $14.70. After sprinting to $16.78 in mid-January, the issue has been under constant selling pressure.
The release of January sales data that reported a decline of 7.1 percent vs. estimates of a 2.3 percent was not what the Street wanted to hear. However, the decline can be attributed the difficult weather in many of the company's larger regions. The poor weather had a negative impact on the timing of some of the fleet deliveries and could easily lead to a better-than-expected February for the automaker.
Despite an earnings beat of $0.03 and a surge in quarterly profit and revenue, the Street has punished the issue. Also, Ford was mentioned positively over the weekend by Jack Hough in this week's issue of Barron's.
Hough cited that as car sales return to pre-recession levels, Ford trades at reasonable valuation, 11 time this year's earnings versus 15 times for the Standard & Poor's 500 index. Also, improvements to cost structure, balance sheets and vehicle lineups should add to the bottom line.
Ford has been preparing for the recovery by investing in new plants and workers as well as several new launches. The increase in spending means profits may suffer in 2014, but may have a positive effect in 2015.
The new F-150 model roll out will require an 11-week shutdown at the company's main pickup plant in Dearborn, Michigan. Ford is banking on the short-term negative effect of the cut into margins to be offset in the long-term by higher profits from sales from the new models.
Perhaps the Street is skeptical that the transition will go smoothly and any hiccups in the transition will have a devastating effect on its stock price. With over half of the North American profits derived from sales of pickups, the potential negative impact on earnings is warranted.
Ford may get a boost in profits as Western Europe sales begun to recover. Current sales are still well below 2009 levels, but have begun to rebound. Ford, which has been posting huge losses overseas, expects to break even overseas beginning in 2015.
During 2013, Ford was able to shore up its pensions liability, reducing the shortfall from $18.7 billion to $9 billion. Therefore, any increase in cash flow may parlay into an increase in its already attractive 3.3 percent dividend yield.
From a technical perspective, the issue has been attempting to put a bottom in over the last four trading sessions. With last the four lows between $14.40 and $14.53 (including Thursday's session), a lower risk opportunity may have presented itself with Ford changing hands at $14.70.
This is similar pattern that occurred in late December when Ford built a strong base at the $15.20 area, which was the impetus for rally to nearly $17.00.
Even General Motors' (NYSE: GM) announcement Thursday of a lower Q4 profit had an initial negative impact on the issue and failed to induce a sympathy move in Ford through this important support level. In fact, both issues recovered from their morning swoon and have returned to unchanged for the day.
As the company enters a pivotal transitional year, both on the production and financial fronts, investors may want to evaluate the potential risk/reward for Ford shares as the issue trades at levels not seen last June.
Posted-In: Dearborn F-150 Jack HoughNews Rumors Technicals Intraday Update Trading Ideas Best of Benzinga
View Comments and Join the Discussion!