Olympic Athletes Asked To Cover iPhone Logo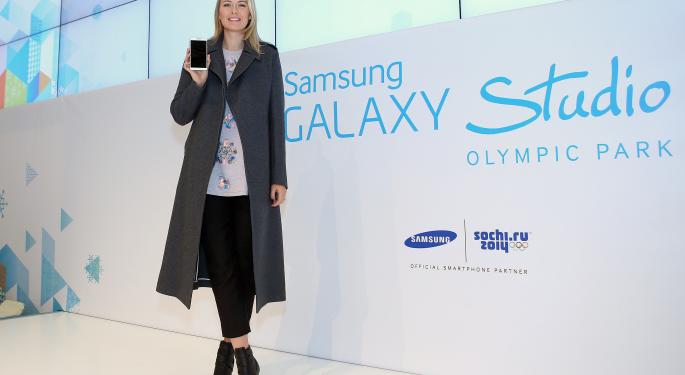 As the 2014 Winter Olympics get underway, the stories coming out of Russia are both entertaining and fascinating.
Among the headlines, if you connect to the Internet, you can pretty much bank on getting hacked according to one report.
Then there's the multiple images flooding social media of the not-so-appetizing pictures describing the state of some of the hotels. (We'll save you the gross pictures of the water quality, for example.)
But let's center on another story.
If you're hoping to score a free Samsung (OTC: SSNLF) Galaxy Note 3, here's how you do it: First, become an Olympic athlete and second, agree to cover up the logo on the phone you really use: your iPhone.
Samsung wants to be the phone that everybody sees, especially during the opening ceremonies. The company has told athletes accepting the device that they can use their iPhone to take all of the pictures they want during the opening ceremonies as long as they cover up the Apple logo.
We can thank members of the Swiss Olympic team, who found the guidelines inserted into their gift bags.
Related: Four Apple Stores From Tuesday You Might Have Missed
But not to worry because Samsung is nothing if not reasonable. The athlete only has to cover their iPhone logo when they're on TV.
It's a bold move and in large degree, understandable. The Olympics is a giant advertising opportunity. With all NBC channels covering the games as well as a flood of social media publishing pictures taken and shared on their (hacked) computers and mobile devices, the opportunities for getting a company's products on the screens of viewers around the world are worth spending the money to give every athlete a smartphone.
And there's no doubt that Samsung knows how to throw money at advertising. In 2012, the company spent about $100 million to sponsor the Olympic Summer games in London and its advertising budget last year was about $14 billion.
But Samsung's "Galaxy Team"—the name it coined for all the athletes carrying the Galaxy Note 3, isn't likely to hide the Apple name or logo, according to some critics, and if this goes the way of some of Samsung's other partnerships, it may not end as well for Samsung hopes.
Remember when David Beckham became a brand ambassador for the 2012 Olympics in London?  Guess what he was spotted using at last weekend's Super Bowl? His iPhone.
Disclosure: At the time of this writing, Tim Parker was long Apple. 
Posted-In: Apple iPhone Olympics Samsung SochiNews Global Tech Best of Benzinga
View Comments and Join the Discussion!