Which Retailer Will Be Next To Discontinue Tobacco Sales?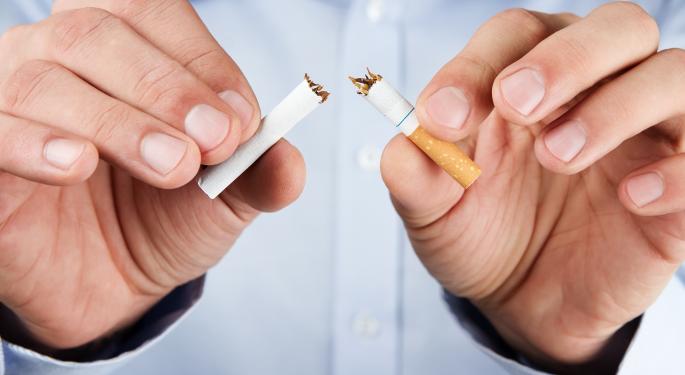 So, who's next?
Now that CVS (NYSE: CVS), the nation's second-largest drugstore chain, has announced it will phase out the sale of tobacco products at its stores by October of this year, consumers and investors are watching to see which retail chain will be next to fall in line and ban cigars, cigarettes and chewing tobacco.
While retail giant Wal-Mart (NYSE: WMT) did not respond to a request for a comment, the nation's largest drugstore chain, Walgreen (NYSE: WAG), says it is weighing its options.
"We have been evaluating this product category for some time to balance the choices our customers expect from us, with their ongoing health needs," the company said in an emailed statement to Benzinga.
See also: CVS Caremark To End Cigarette Sales
"We will continue to evaluate the choice of products our customers want," it added, "while also helping to educate them and providing smoking cessation products and alternatives that help to reduce the demand for tobacco products."
Meanwhile, third-ranked Rite Aid (NYSE: RAD), says it continues to offer both tobacco products as well as "smoking cession products" at its stores.
The company tells Benzinga it also "provides additional resources, including our pharmacists, who are available to counsel people trying to stop smoking."
"We continually evaluate our product offering," Rite Aid added, "to ensure that it meets the needs and interests of our customers."
In the meantime, industry analysts believe the tobacco ban at CVS will gain momentum with other corporations.
"This is a trend we're going to see many, many retailers and food companies jump on," Alexandra von Plato, president and global chief creative officer of Publicis Healthcare Communications Group, told Reuters.
The wire service also quotes a note by Ross Muken, an analyst at the investment research firm ISI Group -- who believes the move will be seen a a positive, long-term decision by CVS, "despite the near-term profit drag, as it paves the way for increased credibility with both healthcare consumers and payers."
View Comments and Join the Discussion!
Posted-In: Alexandra von Plato cancer commentsNews Retail Sales Topics Media General Best of Benzinga