Hulu Vs. Snapchat - Which Startup Is Worth More?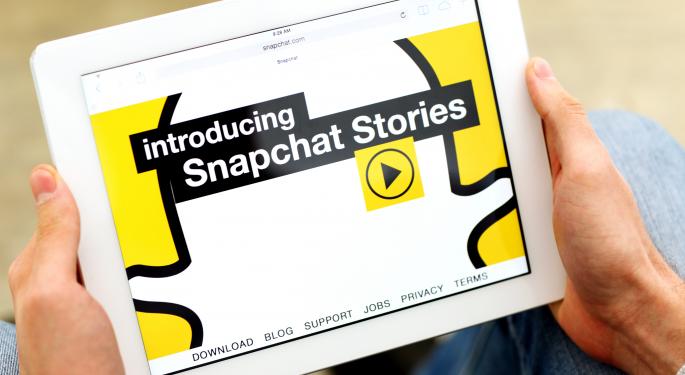 One is a leading website for new TV content -- the other is a rising star in social media.
In the end, neither company was sold. But their reported acquisition offers tell an interesting story of how startups are perceived by their peers and potential suitors.
Hulu
Founded in 2007 by Fox and NBC (with a $100 investment from Providence Equity Partners), Hulu has become the primary online hub for new TV shows. Older seasons may be catalogued on Netflix, but if consumers want to watch the latest episode of The Blacklist, they go to Hulu.
Disney's (NYSE: DIS) ABC may have been late to the party, but it now owns at least 27 percent of Hulu.
Related: ABC's Hulu Strategy Could Cost Disney Millions Of Viewers
Over the past few years, Hulu has gradually increased the number of users who pay for its premium service. More than five million people now subscribe to Hulu Plus.
While some videos are restricted to paying customers, Hulu.com still offers a significant number of free shows from Fox, NBC and other content providers. CBS has yet to bring new episodes to the service, but it dabbled in Hulu support last fall when it delivered the first four seasons of The Good Wife.
In December, Hulu estimated that its total revenue would reach $1 billion in 2013. The company is not publicly traded, so it is not required to provide any additional updates. But that announcement said a lot about the company's potential.
Is this the reason why Hulu's owners -- Fox, Disney and Comcast (NASDAQ: CMCSA) -- ultimately decided to invest more of its own money into the company?
Instead of selling it for $1 billion (or at most, $2 billion), Hulu's owners poured an additional $750 million into the service.
"Hulu is right after Netflix in changing the world in terms of the way people consume content," James Norman, founder and CEO of GroupFlix.tv (an online video service with TV shows that are offered a la carte), told Benzinga. "The values that they were looking at buying that company for were absurd."
Snapchat
Like Instagram, Snapchat is a cool, app-of-the-moment that came out of nowhere.
According to a report in November from AllThingsD, Snapchat has not revealed how many people actually use the app.
Someone with "insight into the company" told Business Insider that Snapchat has 30 million active users and 60 million total installs.
None of those unconfirmed users have spent a dime on the app. And without a monetization plan in place, Snapchat does not make any money.
Nonetheless, Snapchat's partners have invested more than $70 million into the company.
Last fall, Google reportedly offered to buy Snapchat for $4 billion. Facebook was also interested in the firm and offered $3 billion.
Related: Facebook's $3 Billion Offer Rejected By Snapchat
"You have some [kids] from college who were like, 'I don't want $3 billion for an app I built on the weekend,'" Norman said of the buyout offers.
"And someone's like, 'Oh, let me give you $750 million to look at the future of TV,'" he added, referring to some of the lowball offers that were reportedly made for Hulu.
"[Hulu] is highly undervalued. At this point, if [they had sold it] for $750 million, some people might [have taken] a loss on that. There's no reason to take a loss because they [generated] $1 billion in revenue. You can't value a company at that when they're bringing in that kind of money."
Verdict: Hulu Needed Better Suitors
It seems that a startup's valuation will always be in the eye of the beholder. Hulu might be a successful entity with a lot of potential, but its rumored buyers might have seen it as just another video site.
Meanwhile, Google and Facebook seem to think that Snapchat will play a key role in the future of social media.
Disclosure: At the time of this writing, Louis Bedigian had no position in the equities mentioned in this report.
View Comments and Join the Discussion!
Posted-In: comments Google GroupFlix Hulu James NormanM&A News Tech Best of Benzinga