'Not Your Father's Farm Bill' Passes Senate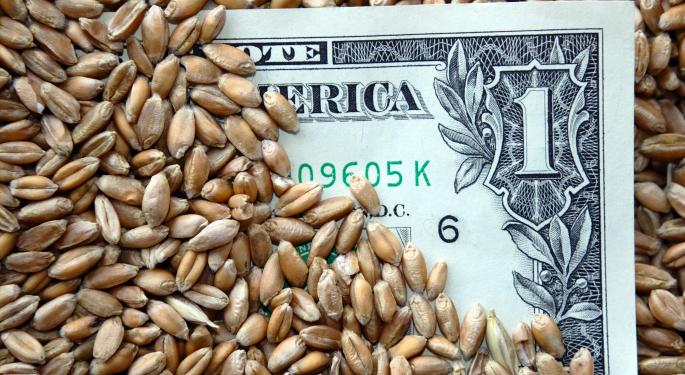 Michigan Senator Debbie Stabenow, author of the new farm bill and Chairwoman of the Senate Committee on Agriculture, Nutrition, and Forestry, tweeted this Tuesday:
This is not your father's #FarmBill http://t.co/sjZMmEY8GI

— Sen. Debbie Stabenow (@StabenowPress) February 4, 2014
Clearly, the nearly 1,000-page bill passed yesterday by the Senate and headed for the President's signature in Michigan Friday, contains a number of changes from past legislation.
Most importantly, "direct payments" to farmers are gone. Controversial and unpopular, "direct payments" paid farmers a subsidy based on the number of acres they own, whether they farmed them or not and independent of weather conditions.
Related: Top 4 NYSE Stocks In The Farm & Construction Machinery Industry With The Highest Revenue
Instead, the new bill includes a provision for expanded crop insurance ($7 billion over the next 10 years) and new subsidies for rice and peanut farmers for when prices on those crops drop.
In addition, the new bill includes cuts to the food stamp program that could save taxpayers $8 billion over the next 10 years. Most of the cuts to the Supplemental Nutrition Assistance Program would come from changes to a "heat and eat" provision that pays a stipend to food stamp recipients to help with their heating bill – even if they do not pay a utility bill.
The "heat and eat" provision exists in 17 states and those states are most affected by the S.N.A.P. cuts. Anti-hunger advocates told The New York Times this change would affect 850,000 American households or about 1.7 million people. Those recipients would lose an average of $90 per month in benefits due to cuts in the food stamp program.
The long-stalled farm bill would cost almost $1 trillion over the next five years or about $96 billion annually. By shifting emphasis to crop insurance instead of "direct payments," however, taxpayers could see a savings if the weather is conducive to growing.
Other aspects of the bill include new soil conservation measures, a program to encourage food stamp recipients to buy and grow more fruits and vegetables, and a $125,000 cap on the overall amount an individual farmer could receive.
Stabenow noted that, despite food stamp cuts that affect 4 percent of recipients, nobody would be removed from the program.
Critics, however, pointed to some familiar elements in the new bill including dozens of economically valuable provisions that appeared to come in the form of favors to lawmakers in certain states in a move to garner support.
Former Republican congressman, William Frenzel said, "The agriculture industry simply does not need all of these supports. They saved a little bit of money, but still left us with bad budget and agriculture policy."
View Comments and Join the Discussion!
Posted-In: American and Forestry crop insuranceCommodities Politics Markets Media General Best of Benzinga