CVS Caremark To End Cigarette Sales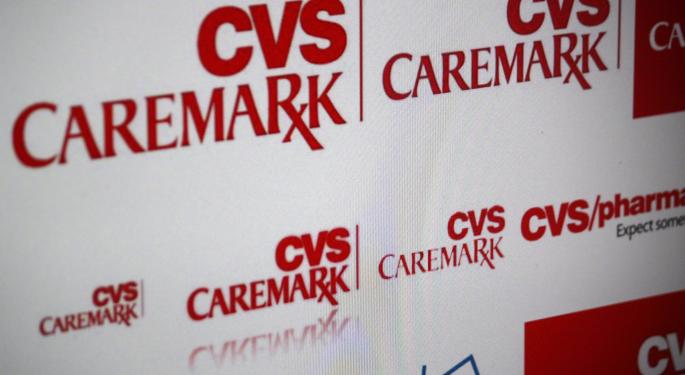 In a move that could cost CVS Caremark (NYSE: CVS) $2 billion annually, the country's second-largest drugstore chain said it would phase out cigarettes, cigars, and chewing tobacco by October 1.
The change affects the chain's more than 7,600 drugstores nationwide and was part of an overall strategy to focus on health care. CVS CEO Larry Merlo told The Wall Street Journal, "CVS Caremark is playing an expanded role in providing care through our 26,000 pharmacists and nurse practitioners," adding that CVS would be the first major national chain to remove tobacco products from its stores.
In a statement from the White House, President Obama said, "I applaud this morning's news that CVS Caremark has decided to stop selling cigarettes and other tobacco products in its stores, and begin a national campaign to help millions of Americans quit smoking instead."
Related: CVS Caremark, Cardinal Health Announce Creation Of Largest Generic Sourcing Entity In US
Major drugstore chains, including CVS Caremark, have been adding health care-related offerings to their locations over the past several years. It is now possible to go into CVS, Walgreen (NYSE: WAG), and other major drugstores to get flu shots and other medical services.
CVS walk-in Minute Clinics, for example, which are staffed by nurse practitioners and physician assistants, treat common injuries and illnesses such as strep throat and pink eye, conduct physicals, and even monitor chronic conditions like diabetes and asthma.
According to CVS, selling cigarettes and other tobacco products flies in the face of an expanded emphasis on health care.
"We've got 26,000 pharmacists and nurse practitioners who are helping millions of patients each and every day," Merlo said. "They manage conditions like high blood pressure, high cholesterol, and diabetes — all conditions that are worsened by smoking. We've come to the decision that cigarettes have no place in an environment where health care is being delivered."
Although the move will cost CVS in the near term, changes in the way drug chains operate, including increased emphasis on large contracts with hospitals and insurance companies, mean the company might benefit in the end.
Thanks to a 2007 merger with Caremark, CVS is more than a drug store chain. It is also a pharmacy benefits manager. As relationships with hospitals and insurance companies become more critical to the company's bottom line, questions from medical professionals about CVS' day-to-day store operations have surfaced.
Troyen Brennan, former professor of medicine at Harvard Medical School, now CVS' chief medical officer said, "We would always get the question: why do you continue to sell cigarettes?"
Now CVS has an answer, "We don't."
At the time of this writing, Jim Probasco had no position in any mentioned securities.
Posted-In: Americans cigarette sales cvs caremark Harvard Medical SchoolNews Retail Sales Events Media Best of Benzinga
View Comments and Join the Discussion!