Jos. A. Bank to Men's Wearhouse: Our Answer Remains NO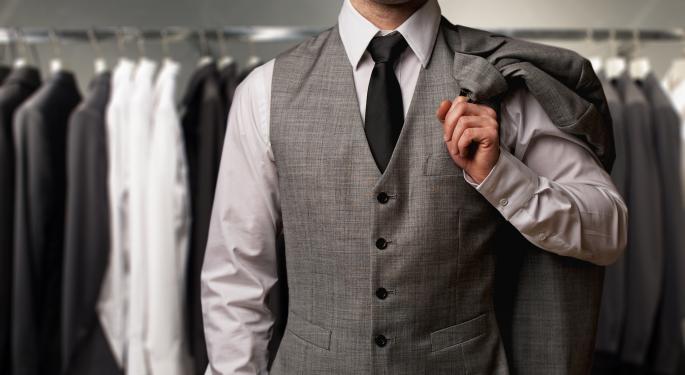 On Sunday, Jos. A. Bank (NASDAQ: JOSB) rejected yet another takeover offer by rival Men's Wearhouse (NYSE: MW) despite a previous offer to "sweeten" the deal.
Last Thursday, Men's Wearhouse said it could raise its offer to $1.61 billion, or $57.50 a share, "if additional value was discovered through discussions or limited due diligence." Men's Wearhouse initially offered $55 per share in December to buy its rival.
"After carefully reviewing your offer with our financial and legal advisers, we continue to believe that your offer to acquire Jos. A. Bank substantially undervalues our company and that your proposal is not in the best interests of our stockholders," said Jos A. Bank's letter to Douglas Ewert, president of Men's Wearhouse. "Accordingly, we see no benefit in commencing negotiations with Men's Wearhouse."
This is the latest round of a back and forth battle between the two companies, which started with Jos. A. Bank's $2.49 billion offer to acquire Men's Wearhouse in October 2013.
Related: Jos. A Banks Turns Down Acquisition Offer from Men's Wearhouse
On January 3, Jos. A. Bank said that it strengthened its acquisition-defense plan, or "poison pill", to a 10 percent threshold. If Men's Wearhouse buys more than 10 percent of Jos. A. Bank, it will issue new, cheaper shares to dilute Men's Wearhouse's stake.
The five largest shareholders of Jos. A. Bank have been vocal in their desires to see the company move forward with a merger. The largest of the five shareholders is Eminence Capital, which owns 9.87 percent of Men's Wearhouse as of January 13 and initially supported Jos. A. Bank's $2.49 billion offer to acquire Men's Wearhouse.
"If one reviews the behavior of Men's Wearhouse since it first received Jos. A. Bank's proposal in October 2013, we think there are real questions about whether your Board, together with your largest stockholder, the hedge fund Eminence Capital, are pursuing an acquisition of Jos. A. Bank for reasons that are very different from what is in the interests of our stockholders," said Jos. A. Bank's letter to Ewert.
"The facts raise questions about whether your directors and management made the offer for Jos. A. Bank in order to avoid a proxy fight by Eminence that, if successful, threatened the Board's status and management's jobs. When Men's Wearhouse rejected our acquisition proposal, Eminence threatened to wage a proxy fight against Men's Wearhouse. Facing this pressure, Men's Wearhouse did an abrupt about face and launched its offer for Jos. A. Bank. Then, shortly after Men's Wearhouse made its offer, Eminence dropped its proxy fight threat against Men's Wearhouse's directors."
"When Eminence now says it supports Men's Wearhouse's offer, we wonder whether its principal concern is the serious damage it could suffer to its own business and reputation if it loses money on its risky investment in Men's Wearhouse shares."
Posted-In: Douglas Ewert Eminence Capital Jos. A. Bank Men's WearhouseNews Best of Benzinga
View Comments and Join the Discussion!