Will 'Innovator-in-Chief' Be Bill Gates' New Role at Microsoft?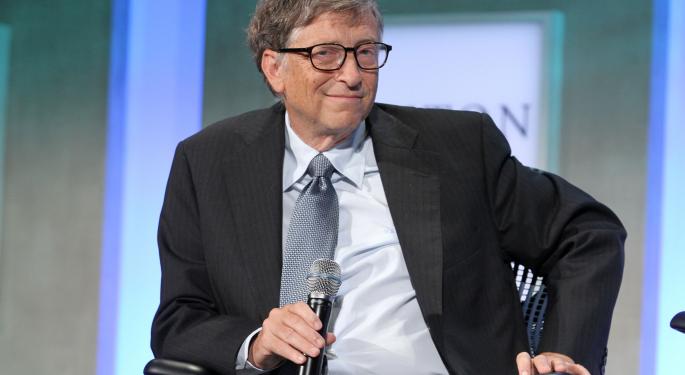 As Microsoft (NASDAQ: MSFT) appeared about to name Satya Nadella its new CEO to replace retiring chief, Steve Ballmer, questions continued to surround co-founder, Bill Gates – especially with regard to his role following the upcoming changing of the guard.
Bloomberg reported Monday that sources said Gates would step down as board chairman, but would remain a director, with involvement in product development.
As a result, Gates would have less to do with administration and more to do with one area Microsoft sorely needed to pay attention to – building products people actually want to buy.
Bloomberg's sources suggested Gates was considering working at least one day a week at Microsoft in an attempt to utilize his skills at finding and developing innovative products as he did in the early days of the company.
In particular, Microsoft needs to ramp up its involvement in newer areas of technology, such as mobile devices and Internet services. The company currently lags behind others including Google, Apple and Facebook in those popular consumer oriented spaces.
Related: Reports: Microsoft Will Pick Satya Nadella and Bill Gates Will Step Down
Former Microsoft executive, Todd Warren said, "Bill's product reviews were legendary, and Microsoft's products would benefit from his input." Warren added, however, "My concern would be that the tech landscape has shifted away from the PC in recent years."
Author Geoffrey Moore compared Gates to Apple co-founder Steve Jobs saying, "He and Steve Jobs seem very different on the outside, but at their core they were very similar. They both see things that others don't see, and they're both very demanding."
All that remained was for Microsoft to announce Ballmer's successor and for the company and Gates to agree on his future role.
The question, of course, is whether a Nadella/Gates move would be enough to make Microsoft more competitive. As The Wall Street Journal reported, Nadella represented a "safe" option for the company.
According to people familiar with the matter who spoke with The Wall Street Journal, Nadella told directors that as CEO he would hope to lean on Gates. Calling Nadella a "safe pick," research analyst Dan Fletcher his selection would be a disappointment to anyone hoping for an "an outsider who would drive significant and bold change."
If Nadella were to lean on Gates, then Gates' role moving forward would become critical. If he paid attention to product development and continued to promote Microsoft involvement in both the consumer and business spaces, as he did in the past, it would become even more important for Microsoft to catch up with the Googles, Apples, and Facebooks of the technology world.
At the time of this writing, Jim Probasco had no position in any mentioned securities.
Posted-In: Apple Bill Gates Dan FletcherNews Rumors Events Tech Media Best of Benzinga
View Comments and Join the Discussion!