AT&T Forced To Cut Prices As Smartphone Plan Wars Intensify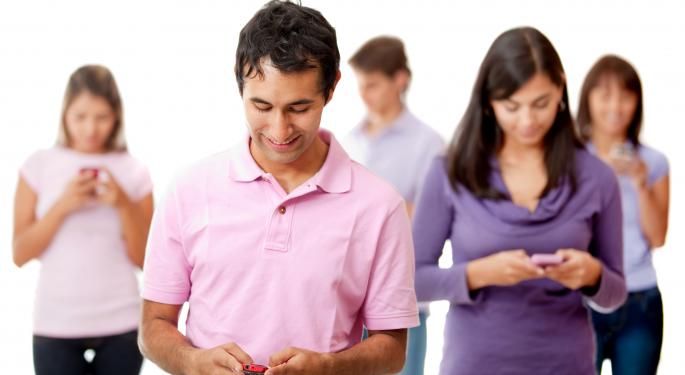 When competing companies go after each other, it's normally the customer who wins in the end. That's exactly what's playing out as T-Mobile (NYSE: TMUS) continues its plan to disrupt the space.
AT&T (NYSE: T) announced on February 1 that it was dropping prices for customers who sign up for a family plan on any of the company's Next plans. The Next plan is AT&T's no-contract plan where you pay a monthly rate without being forced to sign a contract.
However, you're responsible for the full price of the smartphone you choose. You can either pay the full amount up front or sign a contract where you pay 20 or 26 payments.
According to re/code, some customers could see as much as a $100 per month reduction. The discounts apply to families on a shared plan of 10GB per month or more.
But what has AT&T in such a giving mood? It's not so much about giving as it is competing. The #2 carrier in America is bowing to the peer pressure from T-Mobile—a company that has gained significant market share from the top two carriers with its no contract plans.
Recently, T-Mobile has turned up the heat even more by offering to pay off the contracts of customers who are willing to switch to its service from their existing carriers.
Related: How Verizon Might Utilize Intel's On Cue
If you watched the Super Bowl on Sunday, you saw this ad that featured text on a pink background touting its "un-contract" stance. The first frame simply says, "Wireless contracts suck." As the ad continues over the audio backdrop of "Whistle Stop" from Disney's Robin Hood, a later frame says, "Switch to T-Mobile and we'll pay off your contract."
"Break up with your crummy carrier and we'll pay for it," continues the bluntly-worded ad that followed earlier spots, which featured Tim Tebow in a spoof on not having a contract.
While entertaining, this is another example of how T-Mobile is redefining how the cell service business model works. AT&T's Next plan, Verizon's Edge plan, and the continued price wrangling prove that things are changing in the cell space and even if you aren't a T-Mobile subscriber, you can thank the company for putting major dollars into forcing its larger rivals to offer more customer-friendly options that don't include a contract.
That doesn't mean T-Mobile will unseat AT&T or Verizon from their #1 and #2 spots, but it doesn't have to in order for consumers to win.
Disclosure: At the time of this writing, Tim Parker had no position in the companies mentioned.
Posted-In: AT&T Inc. T-Mobile VerizonNews Contracts Events Tech Best of Benzinga
View Comments and Join the Discussion!