Benzinga Weekly Preview: Twitter To Release Earnings For The First Time Since Going Public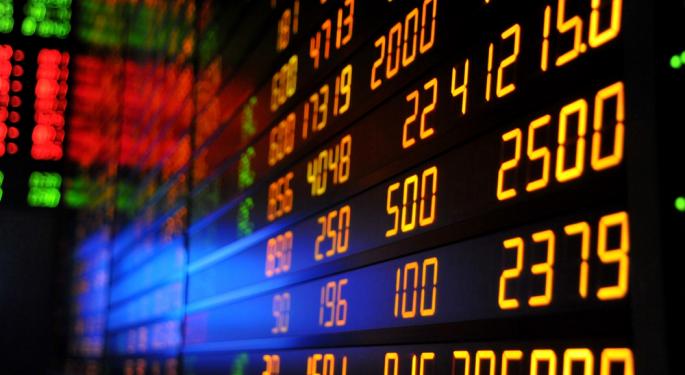 Twitter is set to report its first quarterly results since going public next week and investors are anxiously waiting to see if the social networking site will follow in the footsteps of Facebook. Facebook released better than expected earnings this week, which prompted many to snap up Twitter shares since the company also relies on mobile ads for revenue.
Key Earnings Reports
Next week investors will be waiting for several key earnings reports including Twitter Inc. (NYSE: TWTR), Walt Disney Corporation (NYSE: DIS), GlaxoSmithKline PLC (NYSE: GSK), LinkedIn Corporation (NYSE: LNKD), and Time Warner Cable (NYSE: TWX)
Twitter
Twitter is expected to report a loss of $0.01 per share this quarter.
Morgan Stanley has an Underweight rating on Twitter with a $33.00 price target on January 28, saying that current estimates have been conservative.
"We see 4Q13 results beating consensus estimates, which call for total revenue growth of 94% Y/Y, and EBITDA of $23m (+30% Y/Y), as expectations appear too conservative. Although we are unsure if management will provide forward guidance, we expect near-term earnings revisions to move estimates higher. Our estimates call for total revenue of $210m and EBITDA of $12m (5.8% margin), and for ad revenue of $197m to grow 98% Y/Y (US 71% of total, +77% Y/Y). We look for WW ad revenue per thousand timeline views of $1.15 (+36% Y/Y) on 171b total timeline views (+46% Y/Y), and look for US ad revenue per thousand timeline views of about $3 (+38% Y/Y) on about 46b US timeline views (+28% Y/Y, 27% of total timeline views)."
However, on the 25th of January, S&P Capital has a Sell rating on Twitter with a $43.00 price target. S&P cited a lack of clarity surrounding the company's plans to monetize.
"Risks to our opinion and target price include monetization efforts that are more substantial and/or successful than we expect, competitive threats that are not especially notable, and changes in technologies and/or tastes that do not affect TWTR as much as we anticipate."
At the beginning of January, Cantor Fitzgerald took a similar stance and downgraded Twitter from a Hold to a Sell rating with a $32.00 price target, noting that the stock's current valuation is not justified.
"We're downgrading TWTR to SELL from HOLD and maintaining our $32 fair-value PT. While historically we've reserved our "SELL" rating to business models with structural challenges, we find TWTR's valuation to be excessive and currently see materially more downside than upside. TWTR remains one of the fastest-growing companies and one of the few key plays on the Social Internet, but at the current valuation we prefer FB and GOOG."
On January 8, Cowen and Company has an Underperform rating on Twitter with a $32.00 price target. Cowen and Company was skeptical about Twitter's ability to grow its revenue quickly.
"We conducted a survey of 50 ad buyers which overall suggested a mixed view of Twitter relative to peers. Only 5% of respondents thought Twitter offered the highest ROI on ad spend, well below FB (60%) and LNKD (25%). Additionally, we asked respondents to rate the platforms across multiple attributes and TWTR scored below average marks for ROI (9% below average). The data suggests the low ROI rating is tied to pricing, as respondents commented "high minimum spend" and "cost of campaigns" were negative points for TWTR's advertising value proposition. This aligns with results of an SMB ad campaign we followed on TWTR and FB, where TWTR's CPCs were 4x higher than FB's. Net-net: Material ad pricing upside is not an incremental revenue lever for TWTR, in our view."
Walt Disney Corporation
Disney is expected to report EPS of $0.09, compared to last year's EPS of $0.79.
On January 25, S&P Capital has a Strong Buy rating on Disney with an $80.00 price target. S&P capital noted that the company's recent acquisition of Marvel as a revenue driver.
"We see consolidated revenue up 6.7% in FY 14 (Sep.), to $48.07 billion, and 5.8% in FY 15, to $50.84 billion, mainly driven by the media networks (ESPN, ABC, Disney Channel, ABC Family -- as well as Disney Junior and XD channels), and the worldwide theme parks and resorts. In addition, we expect the Marvel and Lucasfilm acquisitions to provide a strong stable of franchises with significant upside for multi-platform exploitation across the filmed entertainment and consumer products businesses."
On January 16, Merrill Lynch was also positive about Disney's stock and has a Buy rating with an $88.00 price objective. Merrill Lynch saw several strengths within the company including its recently strong box office showings with Frozen and Thor.
"We project DIS' F1QE results to reflect ongoing underlying strength at Media Networks, Film and Theme Parks, partially offset by headwinds at Broadcasting. Key F1QE drivers incl.: (1) solid underlying trends at Parks, (2) high single digit affil. growth at Media Networks, (3) healthy sports-driven adv. growth at Cable Networks, (4) solid theatrical performance (Frozen and Thor: The Dark World vs. Wreck-It Ralph), (5) Disney Infinity uplift at Interactive and (6) a $2bn in buybacks. Key offsets incl.: (1) ongoing Broadcasting investments, (2) sluggish ABC ratings, (3) challenging prog. sales comps (on the cancellation of Army Wives + last year's SVOD sales), (4) softer general entertainment scatter conditions, (4) tough political comps at ABC Stations, (5) Cars Land lap at Parks and (6) ESPN FTA conversion in Germany."
GlaxoSmithKline PLC
GlaxoSmithKline is expected to report EPS of $1.00, compared to last year's EPS of $1.04.
S&P Capital has a Hold rating on GlaxoSmithKline and raised their target price by $10 to $55.00 on January 27, citing new product launches.
"We raise our target price by $10 to $55, based on revised DCF, peer group forward P/E, and EV/EBITDA assumptions. We cut our 2013 earnings per ADS forecast $0.03 to $3.63, but raise 2014's by $0.06 to $3.75. We are encouraged by GSK's new product launches and expanding R&D pipeline. In our opinion, Glaxo's new Anoro and Breo respiratory therapies will have combined sales of $3.5B by 2018, with new antiviral, oncology and diabetes drugs potentially adding aggregate additional sales of $3.4B. These products should more than offset expected generic losses from Advair/Seretide."
On January 22, Cowen and Company downgraded its rating on GlaxoSmithKline from Outperform to Market Perform with a price target of $57.00, saying they expect to see another year of modest growth.
"Our positive view of GSK was predicated on the company positioning itself to deliver accelerating growth in tandem with rollouts of exciting new drugs. The rollouts have been mixed, and we now look for only modest EPS growth in 2014, and we reduced EPS estimates thereafter. We are downgrading the stock to Market Perform pending greater visibility on new product success and EPS acceleration."
LinkedIn Corporation
LinkedIn is expected to report EPS of $0.08, compared to last year's EPS of $0.10.
Merrill Lynch has a Neutral rating on LinkedIn with a price objective of $240.00 on January 7. The analyst team at Merrill Lynch was concerned about the site's falling usership.
"What's changed: While we are not early with our call, based on slowing job postings and usage growth in 4Q we think 14/15 estimates may be aggressive. We continue to believe in LinkedIn's long term enterprise opportunities (and expect some investors to step in on weakness), but think data warrants more caution on tough usage comps that continue into 1H'14, fewer y/y product drivers in 2014, and the company's ability to deliver meaningful revenue upside. We are maintaining our below-Street estimates and believe Street 2015 estimates will likely move lower, a risk for a higher multiple stock. We are lowering our price objective to $240 from $270, based on a still healthy 11x '15E Price/Sales (vs 8x 2015E P/S for peer group)."
Morgan Stanley has an Overweight rating on LinkedIn with a $260.00 price target on January 30, saying the company has the potential to beat expectations.
"Expectations are high for LinkedIn's Talent Solutions segment during its seasonally strong 4th quarter and we expect strong LCS customer additions, renewals, and add-ons of recruitment media products to show up in CQ4 numbers. Street forecasts for the Marketing Solutions segment have been conservative given LinkedIn's transition to Sponsored Updates, but if demand for in-stream advertising was strong over the holidays, LinkedIn could potentially beat expectations."
Time Warner Cable
Time Warner Cable is expected to report EPS of $1.15, compared to last year's EPS of $1.17.
On January 25, S&P Capital has a Buy rating on Time Warner with a $75.00 price target, noting the company's strength as a leading content provider.
"We see consolidated revenues up 3.2% in 2013, to $29.65 billion, and 5.5% in 2014, to $31.29 billion. This largely reflects higher Turner networks (TNT, TBS, CNN, Cartoon, truTV, Adult Swim) advertising and affiliate revenues and HBO subscriptions and a strong TV syndication pipeline -- aided by international expansion -- and considering an ample backlog of licensing deals for the core film/TV entertainment segment, as well as video games revenues. For the publishing unit, we see stagnant growth in traditional print ads and circulation, versus relatively nascent digital sales (online, e-books)."
However, Merrill Lynch was more conservative and has a Neutral rating on Time Warner with a $72.00 price objective on January 14. Merrill Lynch is expecting to advertising growth begin to taper, but said the company would offer earnings stability in the long run.
"Following 3Q13's double digit 'Olympic dip' recovery, we continue to expect decelerated Network adv. growth, though now somewhat slower following softer scatter conditions in November. We project global adv. growth of +3% vs. +5% prev., comprised of domestic +3% (vs. +5% prev.) and int'l +5% (vs. +5% prev.). For now, we view the domestic slowdown as largely timing related, as cancellation activity remains low. Primetime ratings were flattish at TBS, while TNT was down double digits and CNN faced difficult political coverage comparisons."
Economic Releases
Next week investors will be watching Europe as the Bank of England and the European Central Bank hold their monthly policy meetings. The ECB meeting will be of particular interest as some are speculating that bank will be forced to step in and combat the region's falling inflation figures with monetary policy changes.
Daily Schedule
Monday
Earnings Releases Expected: UGI Corporation (NYSE: UGI), Yum! Brands, Inc. (NYSE: YUM), First Bancorp. (NYSE: FBP)
Economic Releases Expected:  Indian services PMI, Spanish services PMI, Italian services PMI, German services PMI, eurozone services PMI, British services PMI, German CPI, US ISM non-manufacturing PMI
Tuesday
Earnings Expected: Buffalo Wild Wings, Inc. (NASDAQ: BWLD), Hillenbrand Inc (NYSE: HI), Sirius XM Holdings Inc. (NASDAQ: SIRI)
Economic Releases Expected: German retail sales, French consumer confidence, German unemployment rate, eurozone CPI, eurozone PPI, US trade balance, US redbook
Wednesday
Earnings Expected: Allstate Corporation (NYSE: ALL), Green Mountain Coffee Roasters, Inc. (NASDAQ: GMCR), Humana Inc. (NYSE: HUM), GlaxoSmithKline PLC (NYSE: GSK), Twitter, Inc. (NYSE: TWTR), Walt Disney Company (NYSE: DIS)
Economic Releases Expected: German trade balance, Italian unemployment, eurozone retail sales, eurozone unemployment rate, Irish retail sales, US crude oil inventories, US FOMC minutes, Chinese CPI, Chinese PPI
Thursday
Earnings Expected From: Credit Suisse Group (NYSE: CS), Expedia Inc. (NASDAQ: EXPE), Kellogg Company (NYSE: K), LinkedIn Corporation (NYSE: LNKD), Philip Morris International Inc. (NYSE: PM)
Economic Releases Expected: French trade balance, British trade balance, eurozone consumer confidence, German industrial production, Bank of England interest rate decision, European Central Bank interest rate decision, US initial and continuing jobless claims, Chinese trade balance
Friday
Economic Releases Expected:  French industrial production, Spanish industrial production, Spanish business confidence, British industrial and manufacturing production, eurozone GDP, US non-farm payrolls, US unemployment rate
Posted-In: Bank Of EnglandNews Previews Options Global Pre-Market Outlook Markets Trading Ideas Best of Benzinga
View Comments and Join the Discussion!