Top Trending Tickers On StockTwits For January 30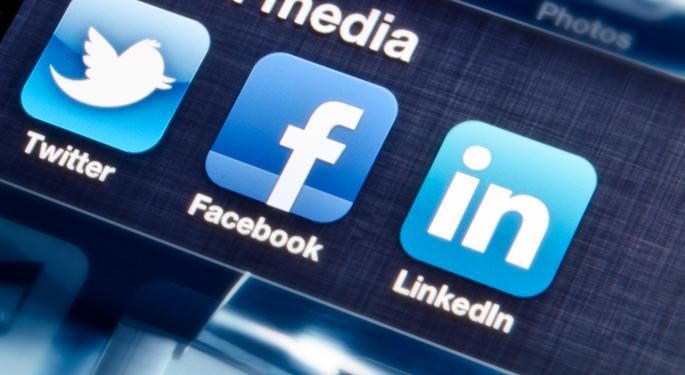 Here's a look at the top tickers trending on StockTwits.com
Facebook: Shares hit new all time high in pre-market
Last night, Facebook (NASDAQ: FB) released its fourth quarter results which include a four cent EPS beat and revenue coming in $250 million above the consensus estimate.
Going in to earnings, investors were hoping that Facebook would report strong mobile ad sales and prove that the social media platform is still popular among its core demographics.
And the company delivered on all fronts.
See also: Top Financial Tweets From January 30
Facebook's mobile ad sales rose 41 percent quarter over quarter to $1.24 billion, roughly an increase of four-fold year over year. Mobile ads accounted for 53 percent of total ad sales, up from 49 percent in the previous quarter and 23 percent a year ago.
Facebook's daily active users totaled 757 million, an increase of 22 percent year over year. Facebook's monthly active users totaled 1.23 billion, an increase of 16 percent year over year.
During Facebook's conference call, management hinted that it still has many avenues of growth in the coming years, including Instargam, whose user base has doubled over the last year. CEO and founder Mark Zuckerberg said that the company is interested in developing more standalone mobile apps and will "build a handful of great new experiences that are separate from what you think of as Facebook today."
Shares of Facebook surged more than 18 percent in the pre-market session.
Google: Parting ways with Motorola, earnings report today
Larry Page, CEO of Google (NASDAQ: GOOG) announced in a blog posting that the company has sold its Motorola Mobility division to Lenovo (OTC: LNVGY) for $2.91 billion.
"But the smartphone market is super competitive, and to thrive it helps to be all-in when it comes to making mobile devices. It's why we believe that Motorola will be better served by Lenovo—which has a rapidly growing smartphone business and is the largest (and fastest-growing) PC manufacturer in the world," said Page in his blog. "This move will enable Google to devote our energy to driving innovation across the Android ecosystem, for the benefit of smartphone users everywhere."
Google is set to release its fourth quarter results after the market close today. The company is expected to report an EPS of $12.26 on revenue of $16.75 billion and net income of $4.16 billion.
Shares of Google rose 2.5 percent in the pre-market session.
Visa: Earnings confirm strong signs of growth
This morning, Visa (NYSE: V) reported its first quarter results. The company announced an EPS of $2.20, beating the consensus estimate of $2.16. Revenue of $3.2 billion beat the consensus estimate of $3.12 billion.
Visa said that its payment volume growth rose 13 percent in the quarter to $1.1 trillion. Total processed transactions rose 13 percent to 16.0 billion.
Visa reaffirmed its outlook for full year 2014 which includes low double-digit annual net revenue growth and a free cash flow of about $5 billion.
Shares of Visa rose 3.17 percent in the pre-market session.
Under Armour: Strong quarter, strong guidance
This morning, Under Armour (NYSE: UA) reported its fourth quarter results. The company announced an EPS of $0.59, beating the consensus estimate of $0.53. Revenue of $683 million beat the consensus estimate of $505.86 million.
Under Armour said that sales of its expanded fleece offerings and new ColdGear Infrared products drove higher than expected revenue in the quarter. Direct-to-consumer net revenues, which represented 39 percent of total net revenues for the fourth quarter, grew 36 percent year over year.
Under Armour is forecasting its 2014 revenues to total $2.84 billion to $2.87 billion, ahead of the $2.77 billion consensus.
Shares rose 11.18 percent in the pre-market session.
Potash Corp: Challenging environment hits earnings
This morning, Potash Corp (NYSE: POT) reported its fourth quarter results. The company announced an EPS of $0.31, missing the consensus estimate of $0.29. Revenue of $1.54 billion beat the consensus estimate of $1.36 billion.
Potash's earnings fell 45 percent in the quarter as higher sales volume and cost improvement initiatives could not offset lower prices for all three fertilizer nutrients (potash, nitrogen and phosphate). For example, the company's potash sales volumes increased 13 percent but the average potash price fell to $282 per metric ton from $387 a year earlier.
Potash now sees its first quarter EPS coming in a $0.30 to $0.35 range, lower than the consensus estimate. Full year 2014 EPS is guided at $1.40 to $1.80, below the $2.01 consensus estimate.
Shares of Potash were trading lower by 3.83 percent in the pre-market session.
Posted-In: ColdGear Facebook Daily Average Users Facebook Earnings Facebook Monthly Average Users Google InstragramNews Pre-Market Outlook Best of Benzinga
View Comments and Join the Discussion!