Market Wrap For January 24: Fear Is Back In The Markets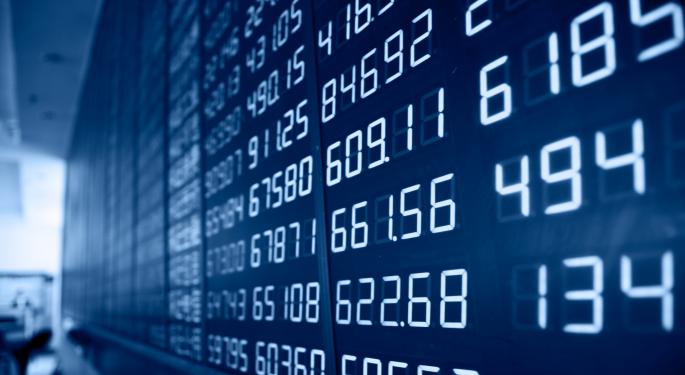 Major indices continued to plummet on Friday with no economic data released that could rejuvenate the market.
Investors remain worried about a Chinese slowdown, a mixed-bag of corporate results on Wall Street and possible further tapering just around the corner as the Fed meets again next Tuesday and Wednesday.
The Dow suffered yet another triple-point loss, this time shedding over 300 points while the S&P 500 and Nasdaq both lost more than two percent marking one of the worst trading days in recent memory.
Related: Is It Time To Worry Again?
The Dow lost 1.96 percent, closing at 15,879.11.
The S&P 500 lost 2.09 percent, closing at 1,790.29.
The Nasdaq lost 2.15 percent, closing at 4,128.17.
Gold gained 0.43 percent, trading at $1,267.70 an ounce.
Oil lost 0.44 percent, trading at $96.89 a barrel.
Silver lost 0.50 percent, trading $19.91 an ounce.
News of Note
The Obama administration is set to complete a phase of its Keystone XL pipeline review next month when the State Department will release a report on the potential environmental impact of the pipeline extension.
Equities-Specific News of Note
Analysts at Wedbush downgraded Chipotle Mexican Grill (NYSE: CMG) to Neutral from Outperform with a price target of $510.The analysts noted "we believe the probability of upside to 2014 consensus expectations driven by throughput initiatives, a catering rollout, and a mid-2014 price increase is reflected in CMG's 48.5% outperformance since the beginning of 2013 relative to the S&P's 26.1% return." Shares lost 2.10 percent, closing at $492.90.
Analysts at Credit Suisse (NYSE: CS) reiterated an Outperform rating on Microsoft (NASDAQ: MSFT) while upping the price target to $42.50 from a previous $40. The analysts noted their call is "based on the convergence of positive investment measures, which should help this stock outperform the majority of stocks that we rate. The company's strengths can be seen in multiple areas, such as its revenue growth, largely solid financial position with reasonable debt levels by most measures, notable return on equity, attractive valuation levels and solid stock price performance." Shares gained 2.09 percent, closing at $36.81.
Yesterday, the world's largest gold mining company, Barrick Gold (NYSE: ABX) said that its year end 2013 reserves and production will fall following the metal's biggest annual price drop in over thirty years. The company will re-calculate its reserves at a gold price of $1,100 an ounce compared to $1,500 in 2013. Analysts at TD Securities noted "In our view, the preliminary guidance provided by Barrick yesterday is likely to drive Street consensus estimates lower as analysts adjust for lower production [gold and copper], a higher tax rate and increased interest expense." Shares lost 1.46 percent, closing at $19.03.
Analysts at Cantor Fitzgerald downgraded shares of Coach (NYSE: COH) to Hold from Buy with a price target lowered to $50 from a previous $61. The analysts noted "Following disappointing 2Q results and the second profit downgrade in as many quarters, we believe the transformation strategy will take longer than we previously anticipated. While positive customer reaction to recent new product launches and store refits are encouraging, an increasingly uncertain consumer backdrop suggest a return to growth in North America may take several more quarters in our view." Shares lost 1.07 percent, closing at $48.82.
Analysts at Susquehanna noted that Discover Financial (NYSE: DFS) offers investors the best value when it comes to credit cards. The analysts see rising NIM and industry-leading receivables growth in 2014 as the company further distances itself from its peers. Shares gained 2.84 percent, closing at $53.89.
Related: What Spooked The Market?
Analysts at Standpoint Research upgraded shares of hhgregg (NYSE: HGG) to Buy from hold with a price target of $16. The analysts noted that the company's $38 million in cash, no debt and over 200 locations make shares attractive. Furthermore, the fact that insiders own half of the stock and haven't sold recently is also a positive. Shares lost 0.36 percent, closing at $11.20.
An EU advisory committee said that it will not recommend the authorization of Novartis' (NYSE: NVS) Serelaxin treatment for acute heart failure. The company previously hoped that Serelaxin would help it overcome the effect of patent expiration. Shares lost 2.38 percent, closing at $79.84.
During its post earning conference call yesterday, Starbucks (NASDAQ: SBUX) management said that the company's slower sales growth in the quarter was due to a "seismic shift" toward online shopping. According to Troy Alstead, the company's chief financial officer "the impact to us is that there are fewer people out and about in the weeks leading up to Christmas." Shares gained 2.17 percent, closing at $74.98.
Baidu (NASDAQ: BIDU) acquired the remaining 41 percent stake it does not already own in Chinese daily deals site Nuomi from Renren (NASDAQ: RENN) for $160 million. Shares of Baidu lost 1.35 percent, closing at $161.37 while Renren gained 1.91 percent, closing at $3.20.
Reuters reported that Carl Icahn's stake in eBay (NASDAQ: EBAY) is almost two percent, more than the 0.82 percent figure that was disclosed earlier this week. Icahn said he is ready to fight a proxy battle in order to win two seats the company's board and force the company to spin off PayPal. Shares lost 1.04 percent, closing at $54.37.
Related: Carl Icahn's Letter to Apple Shareholders...What Did It Say?
Winners of Note
Shares of Care.com (NYSE: CRCM) surged on its IPO debut. The company priced its IPO at $17 a share which opened at $21.21 and closed at $24.30, up 42.94 percent.
Related: Investors Finding Safety in Today's IPOs
Texas Industries (NYSE: TXI) is in advanced talks to sell itself to Martin Marietta Materials (NYSE: MLM) with an agreement coming as soon as next week. Shares of Texas Industries hit new 52 week highs of $77.40 before closing the day at $75.06, up 9.27 percent. Martin Marietta Materials lost 4.44 percent, closing at $104.32.
In a letter to shareholders, Jana Partners revealed that it has built up a large stake in Juniper Networks (NASDAQ: JNPR) to become the second activist investor (Elliot Management being the other) to initiate a stake in the company. Analysts at William Blair upgraded shares to Outperform from Market Perform based on " an improving top-line outlook entering 2014 and material EPS accretion potential from the new CEO's Elliot-inspired integrated operating plan (IOP), which is to be announced in a matter of weeks." Shares hit new 52 week highs of $28.75 before closing the day at $27.72, up 6.57 percent.
What Will January Tell Us About Stocks This Year?
Analysts at BMO Capital Markets upgraded shares of Ariad Pharmaceuticals (NASDAQ: ARIA) to Outperform from Market Perform with a price target raised to $14 from a previous $8. The analysts noted that the company has significant value in its assets which will attract interest from larger companies. The company has said that all options remain on the table including potential partnerships and M&A. Shares gained 19.55 percent, closing at $8.99.
Decliners of Note
Last night, Intuitive Surgical (NASDAQ: ISRG) announced its fourth quarter results which included a beat in both EPS and revenue. During the company's conference call, management said the company is likely to record fewer sales of its da Vinci systems and declined to provide revenue guidance for the full year, citing a lack of visibility. This morning, analysts at Jefferies noted that the company's long term prospects remain compelling despite a lack of revenue and earnings guidance. Analysts at JPMorgan (NYSE: JPM) noted that the company's earnings call was a "disappointment" and that the 2014 outlook is murkier now than it was a few days ago. Additionally, analysts at Cannacord noted that the share's weakness is not an ideal buying opportunity. Shares lost 6.43 percent, closing at $410.76.
Analysts at Barclays downgraded shares of FireEye (NASDAQ: FEYE) to Equal Weight from Overweight with a $73 price target. The analysts noted that a stretched valuation could limit its upside potential following its massive run up since the company acquired Mandiant. The analysts also noted that the company's "technology is still disruptive: FireEye is changing the way customers approach cyber security and disrupting legacy vendors who still largely rely on outdated, signature-based approaches." Shares lost 8.02 percent, closing at $67.30.
Analysts at Wells Fargo (NYSE: WFC) downgraded shares of Walter Energy (NYSE: WLT) to Market Perform from Outperform with a price target lowered to $10 to $13 from a previous $18 to $20. The analysts noted that "We originally were expecting met coal pricing to recover in tandem with Chinese steel production in 2013" and that "this did not occur (China grew output over 8%, but pricing fell due to supply additions at low cost miners and FX) and with China potentially slowing again due to tightening credit, we believe pricing will remain a challenge in 2014. Given Walter's high debt loads and earnings likely to remain very weak, we are more cautious on shares." Shares lost 9.20 percent, closing at $11.35.
The New York Times reported that Herbalife (NYSE: HLF) has been the target of a pyramid scheme in the Chinese media in the past but has gone largely unnoticed. The Chinese authorities have not confirmed (nor denied) they are looking in to Herbalife's allegations. Shares lost 8.89 percent, closing at $60.06 The announcement has also put pressure on Nu Skin (NYSE: NUS) that lost 5.73 percent, closing at $76.89.
Related: Herbalife Faces Coast-to-Coast Criticism
Analysts at JPMorgan recently lowered their 2014 revenue growth projections for the Macau gaming market and urged shareholders to trim their positions. Melco Crown (NYSE: MPEL) was reaffirmed with an Overweight rating but the recent economic data coming out of China has placed selling pressure on shares today which fell 8.46 percent, closing at $38.20.
Citron Research released a new cautious negative note on 3D Systems (NYSE: DDD) today. Citron placed a $56 price target based on an "an irrefutable financial model that explains how unsupportable DDD's current stock price is, to any analyst, CFO, or shareholder." Citron also noted that the company's management has never claimed it operates a superior technology despite all the surrounding hype. In February 2013, Citron called 3D Systems a "bubble stock." Shares lost 6.37 percent, closing at $79.87.
Earnings of Note
This morning, Samsung (OTC: SSNLF) announced its fourth quarter the results. The company reported its net profit grew 5.4 percent to 7.22 trillion won ($6.7 billion). Net profit for the quarter slowed significantly compared to an increase of 25.6 percent in the third quarter. The company warned that it faces a challenging environment to improve its earnings in the coming quarter "as the weak seasonality of the IT industry will put pressure on demand for components and TV products."
This morning, Procter & Gamble (NYSE: PG) announced its second quarter results. The company reported an EPS of $1.21, beating the consensus estimate of $1.22. Revenue of $22.28 billion missed the consensus estimate of $22.38 billion. Organic sales grew three percent during the quarter with health care growing the most at four percent. The company reaffirmed its fiscal 2014 guidance and sees EPS growth of five to seven percent. Shares gained 1.20 percent, closing at $79.18.
This morning, Xerox (NYSE: XRX) announced its fourth quarter results. The company reported an EPS of $0.29, in-line with the consensus estimate. Revenue of $5.57 billion missed the consensus estimate of $5.50 billion. Shares lost 4.42 percent, closing at $11.24.
This morning, Honeywell (NYSE: HON) announced its fourth quarter results. The company reported an EPs of $1.24, beating the consensus estimate of $1.22. Revenue of $10.38 billion beat the consensus estimate of $10.19 billion. Full year net profit grew to $947 million from $251 million last year. The company reaffirmed its 2014 guidance for EPs growth of eight to 12 percent. Shares lost 1.48 percent, closing at $88.47.
Quote of the Day
"We were the most disrespected brand name on the planet and now we have come back." – Steve Miller, Chairman of American International Group (NYSE: AIG) said in a Bloomberg interview at the World Economic Forum in Davos, Switzerland.
View Comments and Join the Discussion!
Posted-In: 3D Systems American International Group Ariad Pharmaceutical Buyout Baidu BarclaysNews Short Sellers After-Hours Center Best of Benzinga