Herbalife Faces Coast-to-Coast Criticism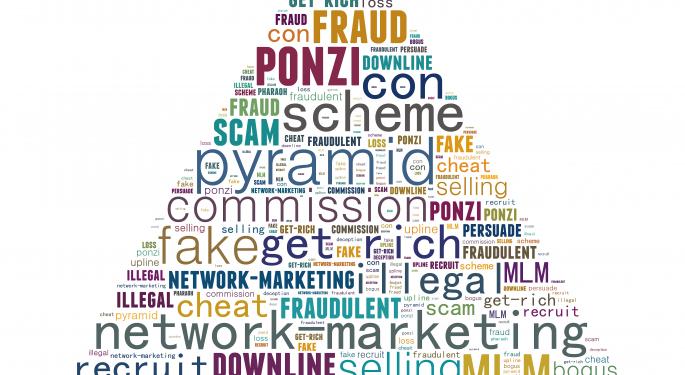 As the week ended, multi-level marketing company Herbalife (NYSE: HLF) faced attacks from both ends of the country regarding whether it was an illegal pyramid scheme.
Massachusetts Senator Ed Markey on Thursday called for the Securities and Exchange Commission and the Federal Trade Commission to investigate the company after he received complaints from constituents.
At the same time, the Los Angeles Times reported that the staff of California Attorney General, Kamala D. Harris would meet Friday in Los Angeles with critics there who said Herbalife preys on poor immigrants.
All this represents good news for activist investor, Bill Ackman, who has been calling Herbalife a "pyramid scheme" for more than a year. To date Ackman's short position, based on his belief the stock would eventually be worthless, has netted him significant paper losses.
Related: Bill Ackman: Herbalife Will Shut Down
For Herbalife the news was anything but good. Shares of Herbalife fell 13 percent during the day Thursday, closing down 10 percent on news of Senator Markey's call for an investigation.
Meanwhile, in Los Angeles, Brent Wilkes, national executive director of the League of United Latin American Citizens said, "The momentum is heading in the wrong direction for Herbalife. There's a lot of people who have been shown the evidence and now believe the company is defrauding hundreds of thousands, if not millions, of people."
Wilkes is among those slated to meet with members of the California Attorney General's staff to discuss Herbalife Friday.
As a multi-level marketing company, Herbalife distributors make money by selling products and by recruiting new distributors. In addition to profit made from product sales, distributors get a portion of the profit from sales made by those they recruit. None of this is illegal.
According to the FTC, there are two signs that a company's product line is used to disguise a pyramid scheme: One is pressure on distributors to purchase a large inventory of product – most of which is never sold to the public. The other is a lack of retail sales – or substantially lower product sales of the company's product to regular customers.
The net result of this is that lower-level distributors end up stuck with unsold products.
According to The New York Times, Senator Markey said Thursday that among the complaints of "improper pressure and financial hardship" he heard from constituents was the tale of one Norton, Massachusetts, family that said they lost $130,000 investing in Herbalife products.
Herbalife, through a spokeswoman said in a statement, "We received the letter from Senator Markey this morning and look forward to an opportunity to introduce the company to him and address his concerns at his earliest convenience."
As to the meeting in Los Angeles set for Friday, Wilkes told the Los Angeles Times he hoped the California attorney general would investigate whether Herbalife was compliant with a 1986 court order requiring the company to track distributor sales and preventing it from exaggerating the benefits of its products.
At the time of this writing, Jim Probasco had no position in any mentioned securities.
View Comments and Join the Discussion!
Posted-In: Bill Ackman Brent Wilkes California Attorney General Ed Markey Federal Trade CommissionNews Events Media Best of Benzinga