Sears or JC Penney: Which is the Better Bet?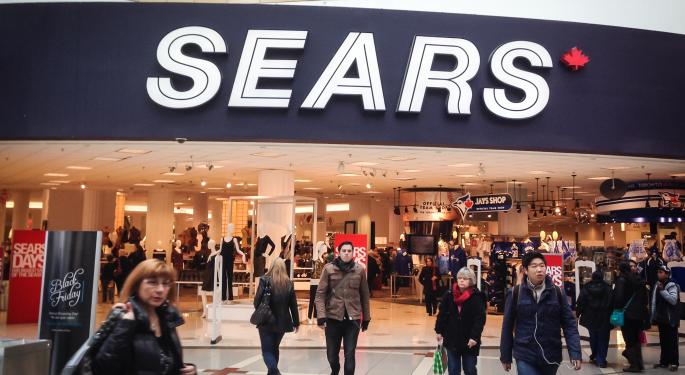 It has been a rough ride for former market stars Sears (NASDAQ: SHLD) and JC Penney (NYSE: JCP). With the combination of the rise of internet retailers, such as Amazon.com and ebay.com, and the ever increasing market share of giant Wal-Mart, Sears and JCP have been left scratching for customers.
2013 proved to be a bit of an up and down year for Sears. The company started the year in the range of $40.50 and ended the year with an intra-day high of just under $50. For those who held Sears stock at the beginning until the end of the year, this represented an increase to the order of 23 percent - respectable but below market averages. Those who were lucky enough to sell the stock near the yearly-high of $67.50, which was reached in November, fared far better.
However, those who held the stock into the New Year have seen the stock sell off by about 15 percent.
Related: Procter & Gamble vs. Johnson & Johnson: Which is the Better Bet?
The past year was even tougher on JC Penney.The stock started 2013 at a relatively respectable $20 per share. Since late February, it has been all downhill for JC Penney, with the stock closing out at just $9.00.
In a year where the S&P flirted with a 30 percent return, JC Penney investors were losing money hand over fist, losing over 50 percent of its equity for the year. Investors sold out of the company due to dissatisfaction with the pace of turnaround.
If department stores don't make big changes soon, they will be going the way of the dinosaur. During the 2013 holiday season, online purchases surged another 2.3 percent over its 2012 tally, with very little of those purchases being registered with online portals for JC Penney or Sears.
But, there is some hope. In October, Forbes' Clare O'Connor cited a study of 1,700 consumers, cutting across all demographics, which showed that retailers still have plenty of opportunity for growth. The study uncovered the startling fact that 79 percent of respondents listed "instant ownership" as a retailer's most appealing attribute. This included both online and offline retailers.
This survey shows that both Sears and JC Penney have potential for future growth, if they can only learn how to appeal to both Millennials and seniors. In fact, in that survey, the Millennial subset ranked having unlimited options and positive customer reviews as being more important than immediate ownership, still leaving a wide opening for traditional retailers.
View Comments and Join the Discussion!
Posted-In: News Retail Sales Markets Trading Ideas Best of Benzinga