Market Wrap For January 7: Markets Reverse 3-Day Slump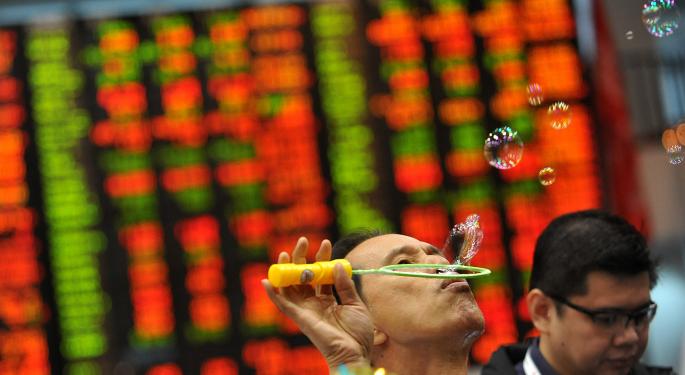 For the first time in the new year, markets ended the day on a positive note. While it is only a few days in, markets appear to have started off 2014 on uncertain footing.
Investors and traders found some positives in the U.S. trade deficit which fell to its lowest level in four years, an encouraging sign for the economy.
Eric Rosengren, president of the Boston Federal Reserve Bank said that the Fed should only wind down its bond-buying program very gradually.
The Dow gained 0.64 percent, closing at 16,530.94.
The S&P 500 gained 0.61 percent, closing at 1,837.88.
The Nasdaq gained 0.96 percent, closing at 4,153.18.
Gold lost 0.50 percent, trading at $1,231.80 an ounce.
Oil gained 0.37 percent, trading at $93.78 a barrel.
Silver lost 1.16 percent, trading at $19.87 an ounce.
News of Note
ICSC Retail Store Sales declined 5.4 percent week over week, compared to a 1.0 percent gain last week.
November International Trade Deficit in goods and services came in at -$34.3 billion, lower than the consensus of -$39.8 billion and lower than October's reading of -$39.3 billion.
Related: U.S. Trade Deficit Narrows to Lowest Level Since 2009, Amid Rising Energy Production
Redbook Chain Store Sales rose 4.1 percent year over year, compared to a 4.5 percent gain last week.
Freezing weather in the East Coast region has caused spot prices for natural gas to soar to record highs.
Related: Cold Temperatures Not Likely To Have Macro-Economic Effects
The German unemployment rate rose to 6.7 percent in December from 6.5 percent in November.
Eurozone inflation declined to 0.8 percent in December from 0.9 percent in November, well below the ECB's target of just under 2 percent.
Equities-Specific News of Note
Analysts at KeyBanc released a research report detailing their top 2014 picks in the packaged food category. Green Mountain Coffee Roasters (NASDAQ: GMCR), Amira Nature Foods (NYSE: ANFI) and Ingredion Incorporated (NYSE: INGR) were selected with price targets of $100, $20 and $75, respectively. The analysts justified their picks "Utilizing our proprietary stock screening methodology, we analyzed our food/beverage coverage universe based on our preference for solid organic growth prospects, exposure to declining commodity costs, exposure to company specific margin enhancing opportunities and potential to benefit from accretive M&A." Green Mountain Coffee gained 3.51 percent, closing at $79.65, Amira Nature hit new 52 week highs of $19.21 before closing at $18.92, up 4.01 percent and Ingredion gained 1.06 percent, closing at $68.56.
Analysts at Deutsche Bank (NYSE: DB) recommended buying shares of Facebook (NASDAQ: FB). The analysts noted that Facebook is "firing on all cylinders" when it comes to monetization with revenue growth accelerating in the fourth quarter. The analysts maintained a $61 price target and Buy rating on the stock. Shares gained 1.26 percent, closing at $57.92 but traded as high as $58.55, pennies shy of its 52 week highs of $58.58.
A day after analysts at Citigroup (NYSE: C) issued a bullish nod on casino operators, Nomura Securities released their own equally bullish report on Macau gaming stocks. The analysts noted that the Macau growth story will continue well into 2017 when the next round of resorts will be opened. The analysts raised their 12 month price targets for Wynn Resorts (NASDAQ: WYNN) to $244, MGM Resorts (NYSE: MGM) to $28 and Las Vegas Sands (NYSE: LVS) to $93. Wynn hit new 52 week highs of $202.86 before closing at $201.50, up 2.88 percent. MGM also hit new 52 week highs of $24.66 before closing at $24.52, up 4.43 percent. Las Vegas Sands gained 2.23 percent, closing at $78.99 (it's 52 week high is $80.00.)
Analyst at RBC Capital named Yum Brands (NYSE: YUM) as a Top Pick. The analysts wrote "We believe Yum China can return to a high-teens profit margin with a recovery in sales over the next two years to three years." Shares are Top Pick rated with a price target of $87. Shares gained 1.46 percent, closing at $76.60.
Analysts at JPMorgan (NYSE: JPM) increased their price target on Google (NASDAQ: GOOG) to $1,305 from a previous $1,100. The analysts noted that mobile will "become a bigger tailwind" in the coming quarters due to several key initiatives. Shares hit new 52 week highs of $1,139.69 before closing at $1,138.92, up 1.93 percent.
Analysts at D.A. Davidson upgraded Lululemon (NASDAQ: LULU) to Buy from Neutral with a $73 price target. The analysts noted that the company's long-term potentials are very strong. Additionally, the new CEO's presentation at next week's ICR XChange should alleviate some investor concerns. Shares gained 0.87 percent, closing at $58.28.
Analyst at Bank of America (NYSE: BAC) have cut shares of LinkedIn (NASDAQ: LNKD) to Neutral with a lowered price target of $240 from a previous $270. The analysts noted that the company is facing difficult usage comps through the first half of 2014. Additionally, the company will see a difficult year from a lack of product drivers and an overall bearish sentiment from other research firms. Despite the bearish report, shares gained 2.81 percent, closing at $209.64.
Analysts at Compass Point noted that eBay (NASDAQ: EBAY) is a top pick in financial technology and "uniquely positioned to benefit from the secular trend via the marketplaces platform and the PayPal platform." Shares are rated as a top pick in Compass Point's Focus List with a $70 price target. Shares gained 2.11 percent, closing at $52.87.
Analysts at Citi downgraded Michael Kors (NASDAQ: KORS) to a Neutral from Buy based on valuation reasons. The analysts slightly lowered their price target to $93 from $95 given the recent bull run the stock had in 2013, gaining more than 60 percent. In addition, the analysts noted that their accessory sector read-throughs are hinting at a possibility of lack of upside. Shares lost 3.78 percent, closing at $78.94.
Analysts at Topeka Capital downgraded Monsanto (NYSE: MON) to Hold from Buy with a $127 price target. The analysts noted that the company could deliver 12 percent EPS growth in 2014, which would only come in at the midpoint of the company's guidance range. The analysts added that that achieving a higher EPS growth rate "may increasingly become a challenge." Shares lost 2.11 percent, closing at $113.24.
Analysta at RBC Capital Markets upgraded Johnson & Johnson (NYSE: JNJ) to Outperform from Sector Perform with a $104 price target. The analysts noted "we believe that investors may be overlooking the operating margin expansion opportunity that exists over the longer term." Shares gained 2.12 percent, closing at $94.29.
The European Commission has approved Celgene's (NASDAQ: CELG) Abraxane treatment. This marks the first time in seven years that a drug has been approved in Europe to treat metastatic pancreatic cancer. Shares gained 1.22 percent, closing at $164.61.
SandRidge Energy (NYSE: SD) announced the sale of its Gulf of Mexico business to Fieldwood Energy for $750 million in cash and the assumption of $370 million of liabilities. Shares lost 1.37 percent, closing at $5.74.
Petrobras (NYSE: PBR) will sell bonds on the international debt market today as part of its strategy of spending $237 billion over the next five years to develop offshore oil fields. Shares lost 2.01 percent, closing at $12.90.
Speaking as a private shareholder, Ralph Nader expressed anger over Liberty Media's (NYSE: LMCA) "lowball" offer to acquire Sirius XM Radio (NASDAQ: SIRI). Shares of Liberty Media gained 0.44 percent, closing at $142.71 while Sirius XM gained 0.78 percent, closing at $3.86.
According to CNBC, the FTC's upcoming report on weight-loss products will not mention publicly traded companies. The two biggest names in the industry included Herbalife (NYSE: HLF) and Nu Skin. (NYSE: NUS) Shares of Herbalife gained 3.00 percent, closing at $79.66 while Nu Skin gained 3.32 percent, closing at $137.68.
Oracle (NASDAQ: ORCL) acquired Corente, a developer of a software-defined networking platform for carriers. The price target for the acquisition hasn't been disclosed. Shares of Oracle gained 1.01 percent, closing at $37.85.
Eli Lilly (NYSE: LLY) released its 2014 guidance. The company expects a full year EPS in a range of $2.77 to $2.85, in line with consensus estimates of $2.78. The company is forecasting revenue in a $19.2 billion to $19.8 billion range, in line with consensus estimates of $19.55 billion. The company also reaffirmed its intention to maintain dividends at its current levels. Shares lost 0.66 percent, closing at $51.19.
Amazon.com (NASDAQ: AMZN) confirmed it now has more than 20 million Prime subscribers. Previous estimates pegged the subscriber tally at 16.7 million. Last week, Amazon stated that it has "tens of millions" of Prime subscribers. Shares gained 1.11 percent, closing at $398.00.
Related: Did Amazon Confirm The Number Of Prime Members?
Shares of Coach (NYSE: COH) inexplicably crashed just before 2pm. Shares dropped 2.5 percent in less than a minute before recovering all loses. Shares gained 0.93 percent, closing at $56.38.
China has lifted a state wide ban on the sale of foreign gaming devices. This paves the way for Microsoft (NASDAQ: MSFT) and Sony (NYSE: SNE) to sell their recently released next generation consoles. Shares of Microsoft gained 0.77 percent, closing at $36.41 while Sony gained 0.12 percent, closing at $17.32.
Winners of Note
Last night, Epizyme (NASDAQ: EPZM) reported that it has achieved the "POC milestone in the EPZ-5676 DOT1L inhibitor clinical program." This event will trigger a $25 million payment from its partner, Celgene. Additionally, the company announced "a development candidate milestone has been achieved for one of the HMT targets included" in its GlaxoSmithKline (NYSE: GSK) partnership, triggering a $4 million payment. Shares of Epizyme surged 75.56 percent, closing at $35.99. GlaxoSmithKline shares were unaffected, gaining 0.13 percent, closing at $53.07.
Shares of Pharmacyclics (NASDAQ: PCYC) were halted near the opening bell for news pending. The company revealed that it had stopped its Phase 3 trials on ibrutinib based on the IDMC's recommendation that the safety profile is "acceptable and consistent with prior clinical experience." Shares gained 19.84 percent, closing at $125.90.
Plug Power (NASDAQ: PLUG) announced it will develop hydrogen fuel cell range extenders for 20 FedEx (NYSE: FDX) Express electric delivery trucks. This change should allow FedEx Express to nearly double the amount of territory that a vehicle can cover with one charge. Shares of Plug Power surged to new 52 week highs of $4.14 before closing the day at $3.85, up 38.99 percent. Shares of FedEx were unaffected, gaining 1.38 percent to close at $140.64.
It appears that BlackBerry (NASDAQ: BBRY) has found an ally on its quest to turn itself around. AT&T (NYSE: T) mobile chief Ralph de la Vega stated that it will support BlackBerry's efforts to continue being a viable supplier. Seperately, BlackBerry's CEO John Chen has announced that the company will "predominantly" focus on selling phones with physical keyboards. Shares of BlackBerry gained 6.12 percent, closing at $8.50 while AT&T shares were unaffected, losing 0.03 percent to close at $34.95.
Related: Five Star Stock Watch: BlackBerry Limited
Decliners of Note
Netflix (NASDAQ: NFLX) was downgraded to Underweight from Equal-weight at Morgan Stanley with a price target of $310, lowered from a previous $333. The analysts noted that competition from alternative products including HBO Go, Hulu and Amazon.com's Prime Instant Video creates risks in Netflix's subscriber growth. Shares lost 5.58 percent, closing at $339.50.
UniPixel (NASDAQ: UNXL) has delayed the "manufacturing ramp" for its InTouch metal mesh sensors to the second quarter of 2014. The company had originally promised that production would begin in the fourth quarter of 2013. With investor sentiment already low following the company's CEO and COO stepping down, shares hit fresh 52 week lows today $8.36 before closing the day at $8.55, down 10.09 percent.
Analysts at RBC Capital Markets downgraded Gulfport Energy (NASDAQ: GPOR) to Sector Perform from Outperform with a revised price target of $61 from a previous $64. The upgrade came following the company's report issued last night in which it expects first quarter production to come in relatively flat. Shares lost 6.50 percent, closing at $55.36.
Shares of GameStop (NYSE: GME) were under pressure today following Sony's announcement of a Web-based TV service that will include video on demand content and a cloud-based DVR. Analysts at Stifel Nicolaus downgraded shares to Hold from Buy during the mid-afternoon trading session today following the Sony report. Shares lost 8.37 percent, closing at $44.14.
Citron Research released part two of a series in which it gives Textura (NASDAQ: TXTR) a "generous" $4 price target. Citron wrote that the company would need to grow revenues by 246 percent without increasing any expenses to justify current fundamentals. Shares lost 10.47 percent, closing at $28.67.
Earnings of Note
Profit at Samsung (OTC: SSNLF) dropped for the first time in over two years. Last night, the South Korean electronics manufacturer released its fourth quarter results. Operating profit of 8.3 trillion won ($7.8 billion) was lower than its profit of 9 trillion won a year ago and lower than the consensus estimate of 10 trillion won.
Related: Samsung Wants To Take Over Your Car
Quote of the Day
"This recovery has already been too slow, and we do not want premature tightening of monetary policy to delay the return to more normal economic conditions." - Eric Rosengren said in a speech in Connecticut today.
View Comments and Join the Discussion!
Posted-In: Abraxane Amazon Prime Subscribers Amira Nature Foods Blackberry BlackBerry KeyboardNews Short Sellers After-Hours Center Best of Benzinga