U.S. Trade Deficit Narrows to Lowest Level Since 2009, Amid Rising Energy Production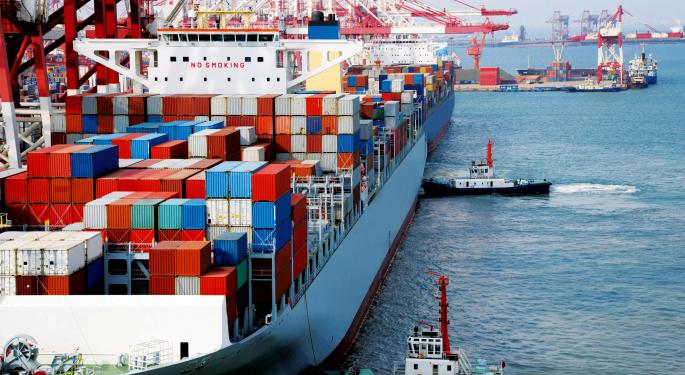 The Commerce Department reported on Tuesday that the U.S. trade deficit, the dollar-value difference between American imports and exports, shrank 12.9 percent to $34.3 billion in November.
The figure beat analyst expectations of a deficit of $40.00 billion. The deficit figure from October was revised to $39.3 billion from the previously reported $40.6 billion.
Exports hit a record high, rising 0.9 percent, boosted by increased sales of oil. U.S. exports to China rose to a record 8.7 percent while exports to Germany and Japan also increased.
Meanwhie, imports fell 1.4 percent from October, amid reduced demand for foreign oil. Imports of industrial supplies and materials fell to their lowest levels in three years, while auto imports reached a record high.
Robust U.S. Energy Production
The rise in U.S. energy production played a substantial role in the strength of exports, with petroleum exports posting a record high in November. Petroleum purchases fell to their lowest level since 2010, impacting the level of imports.
Related: Bitcoin Rallies Above $1,000 in Early 2014 Trading
In October of last year, U.S. crude oil production exceeded imports for the first time in nearly two decades. 
The U.S. Energy Department (EIA) reported this month that domestic oil production is rising to its highest levels since 1970 -- and is forecast to increase by an average of 800,000 barrels per day through 2016.
New technologies that have made previously inaccessible oil deposits within reach have played a major role in the recent energy boom.
U.S. Dollar
The U.S. dollar got a boost from the positive trade balance data and rallied to its highest levels in over a month. Investors will be watching closely this Friday, when the U.S. Employment Report will show if the improving job market was able to keep its momentum in December. Analysts expect the U.S. employment rate to remain at 7 percent, and that Nonfarm Payrolls will fall to 196K from the prior month's reading of 203K.
U.S. Dollar Index Daily Chart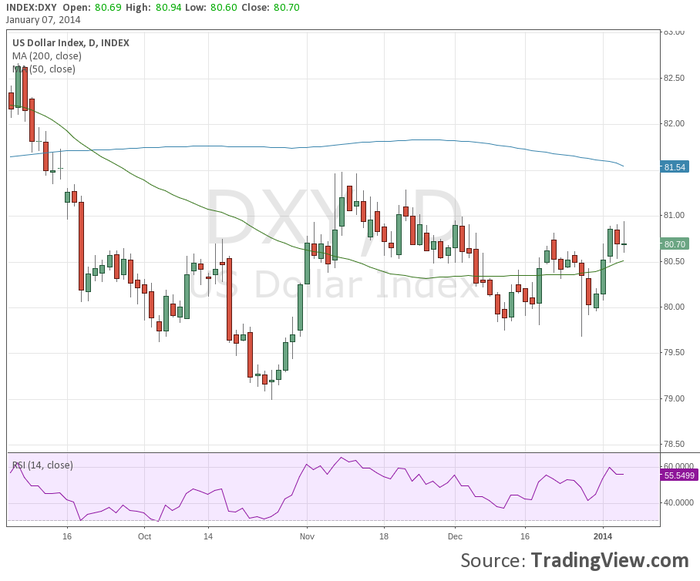 Posted-In: exports ImportsNews Commodities Forex Global Economics Markets Best of Benzinga
View Comments and Join the Discussion!