Bitcoin Rallies Above $1,000 in Early 2014 Trading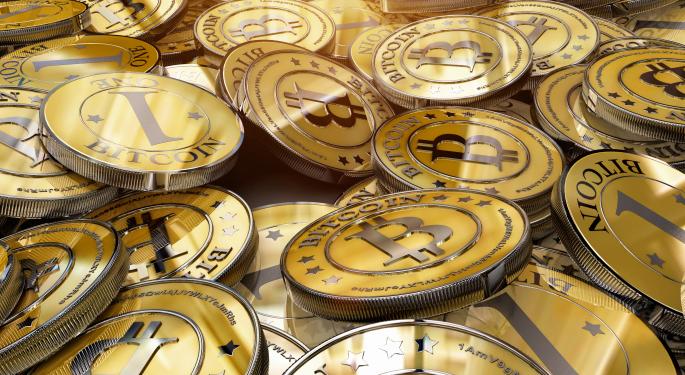 Bitcoin, a virtual currency that was trading for about $13 a year ago, got off to a strong start in 2014, reaching as high as $1,093 in early Monday trading on the Mt.Gox exchange.
The digital cryptocurrency (meaning it uses cryptography for security) got a strong boost from news that Zynga (NASDAQ: ZNGA) will start accepting it for some of its online social games. A Zynga spokesperson confirmed that players will be able to pay for popular games including FarmVille 2 and CastleVille via the BitPay payments service.
The move from Zynga came after Ouya, an Android-based video games console-maker, began accepting Bitcoin payments last month.
According to a report in the Financial Times, online retailer Overstock.com (NASDAQ: OSTK) plans to accept Bitcoin as early as the end of the second quarter of 2014.
Related: Winklevoss Twins Bite Into Bitcoin
Overstock CEO Patrick Byrne said, "I think a healthy monetary system at the end of the day isn't an upside down pyramid based on the whim of a government official, but is based on something that they can't control."
Confidence in Bitcoin was boosted last year after a U.S. Senate committee described virtual currencies as a "legitimate financial service."
Last month, however, the European Banking Authority (EBA) warned the public about the potential risks of using the virtual currency. "Currently, no specific regulatory protections exist in the European Union that would protect consumers from financial losses," it stated, "if a platform that exchanges or holds virtual currencies fails or goes out of business."
Despite its massive rise in value over the past year, Bitcoin has no shortage of sceptics. In an interview with Bloomberg TV last month Alan Greenspan, former U.S. Federal Reserve chairman, described the Bitcoin market as a "bubble".
"It has to have intrinsic value," he said. "You have to really stretch your imagination to infer what the intrinsic value of Bitcoin is. I haven't been able to do it. Maybe somebody else can."
The recent rally has come after a major selloff last month, when China's central bank barred financial institutions from handling Bitcoin transactions.
Mt.Gox Bitcoin/US Dollar Daily Chart
View Comments and Join the Discussion!
Posted-In: Alan Greenspan Bitcoin Bitcoins European Banking AuthorityNews Economics Tech Media Best of Benzinga