Airlines In 2014 – Good Bet or Bad Deal?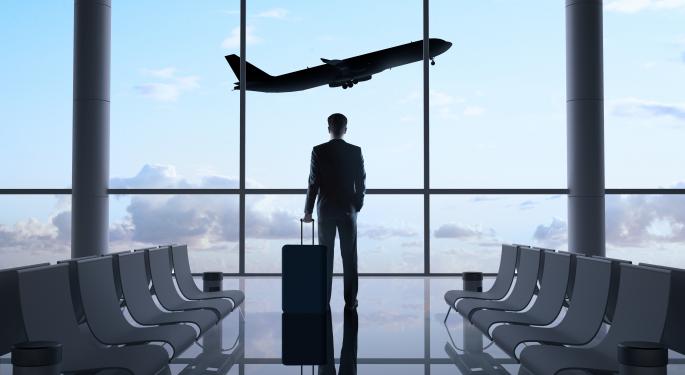 In general, airline stocks did well in 2013, leading some analysts such as Jack Hough of Barron's to promote at least some airlines for 2014. 
Hough likes  Delta (NYSE: DAL) in particular.
Hough included that airline in a list of what he called turnaround stocks. Hough wrote, "The company has cut its workforce and renegotiated worker contracts, added additional lucrative international routes, and improved customer service. It has also trimmed debt, reaching its goal of getting below $10 billion and setting a new target for $7 billion."
The United Continental (NYSE: UAL) merger has made that airline's stock popular as well; especially given the fact it dominates many routes in Asia. Others include JetBlue (NASDAQ: JBLU), with a strong domestic presence and American Airlines Group (NASDAQ: AAL), about to benefit from its merger with US Air.
Related: Delta's Ultra Cheap Tickets And Confirmation Codes Make A Colorful December
Factors benefiting airlines include the aforementioned mergers, along with cost reduction through cuts in the labor force and an overall better economy worldwide. If those trends continue, all should bode well for the airlines.
If not, those on the bear side of the equation will turn out to have been right. One of the bigger bears is billionaire investor Warren Buffett, who famously said, "The worst sort of business is one that grows rapidly, requires significant capital to engender the growth, and then earns little or no money. Think airlines. Here a durable competitive advantage has proven elusive ever since the days of the Wright Brothers. Indeed, if a farsighted capitalist had been present at Kitty Hawk, he would have done his successors a huge favor by shooting Orville down."
Among analysts prone to heed Buffett's advice are those who suggest airlines like Delta, UAL, American, and Southwest (NYSE: LUV) go into 2014 with high expectations built into their stock prices already, a sign investors may want to exercise caution.
On the other hand, Hunter Keay and Jared Shojaian of Wolfe Research maintained a positive outlook for both American and Delta.
Indicating that investors should not worry enormous gains made by airlines in 2013 portend problems in 2014, Keay and Shojaian said, not to worry. In the face of Delta's returns of 132 percent, UAL's rise of 62 percent, and Southwest's gains of 85 percent, the duo pointed to 2010 and 2013, years in which strong prior year gains did not result in underperformance the following year.
Keay and Shojaian wrote, "We think this gives credence to the idea that we are in the midst of a secular transformation story. We see very little on the horizon that would make us uncomfortable owning these stocks into 2014…"
Meanwhile, Friday, S&P Capital IQ's Jim Corridore upgraded Delta from Buy to Strong Buy.
At the time of this writing, Jim Probasco had no position in any mentioned securities.
View Comments and Join the Discussion!
Posted-In: airlines American Airlines Group Asia Barron's continentalM&A News Trading Ideas Best of Benzinga