Brazilian Stocks Among the Few That Miss the Global Rally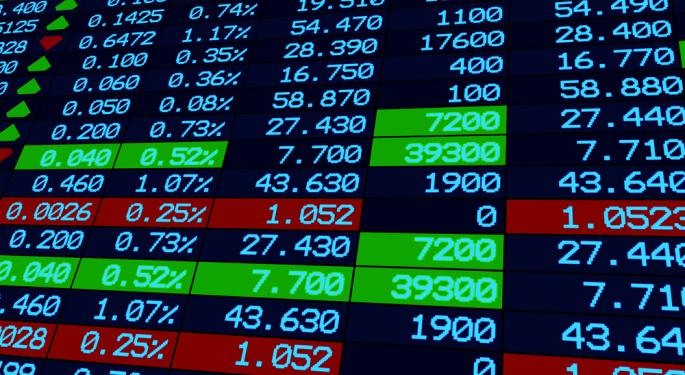 How good was the 2013 stock market rally?
So good that it was hard to find a stock market around the world that showed a loss on the year, which may be why there's concern the rally was just too big.
That said, among the biggest losers was Brazil -- whose benchmark Ibovespa Index fell 15.5 percent in 2013 in terms of the local currency, and 27 percent in dollar terms. It was the third decline in a row for the index. China's Shanghai Composite Index fell 6.8 percent. Turkey's Borsa Istanbul index fell 13.3 percent in local terms, 27 percent in dollar terms.
Contrast that with the Dow Jones industrials, up 26.5 percent, its best gain since 1995, or the Standard & Poor's 500 Index, up 29.6 percent, its best gain since 1997. And let's not forget the Nasdaq Composite Index, up 38.3 percent, the best year since a 43.9 percent gain in 2009.
Brazil Concerns
So what went wrong with Brazil? A big budget deficit, that has many worried the country's credit rating will fall.
That forced an increase in interest rates and inflation fears -- as well as flat to lower oil prices, lower commodity prices and worries that China's economy would stumble, trimming its huge appetite for raw materials from all parts of the world.
Vale (NYSE: VALE), the iron-ore mining giant, fell 27.3 percent on the year. Petrobras (NYSE: PBR), the state-controlled oil company, was off 18.1 percent. And those companies are at the heart of what Brazil does. Its economy is built around natural resources: minerals, timber, agriculture.
It also has a growing population and tremendous poverty, and it is hosting the World Cup soccer competition in 2014 and the summer Olympics in 2016.
All was not bad for companies with Brazilian roots, however. Anheuser-Busch Inbev (NYSE: BUD) gained 21.7 percent. Embraer (NYSE: ERJ), best known for its commercial jets, added 12.8 percent.
Other Markets
The Shanghai index fell because many investors fear the country's financial system is unstable and could stifle its own economic growth. Turkey's market slumped because a widening corruption scandal has slammed the value of its currency, the lira. The year-over-year decline, however, is a bit misleading. The index fell 27 percent from a May 22 intraday peak.
The place to be in 2013 was in developed markets. Japan's Nikkei-225 index was up 56.7 percent. At the very least, the market is frothy.
Related: Which Companies Hoarded The Most Cash In 2013?
Germany's Xetra Dax Index gained 25.5 percent. Even Spain got into the act. Its Ibex 35 Index rose 21.4 percent.
Britain's FTSE-100 Index added a more modest 14.4 percent, and France's CAC-40 Index rose 18 percent, despite that country's economic woes. The gains reflect low interest rates set by the European Central Bank and the Bank of England -- and the perception that the worst of the European debt crisis is over.
A Good Year for American Stocks
Then there was the U.S. market, where the major averages showed gains in 10 of 12 months and never retreated back to their 2012 closes.
Twenty-nine of the 30 Dow stocks showed gains. The only loser was IBM (NYSE: IBM), down 2.1 percent. Visa (NYSE: V), which joined the index this fall, contributed the most points to the index's gain: nearly 1,307.
Netflix (NASDAQ: NFLX) was the best performer among S&P 500 stocks, up 298 percent. It was second among performers in the Nasdaq-100 Index, behind Tesla Motors (NASDAQ: TSLA), up 344 percent.
Twitter (NYSE: TWTR) nearly tripled from its $26-a-share initial public offering price, peaking at $74.73. But profit-taking set in, and the shares fell back to $63.65, still up 145 percent since the IPO on Nov. 6. Google (NASDAQ: GOOG) rose 58.4 percent this year, ending at $1,120.71.
Lastly, Apple (NASDAQ: AAPL) finished the year up 5.4 percent at $561.02. But the shares are up 45.7 percent since bottoming on April 19. Thank activist shareholder Carl Icahn for some of that gain: He's been pushing to get the company to give shareholders some of its huge cash hoard. Plus, the company has finally got a toehold in China with its iPhone.
Obviously, there's concern about whether the rally can continue. Wall Street thinks it can -- for a while. Columnist David Cay Johnston thinks not. Cheap credit, bad financial journalism and inflated prices are a big problem, he wrote on Tuesday.
Prices are the issue and, in fact, may well be too high. A good measure of frothiness is the relative strength index of a security or index. A reading about 70 suggests something is overbought. The Dow, S&P 500 and Nasdaq finished the year at 75.9, 71.3 and 72.4 respectively. 
How global markets fared in 2013
 
 
 
2013 close
 
 
2012 close
 
 
Chg.
U.S. indexes
 
 
 
 
 
 
 
 
 
Dow Jones Industrials Average
 
 
16,576.66
 
 
13,104.14
 
 
26.50%
Standard & Poor's 500 Index 
 
 
1,848.36
 
 
1,426.19
 
 
29.60%
Nasdaq Composite Index 
 
 
4,176.59
 
 
3,019.51
 
 
38.32%
Dow Jones Transportation Average
 
 
7400.57
 
 
5,306.77
 
 

39.46%

Russell 2000 Index 
 
 
1163.64
 
 
849.35
 
 
37.00%
 
 
 
 
 
 
 
 
 
 
Non-U.S. indexes
 
 
 
 
 
 
 
 
 
BOVESPA Index (Brazil)
 
 
51,507.16
 
 
60,952.08
 
 
-15.50%
Borsa Istanbul 100 Index (Turkey)
 
 
67,801.73
 
 
78,208.44
 
 
-13.31%
Shanghai Composite Index (China)
 
 
2,115.98
 
 
2,269.13
 
 
-6.75%
Hang Seng Index (Hong Kong)
 
 
23,309.39
 
 
22,656.92
 
 
2.88%
Sensex Index (India)
 
 
21,170.68
 
 
19,426.71
 
 
8.98%
S&P/TSX Index (Toronto)
 
 
13,621.55
 
 
12,433.53
 
 
9.55%
FSTS-100 Index (United Kingdom)
 
 
6,749.09
 
 
5,897.81
 
 
14.43%
FTSE MIB Index (Italy)
 
 
18,967.71
 
 
16,273.38
 
 
16.56%
CAC-40 Index (France) 
 
 
4,295.95
 
 
3,641.07
 
 
17.99%
IBEX 35  Index (Spain)
 
 
9,916.70
 
 
8,167.50
 
 
21.42%
Xetra Dax Index (Germany)
 
 
9,552.16
 
 
7,612.39
 
 
25.48%
Nikkei 225 Index (Japan)
 
 
16,291.31
 
 
10,395.18
 
 
56.72%
Posted-In: brazil Carl IchanNews Emerging Markets Economics Pre-Market Outlook After-Hours Center Markets Best of Benzinga
View Comments and Join the Discussion!