Hasbro vs. Mattel: Which is the Better Bet?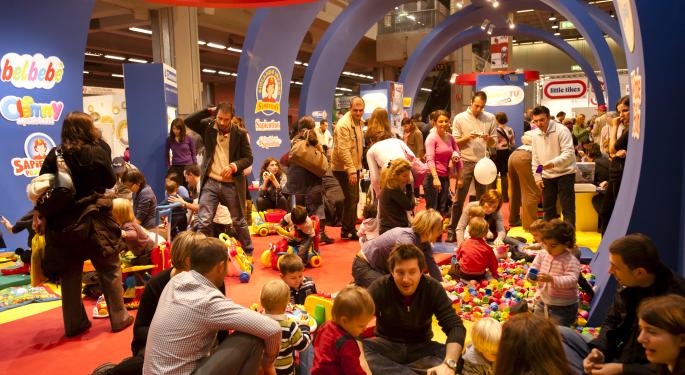 The toy and game industry in America has always been very strong -- especially in terms of the companies that have had a stake in the market over the years.
The industry's two leading players, Mattel, Inc. (NASDAQ: MAT) and Hasbro, Inc. (NASDAQ: HAS), are companies that, for the most part, have become household names in the United States. More people are familiar with the brands of these two companies than those of any other toy and game manufacturer in the country.
Hasbro boasts iconic and time-tested game products like Scrabble, Monopoly as well as its signature toy brand Nerf -- while Mattel has equally legendary brands such as Hot Wheels, Barbie, and Fisher-Price.
With respective product portfolios like that, it can seem on a surface level that Hasbro and Mattel are essentially identical twins. But choosing one to pad your stock portfolio is more than a simple matter of just determining which one has the better-selling brands.
No one can blame investors for scratching their heads when it comes to deciding which of these two stocks is the better pick to pad a portfolio. Their valuations and dividend policies are near mirror images of one another -- as are their respective revenues, operating incomes and total assets.
But with a market value nearly triple that of Hasbro, Mattel is unquestionably the larger of the two companies. And their performances have been strong, for the most part, throughout their histories but each has definitely seen its share of adversity.
2012, for example, was a particularly challenging year for Hasbro -- when it saw a 4.5 percent, year-over-year drop in its revenues, as well as a 10 percent drop in its earnings-per-share from the year before. And with the recession having had a detrimental impact on the company, Hasbro has been unable to bring its sales numbers much above where they were at the end of 2009.
On the other hand, 2012 was somewhat kind to Mattel, and saw the company experience net sales and income-per-share growth of just over two percent compared to 2011 numbers. The company has had a much better track record since the 2008 recession, most notably in with its 18 percent increase in sales since 2009. But regardless of lackluster performance on Hasbro's part, it is still a strong contender in the market and continues keep Mattel honest by continually nipping at the industry leader's heels, as it has been doing for the past several years.
Both companies have provided dividend increases for their investors, which have largely been due to their stock buy-backs and expense cutting measures which have increased their profitability.
The fact that these companies are neck-and-neck in the toy and game industry makes them both a smart pick for investors. But while you may end up flipping a coin in order to make a decision between these two, don't overlook a company called JAKKS Pacific (NASDAQ: JAKK), which is relatively new to the industry but has made its presence known with nearly $1 billion in revenue in 2010.
If you are looking for the best stock investment between Mattel and Hasbro, you may actually want to consider their lesser-known competitor, who is making great strides in the industry and could be the right choice for the long-term.
Posted-In: children's products children's retail retail sales toy industryNews Retail Sales Markets General Best of Benzinga
View Comments and Join the Discussion!