Market Wrap For December 30: Markets Quiet Ahead of New Year's Eve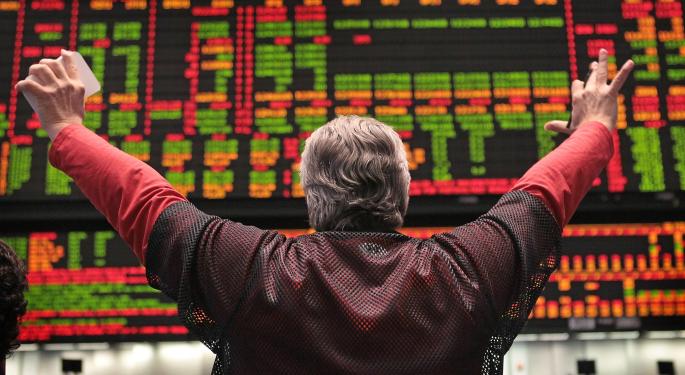 As to be expected for this time of the year, volume was light today with little market moving data or news released.
Major indices were virtually flat as Tuesday will mark the final trading session of 2013. Markets will close tomorrow at 4:00 pm EST and remain closed until Thursday morning.
Related: Bloomberg's 2013 End Of Year Summary & 2014 Predictions
The Dow gained 0.16 percent, closing at 16,504.35.
The S&P 500 lost 0.02 percent, closing at 1,841.09.
The Nasdaq lost 0.06 percent, closing at 4,154.20.
Gold lost 1.54 percent, trading at $1,196.00 an ounce.
Oil lost 1.11 percent, trading at $99.21 a barrel.
Silver lost 2.61 percent, trading at $19.52 an ounce.
News of Note
November Pending Home Sales rose 0.2 percent to 101.7, lower than the 1.5 percent expected gain but higher than the previous reading of a decline of 1.2 percent.
December Dallas Fed Manufacturing Outlook came in at +3.1, lower than the +4.0 expected but higher than the previous reading of +1.9.
Equities-Specific News of Note
Analysts at Bernstein reiterated a Buy rating on CME Group (NYSE: CME). The analysts noted that the Fed tapering will boost the need to hedge against changes to credit spreads. CME Group lost 0.61 percent, closing at $78.43.
Analysts at JPMorgan (NYSE: JPM) issued a list of nine stocks that they believe will outperform in the coming year. Notable picks include Best Buy (NYSE: BBY), FedEx (NYSE: FDX), Mondelez International (NASDAQ: MDLZ) and Tenet Healthcare (NYSE: THC). Best Buy lost 0.42 percent, closing at $40.00, FedEx lost 0.26 percent, closing at $143.06, Mondelez gained 0.63 percent, closing at $35.13 and Tenet Healthcare gained 1.64 percent, closing at $41.56.
Related: Which Is The Better Bet - FedEx vs. UPS?
Analysts at Guggenheim issued a positive note upgrading Disney (NYSE: DIS) to Buy from Neutral with an increased price target of $87 from a previous $77. The analysts noted that Disney could benefit from a strong content cycle and international growth. Shares of Disney hit new 52 week highs of $76.54 before closing the day at $76.23, up 2.53 percent.
Analysts at Piper Jaffray reiterated an Overweight rating and $135 price target on Monsanto (NYSE: MON). The analysts noted that the company could see 3 to 5 cents of first quarter EPS upside on based on a Latin American biotech penetration and continued solid margins. Shares of Monsanto hit new 52 week highs of $116.48 before closing the day at $115.79, up 0.35 percent.
Ford Motors (NYSE: F) revealed that its retail sales are up 15 percent year to date in the U.S. The company continues to gain across segments. Shares lost 0.16 percent, closing at $15.28.
Tesla Motors (NASDAQ: TSLA) has hired Rich Heley as its Senior Director of Manufacturing Technology. Heley was most recently Apple's (NASDAQ: AAPL) Director of Alloy Enginerring and has been with Apple since 2003. Shares of Tesla gained 0.83 percent, closing at $152.37, while Apple lost 1.00 percent, closing at $554.49.
Sony (NYSE: SNE) has decided not to sell its lithium-ion battery unit. The company hopes that a weaker yen and pent up demand in mobile phone batteries can propel the unit forward after struggling for the past two years. Shares gained 2.22 percent, closing at $17.47.
Related: Sony Plans To Hold On To Lithium-ion Battery Unit
Cooper Tire & Rubber (NYSE: CTB) terminated a merger agreement with Apollo Tyres which could have created the 7th largest tire company in the world. Shares of Cooper traded as low as $22.08 in the morning but reversed these losses to close the day at $24.20, up 5.40 percent.
Winners of Note
Blackstone (NYSE: BX) has acquired a 13 percent stake in Crocs (NASDAQ: CROX) for $200 million and two board seats. The company will use the proceeds to help pay for a $350 million repurchase program. Shares of Crox surged 21.08 percent, closing at $16.14 while Blackstone lost 0.16 percent, closing at $31.30.
Analysts at Northland reiterated an Outperform rating and $20 price target on InvenSense (NASDAQ: INVN) based on an increased growth in wearable technology devices and other positive catalysts in 2014. Shares gained 11.25 percent, closing at $20.07.
In a 13G filing, Morgan Stanley (NYSE: MS) disclosed a 5.2 percent (7.9 million shares) holding of NQ Mobile (NYSE: NQ). Shares of NQ Mobile gained 17.13 percent, closing at $13.88. Shares are still noticeably lower than its 52 week highs of $25.90.
Trina Solar (NYSE: TSL) signed an agreement to develop a 1 GW solar power plan in western China. Shares gained 6.46 percent, closing at $14.00
Related: Would You Invest in a Solar Power Utility?
Kandi Technologies (NASDAQ: KNDI) continues to soar higher. The company is riding momentum from its electric vehicle car rentals amid increasing concern of alarming pollution levels in China. Shares hit new 52 week highs of $12.79 before closing the day at $11.88, up 14.89 percent.
Decliners of Note
The sell off in Twitter (NYSE: TWTR) continued today on no market moving news. Shares opened at $60.27 and traded as low as $58.57 before closing the day at $60.51, down 5.08 percent.
Myriad Genetics (NASDAQ: MYGN) confirmed that the Centers for Medicare and Medicaid Services proposed cuts to its reimbursement rate. The proposed reimbursement rate for the company's BRACAnalysis gene test would potentialy drop to $1,438 from its current $2,795. Based on the news, several analysts issued bearish reports. Analysts at JMP cut shares to Market Underperform with a $15 price target while analysts at Oppenheimer noted that shares could fall to the mid-teens price range. Shares hit new 52 week lows of $20.02 before closing the day at $20.80, down 13.86 percent.
Quote of the Day
"Tomorrow is the first blank page of a 365-page book. Write a good one." —Brad Paisley.
View Comments and Join the Discussion!
Posted-In: 2014 Picks Apollo Tyres best buy blackstone Blackstone Stake In Crox Can-Fite BioPharmaInvenSenseNews After-Hours Center Best of Benzinga