Lenovo's Next Goal: Conquer The Mobile Space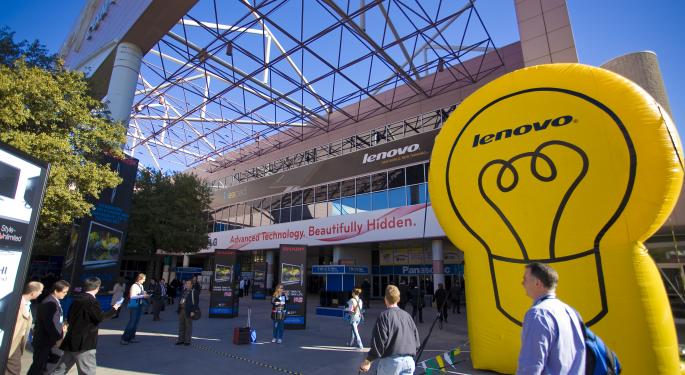 Chinese based Lenovo (OTC: LNVGY) is sending a clear message to Apple and Samsung: Move over, we want to be the world's number one smartphone maker!
"I'll be very clear: Our aspiration is someday to be No. 1 in the mobile space," said J.D. Howard, a Lenovo vice president in charge of global development outside of China. "I know it sounds crazy, but even five years ago, if I had said we'd be No.1 in PCs, people would have said we were crazy."
In 2005, Lenovo purchased IBM's PC business to become the world's largest PC Maker. Immediately following the acquisition, Lenovo gained instant credibility to secure other high profiled deals in Germany, Brazil and Japan.
Lenovo feels an urgent need to divest itself away from the PC business as forecasts by IDC are predicting a decline of almost 14 percent in PC shipments in 2013.
See also: Report Says Facebook Dead to Teens - Or Does It?
The company hopes to leverage its experience in the PC market to overtake both Samsung and Apple in the global stage for the more lucrative smartphone market where demand is rising, not falling.
Lenovo is already the second-largest smartphone brand in China and will begin pushing into the United States and other wealthy markets in 2014, according to the New York Times.
It won't be an easy task for the Chinese company. "I just can't imagine that Lenovo could come into the U.S. smartphone market and build market share quickly," said Mikako Kitagawa, an analyst at Gartner Research.
To help Lenovo win over American consumers the company has hired renowned actor Ashton Kutcher who Lenovo's chief market officer described as a "genuine technologist" and has been given the title of "product engineer."
Lenovo has also hired American basketball superstar Kobe Bryant to tour China and other Asian countries. The company hoped that Bryant's image as an American superstar can erase misconceptions that Lenovo's products are of inferior quality.
Other Chinese companies like Huawei, Xiamoi and ZTE also have equally ambitious plans to introduce their smartphones to the global consumer.
Lenovo executives are confident that it is in a better position than the other Chinese companies because of the company's experience in the PC market. Lenovo will be able to better integrate cloud computing services into its smartphones.
Posted-In: Apple Ashton Kutcher Asthon Kutcher Lenovo Chinese Smartphone Market Gartner ResearchNews Global Tech
View Comments and Join the Discussion!