Market Wrap For December 24: Markets Higher on Strong Durable Goods Data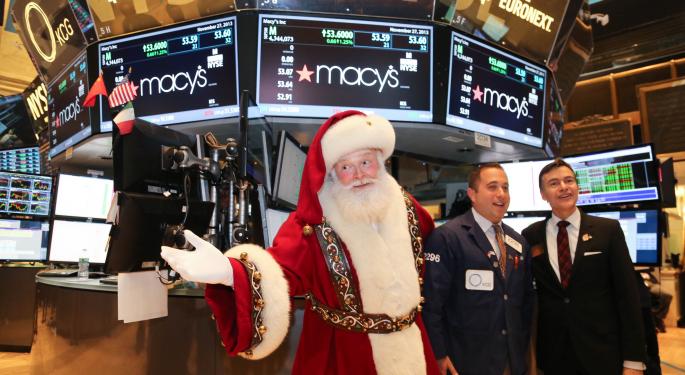 Major indices moderately gained on Tuesday's shortened trading session which came in higher than expected.
The strong durable goods data is yet another economic data set that confirms the economy is improving. The Fed's decision to begin tapering its $85 billion monthly bond-buying program was further re-inforced.
The markets will pause for Christmas break with trading set to resume Thursday morning.
The Dow gained 0.39 percent, closing at 16,357.55.
The S&P 500 gained 0.29 percent, closing at 1,833.32.
The Nasdaq gained 0.16 percent, closing at 4,155.42.
Gold gained 0.54 percent, trading at $1,2030.50.
Oil gained 0.29 percent, trading at $99.20 a barrel.
Silver gained 0.32 percent, trading at $19.48 an ounce.
News of Note
ICSC Retail Store Sales grow 1.4 percent week over week, compared to 4.8 percent growth last week. Year over year sales are up 2.7 percent compared to 2.0 percent last week.
November Durable Goods rose 3.5 percent, higher than the 1.5 percent consensus expectation and higher than the previous reading of a decline of 0.7 percent in October.
Related: Durable Goods Orders Higher Than Forecasted
Redbook Chain Store Sales rose 3.9 percent year over year compared to a 2.9 percent gain last week.
October FHFA Housing Price Index rose 0.5 percent, higher than the consensus estimate of 0.4 percent. The previous reading came in at a gain of 0.3 percent.
December Richmond Fed Manufacturing Survey came in at a reading of +13, higher than the 10.0 forecasted and in-line with the previous reading of 13.0.
November New Home Sales came in at a reading of 464K, higher than the 445K expected but lower than October's reading of 474K.
According to S&P Dow Jones Indices, combined stock buybacks and cash dividends totaled a cool $207 billion in the third quarter, the highest since fourth quarter 2007.
Related: The Five Best Performing Stocks From Monday
After injecting 29 billion yuan ($4.8 billion) China's seven-day repurchase rate fell 3.44 percentage points to 5.4 percent. Separately, China is likely to set a GDP growth goal of 7.5 percent for 2014.
Equities-Specific News of Note
Analysts at Buckingham Research issued a cautious note regarding "near-term pressure" in General Motors (NYSE: GM) and Ford Motor (NYSE: F). The analysts noted an extension in holiday shutdowns at auto manufacturing plants could be a hint over rising inventory at dealers. General Motors lost 0.9 percent, closing at $40.88 while Ford gained 0.20 percent, closing at $15.18.
Yesterday, a merchandising analyst at Wedbush issued a bearish note against Michael Kors (NYSE: KORS). The analyst noted slower traffic and increased promotional activity as a sign that the luxury retailer is not immune from the woes being felt at other retailers. This morning, an analyst with Wedbush's retail sector defended Michael Kors by noting that the promotional activity is only "one part reactive" and should not come as a surprise to investors. The analyst believes that Kors and other accessories manufacturers will continue to outperform. The bullish analyst at Wedbush has an Outperform rating and $84 price target on shares. Kors gained 0.72 percent, closing at $81.38.
Related: Gerald Storch Explains Holiday Season 2013's Retail Slump
Disney (NYSE: DIS) named Twitter (NYSE: TWTR) co-founder Jack Dorsey to its board of directors. Shares of Disney gained 0.76 percent, closing at $73.84.
The National Highway Traffic Safety Administration (NHTSA) reaffirmed its 5 star rating on Tesla's (NASDAQ: TSLA) model S this morning. The NHTSA rated the Model S with the highest possible safety ranking. Shares gained 5.48 percent, closing at $151.41.
Target (NYSE: TGT) has received requests for information from attorneys general in several states concerning the recent data breach it suffered. Shares lost 0.27 percent, closing at $61.71.
Winners of Note
Twitter surged to new 52 week highs of $70.87 today. Analysts at Wunderlich Securities issues reitered a Sell rating with a $34.00 price target as shares have achieved "cult status." Despite the bearish note, and absent of any major bullish catalysts or news releases, shares closed the day up 8.23 percent, up $69.85.
Analysts at Bank of America (NYSE: BAC) increased its price target to $141 from a previous $118 for Puma Biotechnology (NYSE: PBYI) following the company's neratinib call last night. The analyst noted that the company's results "establish strong proof of principle anti tumor activitiy.. in Her2 driven cancers." Shares gained 7.28 percent, closing at $110.14.
Yesterday Eagle Rock Energy Partners (NASDAQ: EROC) sold its midstream business to Regency Energy Partners (NYSE: RGP) for $1.325 billion. Analysts at Wells Fargo noted that the sale "transformers EROC into a pure-play upstream MLP which implies further upside potential based on EROC's current valuation versus the peer group." Shares were upgraded to Outperform from Market Perform with an increased price target in the $7 to $8 range, up from a previous $6 to $8 range. EROC gained 7.26 percent, closing at $6.35.
Quote of the Day
"Christmas is not a time nor a season, but a state of mind. To cherish peace and goodwill, to be plenteous in mercy, is to have the real spirit of Christmas." - Calvin Coolidge.
View Comments and Join the Discussion!
Posted-In: China 2014 GDP China GDP Disney Board of Directors Durable Goods EROC FHFA HousingNews After-Hours Center Best of Benzinga