Apple Still Has China Mobile Problems To Solve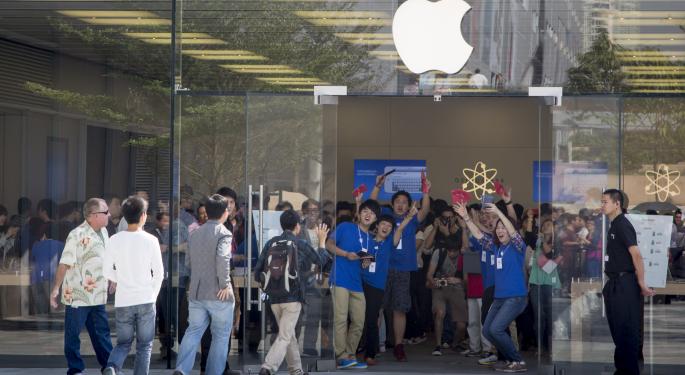 Don't look for Apple's (NASDAQ: AAPL) six percent share of the Chinese smartphone market to ramp up anytime soon.
Despite the landmark deal with China Mobile (NYSE: CHL), Apple still has a distinct disadvantage in the world's largest smartphone market. And that disadvantage, according to CNNMoney, is price.
While it's true that there are more than 700 million potential new cellular customers in the mix in China, many of them can't afford the $733 it would cost to buy an unsubsidized iPhone 5C.
Related: iPhone Finally Comes To China Mobile
One potential bit of good news is the fact that China Mobile said it would spend more on subsidies in 2014 as it tried to boost smartphone sales by up to 42 percent.
On the other hand, if China Mobile expected to get a sweet deal from Apple on iPhones, that might not happen.
One investment bank analyst told The Financial Times, "It's just that Apple sees a potentially devastating domino effect if they cut a generous deal with China Mobile that SK Telecom wants and then Verizon and other operators too."
Another big disadvantage for Apple in China has to do with availability of apps.
The Chinese government censors many Apple offerings, leaving consumers to opt for free imitations.
Gaining a toehold in China will take patience – and time. According to Canalys, Apple is currently in fifth place among smartphone makers, trailing Samsung, Lenovo, Yulong, and Huawei.
There are some bright spots for Apple. Both the iPhone 5S and 5C are 4G devices.
China Mobile customers who get them will be able to take advantage of the company's new 4G network.
In addition, the iPhone is not unknown to consumers in China. Brian White, an analyst at Cantor Fitzgerald said that up to 40 million China Mobile customers are already using an unlocked iPhone on the network.
If things remain as they are now, Apple could sell 20 to 30 million iPhones in China next year according to Wall Street analysts.
That represents a 20 percent jump in sales for Apple worldwide.
On the other hand, if Apple came up with a truly low-cost iPhone for the Chinese market, the sky would be the limit with millions of smartphone sales hanging in the balance.
At the time of this writing, Jim Probasco had no position in any mentioned securities.
Posted-In: 4G Apple Apps Brian White CanalysNews Contracts Media Best of Benzinga
View Comments and Join the Discussion!