Market Wrap For December 18: Markets Flat During Day One Post Fed Taper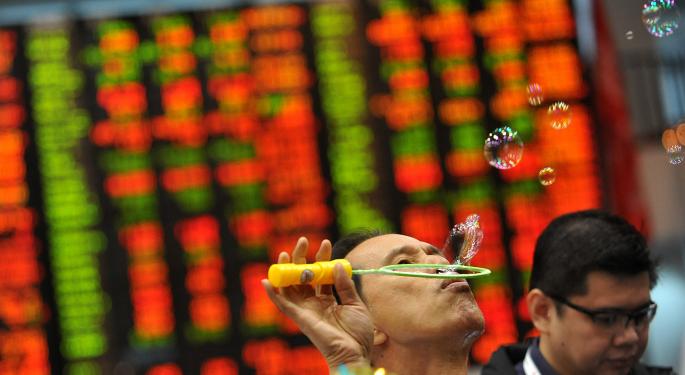 Major indices barely budged Thursday following yesterday's monster rally after the Fed announced it will begin tapering.
Overall volume was below average which is typical in the final trading days of the year. Next week will be shortened as investors break for Christmas and a week later for new years. As markets are almost but guaranteed to end the year on an extremely positive note, many investors and traders have simply packed it up and called it a year.
The Dow gained 0.07 percent, closing at 16,179.08.
The S&P 500 lost 0.06 percent, closing at 1,809.60.
The Nasdaq lost 0.29 percent, closing at 4,058.13.
Gold lost 3.51 percent, trading at $1,91.60 an ounce.
Oil gained 0.74 percent, trading at $98.79 a barrel.
Silver lost 4.36 percent, trading at $19.18 an ounce.
News of Note
President Obama is set to sign in to law a two year $1.01 trillion budget bill after the Senate passed the legislation yesterday by 64-36.
Related: Should Investors Breathe A Sigh Of Relief Now That The United States Has A Budget?
Initial Jobless Claims rose 10K to 379, ahead of the 337K consensus and ahead of the 369K previous reading. Continuing claims rose 4.25K to 2.79 million.
The Bloomberg Consumer Comfort Index rose to -29.4 from a previous reading of -30.9. This marks the first time in ten weeks the reading came in above -30.
December Philly Fed Business Outlook fell short of expectations. The reading came in at +7.0, below the +10.0 expected. The prior reading was +6.5.
November Existing Home Sales reported at 4.90 million, lower than the 5.02 million consensus. The previous reading was 5.12 million.
EIA Natural Gas Inventory declined 285 billion cubic feet.
Kelley Blue Book released 2014 auto sales guidance and see the industry can improve sales by 4.3 percent to 16.3 million units next year. Analysts at Morgan Stanley chimed in noting that "the auto cycle may be in even later innings than we realize."
The People's Bank of China made an emergency injection of liquidity into the country's financial system after rates began rising.
Gold futures traded below $1,200 sinking to three year lows.
Related: Gold Sells Off Sharply After Fed Taper Decision
Equities-Specific News of Note
Analysts at ITG Research noted that Groupon's (NASDAQ: GRPN) U.S. trends have "rebounded significantly" following ITG's October warning that third quarter billings will be short due to weakness in the North American markets. Shares gained 3.45 percent, closing at $11.66.
Analysts at Raymond James upgraded Linn Energy (NASDAQ: LINE) to Strong Buy from Outperform with a $37 price target. The analysts noted that the SEC's endorsement of its S-4 coupled with an increased fourth quarter cash flow guidance could remove the overhand in shares. Shares gained 3.47 percent, closing at $29.80.
Analysts at UBS lowered its price target on Ford Motors (NYSE: F) to $18 from a previous $20. The analyst noted despite Ford's less than impressive 2014 outlook, the company's 2015 prospects remain promising. Shares of Ford continued yesterday's losses, shedding 2.36 percent, closing at $15.28.
Analysts at Goldman Sachs lowered its price target on J.C. Penney (NYSE: JCP) to $9.50 from a previous $11.00. The analysts noted that the company will continue to struggle as it phases out unpopular brands in exchange for its private label brand. The company will also struggle to raise margins during the transition. Shares lost 3.75 percent, closing at $7.95.
Yesterday there have been reports that Dish (NASDAQ: DISH) is considering a bid for T-Mobile USA (NASDAQ: TMUS). This morning, analysts at JPMorgan (NYSE: JPM) valued a potential deal at a $35 a share price tag. Shares of Dish climbed to new 52 week highs of $56.31 before closing the day at $55.83, up 0.98 percent. T-Mobile USA hit new 52 week highs of $29.84 before closing at $29.60, up 8.62 percent.
Related: Is Dish About To Pounce On T-Mobile?
Bristol-Myers Squibb (NYSE: BMY) has agreed to sell its holdings in a diabetes joint venture to AstraZeneca (NYSE: AZN) in a $4.1 billion deal. Shares of Bristol-Myers hit new 52 week highs of $54.49 before closing at $53.82, up 2.34 percent. AstraZeneca hit new 52 week highs of $59.30 before closing at $58.89, up 0.08 percent.
IBM (NYSE: IBM) has purchased Aspera, a developer of technology that speeds up the transfer of extremely large files over long distances. Big Blue has been attempting to grow its storage software sales as hardware sales continue to be a drag on the company. Shares gained 0.86 percent, closing at $180.23.
General Electric (NYSE: GE) issued an updated forecast for 2014 and 2015. The company expects total revenue to grow as high as 5 percent in 2014. The company hopes its share of profit at the industrial division to represent 70 percent by 2015, compared to 55 percent this year. The company also expects to modestly increase buybacks and dividends in 2014 from the $18 billion goal for this year. Shares gained 0.51 percent, closing at $27.27.
Molycorp (NYSE: MCP) said that the final unit of its multi-stage cracking plant at Mountain Pass is operational. The plant is designed to increase the facility's rare earth recovery rates, boost production and lower unit production costs. Shares gained 2.58 percent, closing at $4.77.
Darden Restaurants (NYSE: DRI) reported its second quarter results this morning. EPS of $0.20 was in line with the consensus estimate. Revenue of $2.05 billion fell short of the $2.07 billion consensus estimate. Same store sales fell 1.0 percent at Olive Garden, Red Lobster and Longhorn Steakhouse chains. The company reported that it plans to sell or spin off its Red Lobster business which has been one of the weakest performing brands in the company's restaurant portfolio. S&P Ratings placed the company on Creditwatch after the company revealed its plan to separate Red Lobster from its holdings. Shares lost 3.59 percent, closing at $51.02 but traded as low as $49.35.
Caterpillar (NYSE: CAT) released negative November stats which included a 12 percent overall decline in retail sales. The worst performing region was Asia/Pacific, with a decline of 24 percent. Shares lost 0.71 percent, closing at $87.54.
Facbook (NASDAQ: FB) could face a lawsuit over its IPO. Mark Zuckerberg, Sheryl Sandberg and dozens of banks should face investor lawsuits. The company has allegedly concealed revenue warnings form its IPO registration statement but given to the company's underwriters' analysts. Separately, the company announced a 70 million share follow-on offering of Class A common stock. Shares lost 0.94 percent, closing at $55.05.
Related: Don't Expect Mobile Ads To Go Away
A fire department report places the blame on a garage fire on a Tesla (NASDAQ: TSLA) charging station. Naturally, the company has denied any wrongdoing. Shares lost 4.91 percent, closing at $140.72.
Related: Tesla Charging System May Be Culprit Of Fires, Says California Fire Dept.
Target (NYSE: TGT) confirmed this morning that 40 million of its clients credit and debit cards could potentially be compromised following a security breach. Shares lost 2.22 percent, closing at $62.14.
First it was Citron Research, now Whitney Tilson is out with negative comments on Questcor Pharmaceuticals (NASDAQ: QCOR). Tilson said the company "has done all sorts of questionable things to boost Achtar sales." Shares lost 4.78 percent, closing at $52.54.
Cabot Oil & Gas (NYSE: COG) revealed that it has achieved a gross production record in the Marcellus shale of 1.5 billion cubic feet a day. The company, appropriately, raised its 2013 production growth guidance range to a 50 percent to 55 percent rage, from a previous 44 percent to 54 percent range. 2014 production growth is seen unchanged in a 30 percent to 50 percent range. Shares gained 5.25 percent, closing at $38.32.
Owners of BRE Properties (NYSE: BRE) will receive $12.33 in cash and 0.2971 shares of newly created Essex common stock following Essex Property Trust's (NYSE: ESS) acquisition. Shares of Essex lost 3.31 percent, closing at $142.81.
Winners of Note
Yesterday Oracle's (NASDAQ: ORCL) announced an upbeat second quarter results which included a revenue beat and in-line guidance. Analysts at MKM noted that the company's results could signal that "the worst may finally be behind Oracle." Shares gained 5.84 percent, closing at $36.62.
InterActiveCorp (NASDAQ: IACI) announced that its CEO is stepping down from his current position to become chairman of a new operating unit. Investors cheered the management shakeup which is potentially hinting at a spinoff. Shares hit new 52 week highs of $70.44 before closing at $68.49, up 13.98 percent.
Analysts at Needham upgraded Rocket Fuel (NASDAQ: FUEL) to Strong Buy from Buy with a $75 price target. The analysts noted positive industry checks and that recent concerns over the company are overblown. Shares gained 13.55 percent, closing at $56.83.
Analysts at Raymond James upgraded Callaway Golf (NYSE: ELY) to Strong Buy from a previous Market Perform with a price target of $9.50. The analysts are confident in the company's turnaround prospects. Shares gained 7.16 percent, closing at $8.53.
AK Steel (NYSE: AKS) announced that it expects to report a surprise fourth quarter profit. Analysts at Barclays raised its price target to $8 from $5 based on improvements in underlying steel fundamentals. Shares hit new 52 week highs of $7.52 before closing at $7.29, up 15.35 percent.
Decliners of Note
Rite Aid (NYSE: RAD) lowered its full year fiscal 2013 EPS guidance to a range of $0.17 to $0.23 compared to a previous guidance in the range of $0.18 to $0.27. Shares lost 10.24 percent, closing at $5.17.
Cobalt Energy (NYSE: CIE) provided an update on its Gulf of Mexico drilling operations. The company announced that its Aegean #1 exploratory well in Keathley Canyon Block 163 did not encounter commercial hydrocarbons and operations are underway to plug and abandon the wellbore. Shares hit new 52 week lows of $13.75 before closing at $14.84, down 5.24 percent.
After the market close yesterday, Semtech (NASDAQ: SMTC) lowered its fourth quarter guidance. The company sees revenue in a $120 million to $130 million range from a previous $132 million to $144 million range. EPS was lowered to a $0.18 to $0.24 range from a previous $0.29 to $0.37 range. Management blamed the lowered guidance on "ongoing delays in carrier capex spending" Analysts at Oppenheimer downgraded shares to Perform from Outperform while Raymond James downgraded shares to Outperform from Strong Buy. Williams Financial also downgraded shares to Hold from Buy with a $27 price target, lowered from a previous $32. The analysts share similar beliefs that the company is showing no near-term growth drivers. Shares hit new 52 week lows of $22.57 before closing at $24.67, down 12.11 percent.
Earnings of Note
KB Home (NYSE: KBH) announced its fourth quarter results this morning. EPS of $0.31 fell short of the consensus estimate of $0.47. Revenue of $618.5 million beat the consensus estimate of $569.55 million. The company noted that the 2,038 homes delivered represented a decline of 4 percent from a year ago. Shares lost 6.15 percent, closing at $16.47.
Nike (NYSE: NKE) reported second quarter results after the bell. The company's EPS of $0.59 beat the consensus estimate of $0.58 while revenues of $6.43 billion missed the consensus estimate of $6.44 billion. Shares were trading slightly higher by 0.60 percent at $78.68 going in to the company's conference call.
Quote of the Day
"All the gold which is under or upon the earth is not enough to give in exchange for virtue." -Plato.
View Comments and Join the Discussion!
Posted-In: 3D Systems AK Steel Aspera AstraZeneca Bloomberg Consumer Comfort IndexShort Sellers After-Hours Center Markets Best of Benzinga