Is Dish About To Pounce On T-Mobile?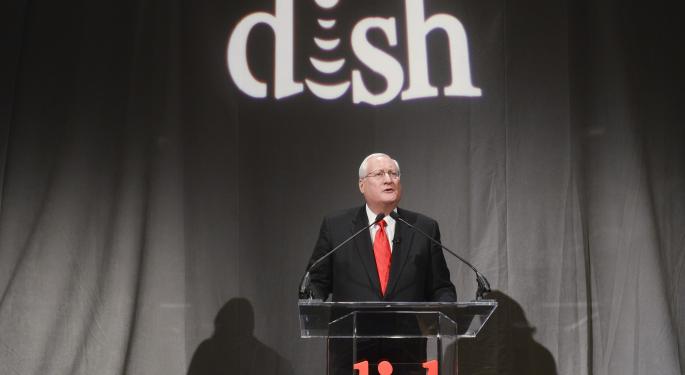 First, there were rumors that Sprint (NYSE: S) was flirting with the notion of acquiring T-Mobile US (NYSE: TMUS).
Despite a pretty good case for a possible merger made by The Wall Street Journal, there was and is a catch: Should such a merger be approved, the market would end up dominated by three large companies, Verizon, Sprint, and AT&T.
This precipitated the National Journal suggesting the odds were not in favor of a buyout of T-Mobile by Sprint.
The Federal Communications Commission and Department Of Justice have specified that having three large mobile companies is one less than the optimum number – that number being four.
FCC Chairman Tom Wheeler could not have been more clear when he said December 2, "The mobile business today is today with four carriers a competitive business and [it's] important to stay that way."
So, if AT&T can't buy out T-Mobile (tried and failed to get regulatory approval in Nov. 2011), and if a merger between T-Mobile and Sprint is not likely, who is left?
Enter Dish (NASDAQ: DISH).
Dish is a satellite TV provider. It has a ton of wireless spectrum. Best of all, it is not a mobile company. It does, however, want to be.
Reuters said it had talked to people "close to the matter" who said Dish was considering a takeover bid for T-Mobile. This was not a shocking revelation. Dish tried to acquire Sprint earlier this year, losing out to Japanese telecom, Softbank.
Related: Sprint Beats Out Dish for Clearwire Spectrum
Dish CEO Charlie Ergen wants to expand the company beyond its current position as a pay TV provider. He also wants to find a use for what amounts to billions of dollars' worth of wireless spectrum Dish owns and, as a result according to Reuters sources, has engaged in talks with T-Mobile owner, Deutsche Telekom AG about a deal.
If this latest rumor is true, that does not necessarily mean Sprint's plans are dead.
The Wall Street Journal report indicated Sprint could make a bid for T-Mobile as early as the first half of 2014.
If that happens, Dish could quite possibly counter with an offer of its own, according to Reuters' sources. This, of course, could lead to a bidding war between Sprint and Dish. Reuters suggested such an event would not necessarily be a bloody affair, since Deutsche Telekom could decide to whom it wants to sell.
From an antitrust perspective, Dish would have the upper hand because the net result of that merger would still leave four large operators in the U.S. Remember: Four is the magic number.
Dish, however, does not have a network or infrastructure like Sprint does.
Also, important to note, a merger between Sprint and T-Mobile, although it would leave only three large wireless operators in the U.S., would still result in a smaller merged entity than either Verizon or AT&T – meaning the consolidation would not result in a market share-eating-monster – a possible plus from a regulatory perspective.
At the time of this writing, Jim Probasco had no position in any mentioned securities.
View Comments and Join the Discussion!
Posted-In: AT&T Charlie Ergen Department of Justice Deutsche Telekom AGM&A News Rumors Media Best of Benzinga