Looming Lawsuit & Zuckerberg Stock Sale Cause Drop In Facebook Shares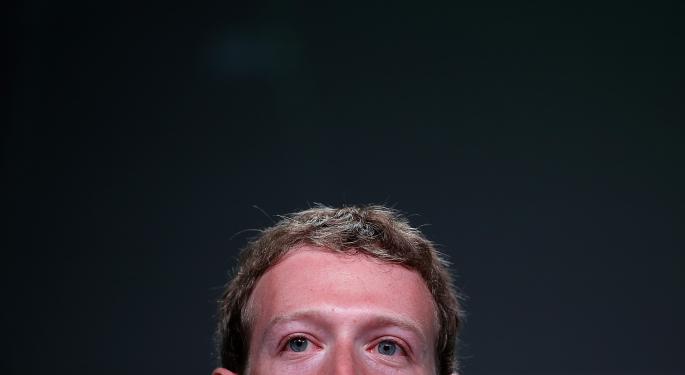 Two recent news stories about Facebook (NASDAQ: FB) continued to unfold Thursday as company shares slid up to 5.3 percent in premarket trading.
Closing price Wednesday was $55.57 per share.
The first story, reported by Reuters late Wednesday, was that CEO Mark Zuckerberg and a number of banks would face a lawsuit over whether Facebook misled investors prior to the company's initial public offering.
In the second bit of news, Facebook announced early Thursday that it planned to sell 70 million Class A shares of common stock in a public offering. Zuckerberg, the company said, would be putting up more than 41 million shares of that total.
With regard to the stock sale, Facebook said it wasn't sure what it would do with its portion of the expected $3.9 billion raised.
In a statement, the company said, "We do not currently have any specific uses of the net proceeds planned. We may use a portion of the proceeds to us for acquisitions of complementary businesses, technologies or other assets."
As for Zuckerberg, the company indicated he would use most of his proceeds to pay the taxes he would owe on the option he exercised to purchase 60 million shares of Class B common stock.
Related: Facebook's Future Lies in Mobile Advertising
The potential lawsuit stems from charges that prior to its May 2012 $16 billion IPO, Facebook failed to disclose certain projections that increased mobile usage and product decisions might reduce revenue.
In a ruling, U.S. District Judge Robert Sweet in Manhattan said, "The company's purported risk warnings misleadingly represented that this revenue cut was merely possible when, in fact, it had already materialized." Judge Sweet added, "Plaintiffs have sufficiently pleaded material misrepresentation(s) that could have and did mislead investors regarding the company's future and current revenues."
Facebook responded in a statement saying, "We continue to believe this suit lacks merit and look forward to a full airing of the facts." Facebook added that the Securities and Exchange Commission and other courts have held that revenue projections do not have to be disclosed because they are "inherently speculative and unreliable."
Complaining investors, including several pension funds, have said that by concealing important information, Facebook caused them to lose money when Facebook shares fell from an initial IPO price of $38.00 to a low of $17.55 on September 4, 2012.
Facebook's just announced secondary stock offering precedes the company's inclusion in the Standard & Poor's 500 index Friday.
At the time of this writing, Jim Probasco had no position in any mentioned securities.
Posted-In: Facebook initial public offering IPO lawsuit ManhattanNews Legal Media Best of Benzinga
View Comments and Join the Discussion!