Looking for the Next Big Market, Tesla Opens Shop in China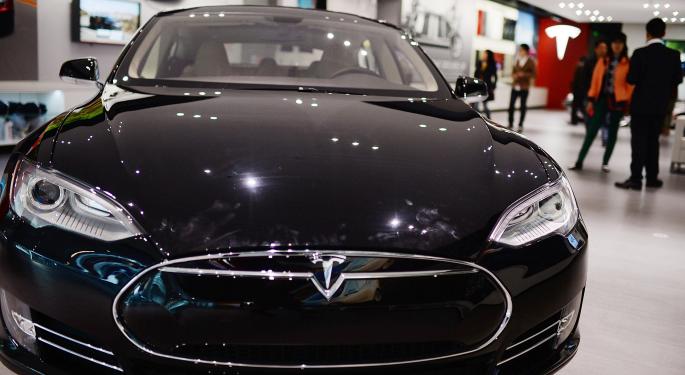 Tesla (NASDAQ: TSLA) CEO Elon Musk says he has no idea how well his electric car will sell in China; calling the country a "wild card."
However, since the Chinese have an appetite for large luxury cars -- and since the country suffers from high air pollution, an incentive for the government to encourage electric vehicles -– Tesla has launched a Chinese language website. Meanwhile, CNBC reports the company was taking orders in in China, in hopes it would sell at least 5,000 cars a year in Asia.
Motley Fool senior analyst Matthew Argersinger took an optimistic tone. "I think the China story is a huge one," he told CNBC, adding that Tesla was "going to sell 10,000 to 20,000 beginning in a couple years, and that's a huge incremental increase in production."
Related: Tesla: Stay Away Or Buy The Big Dip?
A month ago, Tesla opened a showroom in Beijing. Now that the website is active and taking orders, the company should know soon enough whether there is demand. Anyone who places an order will have to fork over $41,000 to reserve a Model S.
The International Business Times said the total cost of a Model S in China will range somewhere between $146,000 and $200,000. In the U.S., the car sells for between $71,000 and $120,000. Europe falls in the middle, at $98,000 - $162, 000.
These prices, while high, pale when compared with the more than $400,000 reportedly paid by a wealthy Chinese buyer earlier this year.
Prices aside, the question is: Will Tesla sell in China?
According to TechCrunch, Tesla said it would offer incentives to potential buyers in China, although none are currently listed on the Tesla Motors website. Instead, there is simply a message saying, "We are currently collecting incentives for this region, for the latest information please contact your local Sales Manager."
In general, Tesla said it would work to attract wealthy and environmentally-conscious early adopters. The Beijing showroom is located in Parkview Green; a Leadership in Energy & Environmental Design (LEED) platinum certified upscale shopping center. Platinum is the highest level of certification granted by LEED and an obvious choice for Tesla's first showroom in China.
Despite recent battery fires, Tesla is widely considered to have an excellent safety record. In a country with some of the worst air-pollution in the world, Tesla's all-electric design will help it to be competitive with other luxury cars like BMW, Mercedes-Benz and Porsche.
That said, there are challenges. For one thing, the company would need to install a charging infrastructure across the landscape of China – and its more than 3.5 million square miles of geography. In addition, there is potential local competition from companies like BYD and Kandi, both of which have had Chinese government support to help in their quest to make electric vehicles.
At the time of this writing, Jim Probasco had no position in any mentioned securities.
View Comments and Join the Discussion!
Posted-In: air-pollution battery fires Beijing BMW BYDNews Events Media Best of Benzinga