YouTube's 2013 Revenue Prediction for Google: How Many Billions?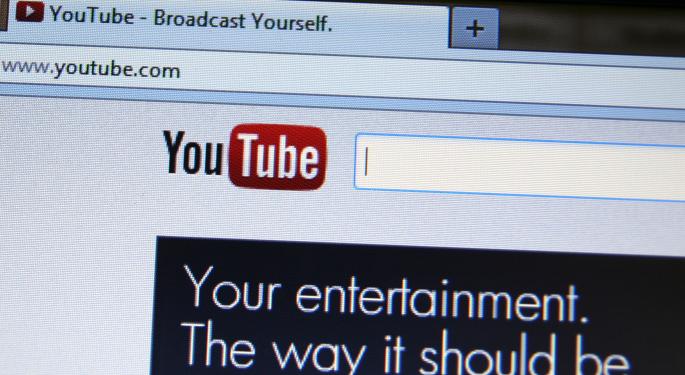 Possibly one of the most under-appreciated websites in terms of investor interest is YouTube but a new report estimates that the site is even larger—and more of a cash-cow, than originally thought.
Investors can't invest directly into YouTube, but they can invest in its owner Google (NASDAQ: GOOG). Since purchasing YouTube in 2006 for $1.65 billion, Google hasn't provided revenue figures specific to the site but everybody knows that the numbers are big.
Still, the site is largely seen as a relatively small part of the Google empire but that's likely far from the truth.
EMarketer took a stab at what it believes might be some of YouTube's financials. It believes that the site's gross ad revenue will likely reach $5.6 billion in 2013. That's an impressive rise of 51.4 percent accounting for about 11 percent of Google's total revenue.
Google will pay much of that revenue to its advertisers but in the end, Google is expected to hold on to 1.96 percent of the revenue—a 65.5 percent year over year increase.
Related: Why Google Wants to Plant a Microchip in Your Head
In the United States alone, net ad revenues from the platform will reach $1.08 billion this year with $850 million coming from video advertisements giving YouTube a 20.5 percent share of all US video advertising revenue.
In June, Morgan Stanley said that YouTube's gross revenue would reach $4 billion this year while Barclays predicted $3.6 billion.
Another report, released in June by analyst firm Wedge Partners, said that YouTube likely makes up about 10 percent of Google's revenue.
YouTube is second most searched site on the Internet behind Google. According to its statistics page, YouTube attracts at least one billion unique users each month with more than 6 billion hours of video watched. About 80 percent of all traffic to the site comes from outside of the U.S. in the 61 countries.
These stats are impressive and the eMarketer report seems to fall in line with estimates from other research firms but remember that all of these numbers are estimates. Google hasn't released figures and isn't likely to break that trend in its next quarterly report.
What isn't disputed is the fact that YouTube is a large part of the Google ad revenue machine.
Disclosure: At the time of this writing, Tim Parker had no position in the above mentioned security.
Posted-In: eMarketer Google Wedge Partners YouTubeSuccess Stories Tech Best of Benzinga
View Comments and Join the Discussion!