Market Wrap For December 11: S&P 500 Drops Most in a Month, Dow Suffers Triple Digit Losses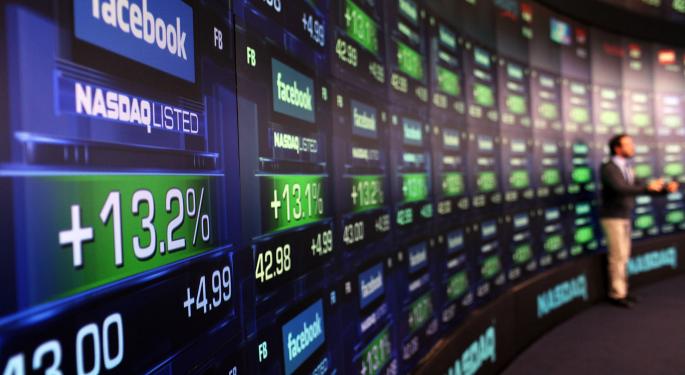 Major indices began selling straight at the opening bell as investors drew closer to the conclusion that the Fed could scale back its bond buying activity as soon as next week following the new budget deal.
Helping the Fed taper argument was a report released by BlackRock which made the case that central banks worldwide (U.S, Canada, China, U.K., etc.) are set to begin tightening their monetary policy. BlackRock shied away from describing stocks as being in a bubble but its "risk indicator" – enterprise value against earnings adjust for volatility is nearly as high as just before the dot.com bust.
Stanley Fisher, who recently stepped down as Bank of Israel Governor is the leading candidate to become the Vice Chair of the Federal Reserve. Bloomberg reported that Fischer has accepted the job.
The Dow lost 0.81 percent, closing at 15,843.28.
The S&P 500 lost 1.13 percent, closing at 1,782.22.
The Nasdaq lost 1.40 percent, closing at 4,003.81.
Gold lost 0.60 percent, trading at $1,253.50 an ounce.
Oil lost 1.16 percent, trading at $97.37 a barrel.
Silver lost 0.20 percent, trading at $20.27.
News of Note
MBA Mortage Applications increased 1.0 percent compared to a decline of 12.8 percent last week.
EIA Petroleum Inventories revealed that Crude Oil declined by 10.6 million barrels.
According to ShopperTalk, brick and mortar retail sales fell 2.9 percent year over year for the week following Black Friday. The consumer research firm reported a 21.6 percent drop in retail shopper traffic for the week of December 2 to Decembet 8. Forward momentum appears "lacking" with only days remaining before Christmas.
TD Securities issues a report saying that gold producers' balance sheets appear to be stable with gold trading at around $1,250 an ounce, but would weaken further on lower gold prices.
German CPI rose 0.2 percent in November following a decline of 0.3 percent in October. On year, inflation edged up to 1.3 percent from a previous 1.2 percent.
Related: Euro Soars Above $1.37 As Banking Union Plans Are Made
Equities-Specific News of Note
Analysts at Wells Fargo (NYSE: WFC) upgraded Groupon, Inc. (NASDAQ: GRPN) to Buy with a price target range of $13 to $14. The analysts see the company benefiting from its strategy shift from "push" to "pull." In addition, analysts at Morgan Stanley thinks that shares will be trading at $15 by the end of next year due to improved deal quality and an improved international traction. Shares gained 1.00 percent, closing at $10.14.
Related: Short Sellers Climb Aboard The Twitter Train (GRPN, TWTR, ZNGA)
Analysts at Citigroup increased its price target on Netflix (NASDAQ: NFLX) to $390 from a previous $355. The analyst noted that Netflix should continue to benefit from "the secular growth in Internet video consumption" and that the business still has plenty of potential markets to expand to moving forward. Shares of Netflix gained 0.27 percent, closing at $364.07.
Related: Amazon Paid $700K For Each Episode Of 'Under The Dome'
Analysts at Nomura reiterated Freeport McMoRan & Gold (NYSE: FCX) with a Buy rating with an increased price target of $45, up from a previous $38. The analysts noted the company has significant catalysts and growth drivers ahead that could propel shares as high as $55 to $60 by 2017. Despite the positive nod, shares lost 1.23 percent, closing at $34.46.
Analysts at Morgan Stanley defended U.S. Steel Corp (NYSE: X) as the analysts believe that management was in the right to not set a concrete cost savings target. As such, each individual cost savings initiative that will be revealed will be its own incremental positive catalyst. Shares lost 3.03 percent, closing at $26.26.
Analysts at J.P. Morgan Chase & Co. upgraded American Airlines (NYSE: AAL) to Overweight from Neutral with a price target of $37. Shares were also added to the analysts Focus List. Shares hit new 52 week highs of $27.18 before closing at $25.99, up 4.46 percent.
Moody's Corporation (NYSE: MCO) issued a report noting that Sears Holdings (NASDAQ: SHLD) planned spin off of Lands' End could have "negative credit implications." Shares of Sears lost 1.15 percent, closing at $46.32.
Alibaba Group is in discussions to extend the draw-down period of an $8 billion loan to December 2014 from January. This could serve as a hint that the company has no immediate plans for an IPO. Shares of Yahoo! (NASDAQ: YHOO) lost 2.66 percent, closing at $39.15. Yahoo! owns approximately 24 percent of Alibaba.
Amazon.com Inc (NASDAQ: AMZN) is launching its AmazonFresh in San Francisco. A New York City launch may happen in 2014. Shares lost 1.44 percent, closing at $382.19.
Time Warner Inc. (NYSE: TWX) announced a public offering of up to $1 billion in debt securities maturing in 2023 and 2043. The company offered no specifics for the use of the funds. Shares lost 0.29 percent, closing at $66.42.
Last night, Urban Outfitters (NASDAQ: URBN) announced that during the fourth quarter, comparable retail segment net sales are mid single-digit positive. Investors cheered the news sending the retailer higher by 3.05 percent, closing at $36.83.
Microsoft Corporation (NASDAQ: MSFT) announced it had eclipsed 2 million Xbox One units. The company is on pace to sell between three and four million units according to analysts at Nomura. Separately, Microsoft is flirting with the idea of eliminating licensing fees for Windows Phone and its tablets and focus on monetizing the devices via ads and services subscriptions. Shares of Microsoft lost 1.34 percent, closing at $37.60.
Related: Nokia's Android Phone Concept Could Get Microsoft Approval
Cameron International Corporation (NYSE: CAM) announced it will increase its stock buyback program by an additional $750 million, bringing the total to $1.04 billion. Shares gained 0.24 percent, closing at $55.01.
Maraton Oil (NYSE: MRO) will increase its stock buyback authorization to $2.5 billion while also announcing a $5.9 billion capital spending budget for 2014. Shares lost 1.34 percent, closing at $35.60.
Home Depot (NYSE: HD) reaffirmed its 2013 sales and EPS guidance for the year and issued financial targets for 2014. The company sees sales growth of 5 percent, operating margin expansion of 70 bps and EPS growth of 17 percent. By 2015 the company envisions operating margin of 13 percent. Shares gained 0.48 percent, closing at $79.00.
Ron Burgandy is expected to earn $165 million for Paramount Studios, owned by Viacom, Inc. (NASDAQ: VIAB) The film, Anchorman 2 is projected to almost double the box office ticket sales of the original Anchorman film. Shares lost 1.91 percent, closing at $81.03.
Winners of Note
Autohome (NASDAQ: ATHM) flew during its IPO debut. Shares were originally priced in the $14 to $16 range but opened at $30.16 today. Shares ended its first day of trading at $30.05, good for a 76.76 percent gain.
NorthStar Realty Finance Corp (NYSE: NRF) announced a plan to spin off its asset management business. The commercial real estate investment firm will spin off its asset management business into a separate publicly traded company. Analysts at Deutsche Bank noted that the separation of the asset management business will create value for shareholders, as the management company will trade at higher multiples than the traditional mortgage REIT industry. Shares hit new 52 week highs of $12.00 but closed the day at $11.94, up 20.13 percent.
Decliners of Note
An article in Barron's noted that Icahn Enterprises, L.P (NYSE: IEP) has a book value of about $75 per unit. Barron's noted that "We argued then that it was worth paying some premium to invest with the 77-year-old Icahn, but that the then-current premium looked excessive. The premium looks even more excessive now." Shares closed lower by 15.25 percent at $112.44.
Related: Barron's Recap: Top 10 Stocks for 2014
Spotify launched its freemium service offering to mobile and tablet users. Spotify is a direct competitor to Pandora Media, Inc. who offers an identical service. Shares of Pandora lost 7.01 percent, closing at $27.20.
NQ Mobile Inc. (NYSE: NQ) plunged today after a bearish article revealed (among many other things) that the company is "on pace to generate about 20 percent more in revenue per computer than any other software company did in 2012," implying what has already been said that the company is "round tripping" revenue via deals with affiliated parties. Shares lost 4.81 percent, closing at $11.28 and traded as low as $10.53 on the day.
Laboratory Corp. of America Holdings (NYSE: LH) announced last night that its 2014 outlook will fall short of expectations. The company lowered its EPS guidance to a range of $6.90 to $7.05 from a previous $6.95 to $7.05. Consensus was expecting an EPS of $7.02. 2014 offered an even darker picture as the company expects an EPS of $6.50, well below the consensus of $7.54. Shares lost 11.04 percent, closing at $88.20.
Earnings of Note
Costco (NASDAQ: COST) announced its first quarter 2014 results. EPS of $0.96 came in below the $1.03 consensus. Revenue was pre-released on December 5, which totaled $24.47 billion, below consensus of $25.41 billion. The company noted that an increase in expenses cut in to the company's bottom line. Of note: This year's first quarter results doesn't include Black Friday sales, as it did last year. Shares of the popular discount retailer lost 1.25 percent, closing at $118.54.
Joy Global (NYSE: JOY) announced its first quarter 2014 results. EPS of $1.11 came in below the $1.12 consensus. Revenue of $1.18 billion came ahead of the $1.12 billion consensus. The company announced it will carry out further restructuring actions in the coming year. Shares lost 5.74 percent, closing at $53.01.
Quote of the Day
"2014 is the year to squeeze more juice out of risk assets. But investors should be ready to discard the fruit when it starts running dry." - Ewen Cameron Watt, chief strategist for the BlackRock Investment Institute.
View Comments and Join the Discussion!
Posted-In: Alibaba IPO AmazonFresh AmazonFresh San Francisco American Airlines Autohome IPO Avanir PharmaceuticalNews After-Hours Center Best of Benzinga