Why Google Wants To Plant a Microchip In Your Head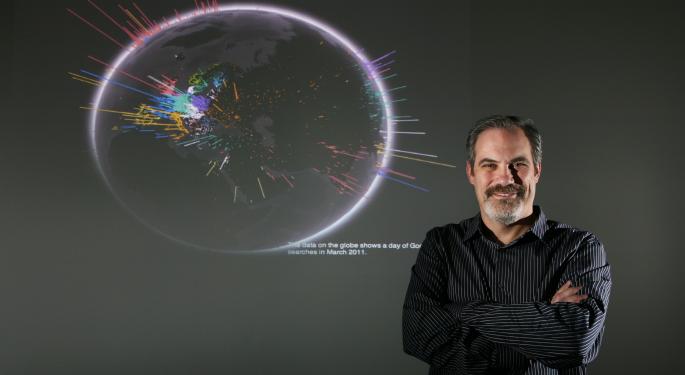 It's all about making the act of conducting a Google (NASDAQ: GOOG) search easier.
The idea of implanting a microchip in the brains of users, according to Google's engineering director, Scott Huffman, who spoke to The Independent on Monday, revolves around the notion that thinking about words takes less effort than typing them into a search box or saying them.
Huffman said, "If you think hard enough about certain words they can be picked up by sensors fairly easily. It'll be interesting to see how that develops."
Of course, implanting microchips in human brains to allow those humans to conduct a data search is not a logical first step, according to Hoffman. First, he would rather see Google microphones embedded in ceilings. Then the microphones could listen to conversations, analyze them, and politely offer answers and information as needed.
Ultimately, the goal is to be able to anticipate the search needs of users based on conversations they are having. If you were, for example, discussing with a co-worker the fact that you didn't want to miss an upcoming flight, theoretically, Google could pick up on that conversation and at the correct moment gently remind you that it was time to leave for the airport.
Huffman also provided an example of how this mechanism could enhance leisure time as well as work time.
"Imagine," he said, "I can say to a microphone in the ceiling of the room 'Can you bring up a video of the highlights of yesterday's Pittsburgh Steelers game and play it on a TV in the living room?'"
Related: Rumor: Google to Announce Set-top Box Early in 2014
Computing is becoming so inexpensive, Huffman said, that eventually we would rely on a variety of connected computerized devices to assist us. These could include wearable devices like Google Glass, devices in our cars, and elsewhere.
Long before Google microphones hang from ceilings or Google microchips reside in cerebral cortexes, the issue of privacy and surveillance would have to be addressed. That is not a small hurdle to overcome.
In the meantime, Huffman and his team will continue their work on Google's Knowledge Graph with a goal of helping computers understand context as part of a search. Achieving this goal would mean should you ask Google for the name of a nice, inexpensive restaurant nearby, by the time you got in your car the GPS system would already be set to take you there.
At the time of this writing, Jim Probasco had no position in any mentioned securities.
View Comments and Join the Discussion!
Posted-In: Google Google Glass Knowledge Graph MICROCHIP microphone Pittsburgh SteelersTech Media Best of Benzinga