Apple Granted Curved Touch Sensor Patent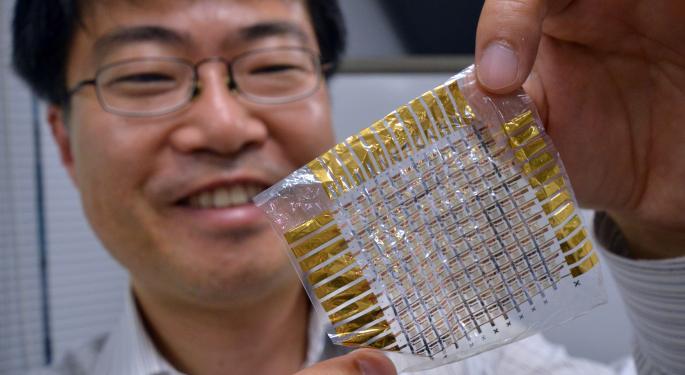 On Tuesday, the U.S. Patent and Trademark Office awarded Apple (NASDAQ: AAPL) a patent for a "curved touch sensor," according to AppleInsider.
The patent application described a method whereby Apple would produce a curved touch surface containing no deficiencies or deformities. Although Apple has not indicated it has any products in development that would utilize such a surface, the fact the patent was applied for suggests such might be the case in the future.
Apple claimed its proposed process overcomes the difficulty of adapting current touch panel technology to fit a curved structure. The patent describes a technique that would deposit a thin conductive film over a flexible substrate, which is later joined to a curved substrate and heated.
Apple said the process results in a curved touch sensor with uniform characteristics and no anomalies. Apple also noted in its application that its process resulted in a true curved touch sensitive surface unlike some so-called curved surfaces that are actually flat with a curved glass cover – resulting in uneven touch sensitivity.
Related: Apple and China Mobile: The Week in Review
As is often the case, Apple is not the first manufacturer to come up with a curved display process. Samsung (OTC: SSNLF) released its Galaxy Round in Korea in October and LG recently unveiled the LG G Flex, which features a concave display, also in Korea.
No U.S. release date has been announced for either phone; although rumor had it the Galaxy S5 would feature a curved display similar to the Galaxy Round and would make its debut as early as February 2014. Subsequent speculation squashed the "curved display" part of that rumor, however.
As for Apple, speculation about possible uses for a curved display is not relegated to smartphones alone. Curved touch sensitive surfaces could be useful in such products as the long-anticipated Apple iWatch, a touch-sensitive mouse, curved touch screen, or almost any device that might fit into the "wearable computing" category.
A report in November from Bloomberg suggested Apple was working on a curved screen iPhone with a possible release date sometime in 2014. In addition, a source told Bloomberg that the company was also working on a touch surface capable of detecting different levels of pressure.
Whatever the "reality" of Apple's involvement in the development of a curved touch screen, it's an area worth watching. With so many companies involved in research, clearly somebody thinks it is worth the effort.
At the time of this writing, Jim Probasco had no position in any mentioned securities
View Comments and Join the Discussion!
Posted-In: Apple Apple iWatch curved touch sensor Galaxy Round Galaxy S5 iPhoneTech Media Best of Benzinga