Market Wrap For December 9: Investors Digest Further Clues Hinting at An Upcoming Taper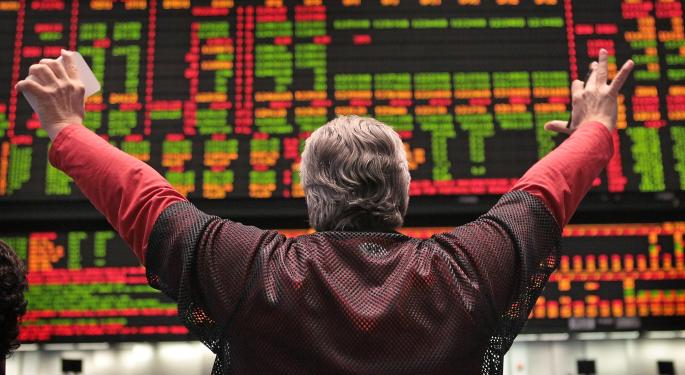 According to Jim Bullard, the chances of the Fed tapering have increased due to recent labor market data.
"There is no widely accepted reason why inflation is running as low as it is in the face of extraordinarily accommodative policy for the Fed," he added.
The St. Louis Fed chief added that if inflation does not return toward its target, the Fed could pause tapering in the future. Investors digested the Fed chief's commentary as markets ended the day almost flat.
The Dow gained 0.04 percent, closing at 16,026.17
The S&P 500 gained 0.18 percent, closing at 1,808.42
The Nasdaq gained 0.15 percent, closing at 4,068.75.
Gold gained 1.07 percent, trading at $1,242.10 an ounce.
Oil lost 0.24 percent, trading at $97.42 a barrel.
Silver gained 2.11 percent, trading at $19.93 an ounce.
News of Note
Japan's third quarter GDP has been revised down to a 0.3 percent gain from a previous estimate of 0.5 percent gain.
China's annual consumer inflation slowed to 3 percent in November from a previously 3.2 percent figure in October.
Related: Chinese Yuan Rises to New Record High Against the U.S. Dollar
Equities-Specific News of Note
Dean Foods (NYSE: DF) was downgraded to Equalweight from Overweight with a $20 price target at Morgan Stanley (NYSE: MS). The bearish call is based on what the analyst perceives to be rising costs and softer volumes which could negatively affect earnings in 2014. Shares lost 1.84 percent, closing at $18.09.
Kraft Food (NASDAQ: KRFT) was upgraded to Overweight with a $60 price target at Morgan Stanley. The analyst noted that shares have strong earnings visibility based on the company's restructure to reduce cost and the fact that shares are trading at a discount relative to its peers. Shares gained 1.77 percent, closing at $54.50.
Lululemon (NASDAQ: LULU) received a Neutral rating and a price target of $75 from analysts at Wedbush who began coverage of the company today. The analyst believes the company offers a long term positive story but "we expect the announcement of a new CEO to underwhelm investors and could potentially create a better opportunity to add to long-term positions." Despite the bearish commentary, shares finished in the green, gaining 0.70 percent to close at $70.33.
Mellanox Technologies, Ltd. (NASDAQ: MLNX) was upgraded to Buy from Hold at Maxim group with an un-changed $45 price target. The analysts noted the company has an upbeat "product cycle catalysts" in 2014. Shares lost 0.33 percent, closing at $39.03.
Las Vegas Sands (NYSE: LVS) hit new 52 week highs of $77.43 this morning following a bullish note from Wells Fargo. (NYSE: WFC) The analysts indicated that mass-market gaming revenue grew faster than VIP gaming revenues in every month so far this year. Shares closed at $76.88, up 1.46 percent on the day.
General Motors (NYSE: GM) hit new highs of $41.17 this morning following reports that the U.S. Treasury will exit its position as soon as this week. Shares gained 1.82 percent, closing at $40.90.
China Mobile (NYSE: CHL) revealed on its website that it will begin taking pre-orders for Apple's (NASDAQ: AAPL) iPhone 5S on Thursday. Shares of China Mobile lost 0.53 percent, closing at $54.73 while Apple gained 1.17 percent, closing at $566.60.
Sprint (NYSE: S) plans to sell debt due in 2024 with no offering size being given as of now. The company may use the proceeds to finance a 4G build out. Shares gained 1.39 percent, closing at $8.00.
Time Warner Cable (NYSE: TWC) held a media conference presentation today. The company expects to see stable margins moving forward. The company also noted it is open to adding Netflix (NASDAQ: NFLX) to its set-top boxes. Further commentary hinted to the fact that the company's debt level could be difficult for Charter Communications Inc. (NASDAQ: CHTR) to mount an attractive offer to buy the company. Time Warner lost 0.43 percent, closing at $130.44 while Charter Communications gained 0.32 percent, closing at $128.16.
Related: Don't Expect A la Carte Cable Service Any Time Soon
Analysts at Nomura issued a bearish note on the 3D printing industry today. The analysts noted that the hype is "overdone given uncertain growth potential in the consumer market, limited pragmatic applications, and a lack of mass-production ability." Shares of 3D Systems Corp (NYSE: DDD) gained 0.56 percent, closing at $75.80 while Stratasys Ltd. (NASDAQ: SSYS) gained 0.57 percent, closing at $117.67.
Micron Technology, Inc. (NYSE: MU) hit new 52 week highs of $23.67 after a Digitimes report surfaced that DRAM spot prices continue to jump. Shares closed the day at $23.11, up 3.61 percent.
McDonald's (NYSE: MCD) reported global same store sales rose 0.5 percent in November. Europe gained the most with 1.9 percent, while U.S. saw a decline of 0.8 percent. Asia Pacific/ Middle East declined by 2.3 percent. Shares lost 1.14 percent, closing at $95.70.
Abercrombie & Fitch (NYSE: ANF) announced that the company has restructured its compensation agreement with the company's CEO Michael Jeffries who has been put on a performance based compensation package. Shares lost 2.21 percent, closing at $34.10.
Herbalife (NYSE: HLF) has taken a page from Bill Ackman's playbook. The company is approaching Ackman's investors to urge them to withdraw their investment with Ackman's hedge fund. Shares of Herbalife lost 0.11 percent, closing at $72.78.
Gilead Sciences (NASDAQ: GILD) reported positive interim results from a Phase 2 study of its Syk inhibitor GS-9973. 97 percent of patients saw a lymph node reduction. Shares hit new 52 week highs of $77.30 before closing at $75.20, up 1.64 percent on the day.
Winners of Note
Twitter (NYSE: TWTR) inches towards all time highs as the company began rolling out new advertising products that could boost revenues. Shares gained 9.32 percent, closing at $49.14
InterOil Corp (NYSE: IOC) may have two companies joining in the development of the Elk and Antelope fields. Australian based Oil Search indicated it is in talks to get involved in developing the two discoveries. Three days ago, InterOil agreed to sell a majority interest in the oil fields to Total SA (NYSE: TOT) Shares of InterOil gained 10.18 percent, closing at $61.15 while Total lost 1.42 percent, closing at $58.34.
YRC Worldwide (NASDAQ: YRCW) reached an agreement with its union to help refinance almost $1 billion of debt. Shares were up by more than 25 percent in the premarket but closed the day up 18.34 percent at $10.00.
Sysco Corporation (NYSE: SYY) bought U.S. Foods from for around $3.5 billion to create a newly formed behemeath with a combined revenue of $65 billion. Shares of Sysco were trading higher by more than 25 percent premarket before ending the day with a 9.65 percent gain, closing at $37.62. Shares were trading as high as $43.40 (new 52 week highs) after the opening bell.
Related: Sysco to Purchase US Foods in $8.2 Billion Acquisition
Alpha Natural Resources (NYSE: ANR) announced it will sell its 50 percent interest in its shale joint venture to Rice Energy for $300 million. Shares gained 14.69 percent, closing at $7.53.
Decliners of Note
OSI Systems (NASDAQ: OSIS) may face a complete ban on contracts with the Department of Homeland Security. On Friday the company announced that the Transportation Safety Administration (TSA) canceled a $60 million order for its equipment and subsequently plunged 9.4 percent. Today, shares lost 26.8 percent, closing at $47.38. Shares traded as low as $39.00 (new 52 week lows) shortly after the news announcement.
Edwards Lifesciences (NYSE: EW) outlined a strategy that was ill-received by investors during its annual investor conference. The company noted it will face increased competition in the U.S. and Europe beginning in early 2014. Shares lost 5.37 percent, closing at $67.23. Shares hit new 52 week lows today trading at $61.91.
Newfield Exploration (NYSE: NFX) updated its production and capital investment outlook for 2014 through 2016. Investors appeared to not be pleased with the plan which includes $1.6 billion of spending in 2014. Shares lost 7.95 percent, trading at $24.33.
Quote of the Day
"I never attempt to make money on the stock market. I buy on the assumption that they could close the market the next day and not reopen it for five years." - Warren Buffet.
Posted-In: 3D printing analysts alpha natural resources American Airlines Group ARIAD Pharmaceuticals Bill Ackman China inflationNews After-Hours Center Best of Benzinga
View Comments and Join the Discussion!