Hottest Game Systems For Christmas: PlayStation 4 vs. Xbox One vs. Wii U vs. PS Vita vs. Nintendo 3DS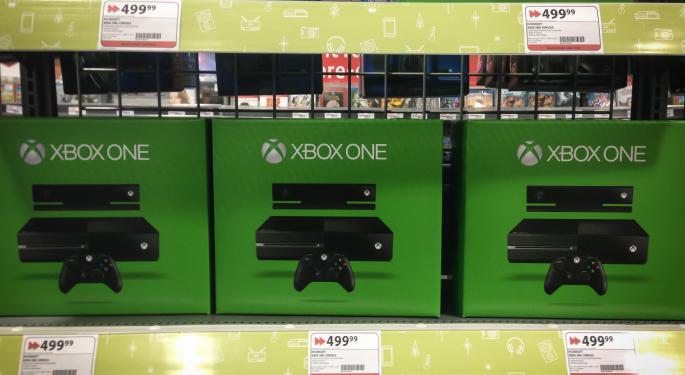 Which console should you place under the tree this Christmas?
Despite the claim that game consoles are a dying breed, there are three new systems and two handhelds currently on store shelves.
With so many options, you might just want to cash in your 401k and buy them all! The gamer in your family would surely agree with this decision. But if that's not an option, read on -- selecting the right console is harder than it looks.
Sony's One-Two Punch
The Sony (NYSE: SNE) of today is not unlike the one consumers knew in the '90s: hugely motivated and seriously dedicated to serving the core gamer market.
This may not have been overly apparent when the PS Vita, Sony's second handheld game system, was released last year. In addition to the high price and odd memory choices (it uses expensive, proprietary memory cards instead of a lower-cost option), PS Vita launched without any must-have games.
Sony has rectified these issues (to a point) by lowering cost of both the system and its memory cards. More importantly, the game lineup has greatly improved with a new chapter in the LittleBigPlanet franchise, Persona 4 Golden and the groundbreaking Tearaway. At $199, PS Vita is now a must-own handheld for hardcore gamers.
PlayStation 4, Sony's fourth game console, benefited greatly from Sony's renewed interest in putting gamers first. While PlayStation 3 was built and priced around its Blu-ray player, PlayStation 4 is first and foremost a game console. At $399, it is cheaper than PlayStation 3 was at launch ($599) and is $100 less than Xbox One.
PlayStation 4's launch lineup isn't perfect, but its long-term prospects are stellar. There are more games (180) in development for PlayStation 4 than there are for any other new console.
For now, most consumers don't seem to care that Killzone is the only good first-party game. This is probably due to the third-party lineup, which includes new chapters in the Call of Duty, Battlefield and Assassin's Creed series.
Long-term, PlayStation 4 is likely to be the console consumers want most.
Based on the current sales figures, it seems that PlayStation 4 has already become the console gamers want most.
Microsoft's One And Only New Platform
Contrary to the rumors, Microsoft (NASDAQ: MSFT) has not decided to enter the handheld game business.
Instead, the Windows maker has decided to focus its attention on building and promoting its latest game console: Xbox One.
Bad policies aside (which were thankfully reversed), Xbox One is pretty comparable to PlayStation 4. It retails for $100 more, but it also comes with the new version of Kinect. PlayStation 4 users will pay $60 more for its camera.
Related: Will Xbox One's Non-Interactive Entertainment Features Trump PlayStation 4?
Thus far, Xbox One does not have as many games in development as PlayStation 4. It also lacks first-party powerhouses like LittleBigPlanet and Uncharted, the latter of which is already in development for Sony's console.
However, Xbox One has one of the most significant first-party franchises in the world: Halo. Sales of Halo games have individually and collectively dwarfed every Sony franchise except Gran Turismo.
Xbox One also has the lifetime exclusive rights to Electronic Arts' upcoming shooter, Titanfall. Built by the creators of Call of Duty: Modern Warfare, Titanfall looks to be the next big game in the first-person shooter genre. The game will appear on Xbox 360 and PC, but EA is not allowed to develop a PS3, PS4 or Wii U iteration.
As far as exclusive launch games are concerned, Xbox One's lineup is a bit more impressive than PlayStation 4, thanks to Dead Rising 3, Killer Instinct and Forza Motorsport 5.
That's not to say that Xbox One is the better console. But while it may have looked like the underdog when it was first unveiled, Microsoft has transformed the console into a formidable competitor to PlayStation 4. Anyone who receives it this Christmas will be very happy.
Nintendo's Handheld Comeback And Console Decline
When the Nintendo 3DS was released in March 2011, millions of consumers wondered what went wrong. Nintendo had hyped this machine as a grand successor to the Nintendo DS, which has sold more than 154 million units worldwide. But when the Nintendo 3DS arrived, its high price and weak game lineup prevented consumers from opening their wallets.
Nintendo (OTC: NTDOY) turned things around when it unexpectedly lowered the price of the Nintendo 3DS a mere five months after the system was released. The price cut was followed by two key software releases -- Super Mario 3D Land and Mario Kart 7. Both titles have sold more units than any other game released for the 3DS.
Related: Will Nintendo Force Sony, Microsoft To Release New Consoles Sooner?
Wii U launched in a similar way, with a high price, few games and few buyers. Unlike the Nintendo 3DS, however, Wii U did not receive an immediate price cut. Instead of dropping the price, Nintendo phased out the cheaper model and dropped the more expensive iteration (which comes with a game and a larger hard drive) to $299.
In the months since Wii U launched, Nintendo has delayed more games than it has released. Pikmin 3, which was originally slated to come out in 2012, did not arrive until August of this year. The Legend of Zelda: The Wind Waker HD -- a port of an old GameCube game -- was originally planned for August, but was moved to September. Donkey Kong Country: Tropical Freeze recently moved from December 2013 to February 2014.
These are just a few of the games that have endured a release date shuffle. Bayonetta 2, one of the few exclusive third-party games being developed for Wii U, was announced in the fall of 2012. It still isn't out yet, and if the rumors are true, it may be delayed until 2015.
With so many delays -- and so few games available for Wii U -- gift givers should steer clear of this console. While Super Mario 3D World and Pikmin 3 are good games, they will still be good next fall when the console is (hopefully) cheaper and offers a better game lineup.
Disclosure: At the time of this writing, Louis Bedigian had no position in the equities mentioned in this report.
Louis Bedigian is the Senior Tech Analyst and Features Writer of Benzinga. You can reach him at louis(at)benzingapro(dot)com. Follow him @LouisBedigianBZ
Posted-In: Assassin's Creed Battlefield Bayonetta 2 Call of Duty Call of Duty: Modern WarfareNews Rumors Tech Best of Benzinga
View Comments and Join the Discussion!