Traditional Restaurants Target Younger Customers with Tablet Technology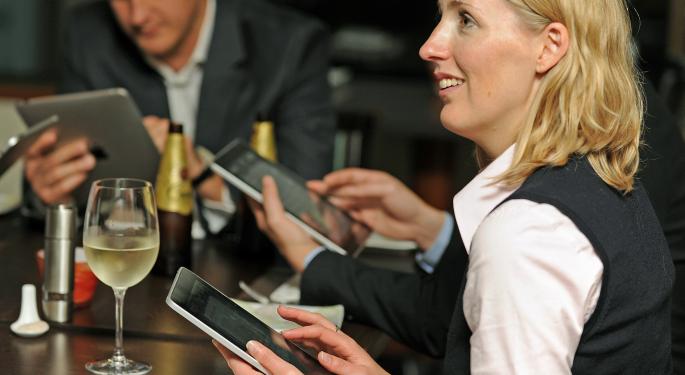 Applebee's, owned by DineEquity (NYSE: DIN), announced this week that tablets will be installed in every table of its 1,860 locations in the United States by end of 2014.
Over 100,000 Intel (NADDAQ: INTC)-backed tablets from Presto (NYSE: NPK) will be be used by customers for ordering food and paying bills -- as well as offering entertainment features such as streaming music, games and connections to social media sites.
The move to tablets is designed to reduce overhead expenses, to counteract the stagnant growth in the recent years, and to lower the price of food items to draw in the younger generation.
The majority of the recent decline in traditional restaurant sales has come from "Millennial" customers shifting towards "fast-casual" restaurants such as Chipotle (NYSE: CMG) and Subway, where they expect highly customizable restaurant quality food, served at the speed of fast food chains.
In addition to the shift, the marketing firm NPD Group says Millennials' overall spending on dining out has fallen 16 percent over the past four years.
The tablet's ability to offer more of a casual dining experience and higher level of customization may help restaurants recapture those Millenials, who are moving away from the traditional dining experience.
While the integration of tablets and shift towards "fast-casual" dining experience does present a significant threat to human servers, the chunkiness shown in the initial implementation should keep jobs safe, for now.
Many eldery diners reportedly consider the tablet as difficult to navigate, and may request a human server to take their orders.
Some servers also noted that customers often place unwanted orders by mistake, and that the electronic ordering system makes it easier for minors to purchase a drink without getting carded.
Applebee's says they plan to retain the same number of employees for the time being.
View Comments and Join the Discussion!
Posted-In: Applebee's ChipotleNews Restaurants Events Tech Trading Ideas General