CNN Plans Programming Shake-up to Boost Ratings, Ad Revenue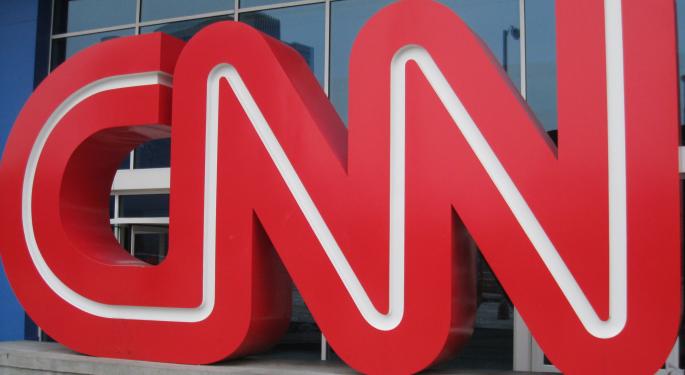 It's been another uncomfortable year, ratings-wise, for Time Warner's (NYSE: TWX) Cable News Network.
Recent ratings from Nielsen, quoted by the Huffington Post, shows Fox News, owned by News Corp (NASDAQ: NWS), again at the top of the cable news ratings heap for November, with CNN lagging behind Comcast (NASDAQ: CMCSA) -owned MSNBC in third place for both weekday primetime hours and total-day figures.
Projections from the media and communications analysis firm SNL Kagan, as reported in The New York Post, expect CNN's net ad revenue to drop 10.5 percent this year, to $293.2 million. And that ratings tumble is prompting CNN Worldwide CEO Jeff Zucker to call for some radical changes.
After nearly a year at CNN's helm, Zucker told Capital New York he wants the network to have more of "an attitude and a take."
"People who traditionally just watch the cable news networks [are] a great audience," he said in an intervew with the website. "I'm not trying to alienate that audience. But the overall cable news audience has not grown in the last 12 years, OK? So, all we're doing is trading [audience] share. … We also want to broaden what people can expect from CNN."
Zucker hopes to broaden that audience share by pulling CNN away from its traditional news cycle coverage, and towards more documentary-type programming, to attract what he calls "viewers who are watching places like Discovery and History and Nat Geo and A&E."
He also plans to put more time and resources towards CNN.com and other online and digital outlets.
"In five years, mobile video consumption with three little red letters called CNN is what the future looks like.," he added. "I think that there are three incredible brands in the news and information space. I think ESPN (owned by Disney (NYSE: DIS)) owns sports, I think the Weather Channel (owned by a consortium made up of Comcast division NBC Universal, as well as private equity firms The Blackstone Group  (NYSE: BX) and Bain Capital) owns weather, and I want CNN to own news and information in the global digital video space."
View Comments and Join the Discussion!
Posted-In: cable television digital news Jeff Zucker televisionNews Tech Media Interview Best of Benzinga